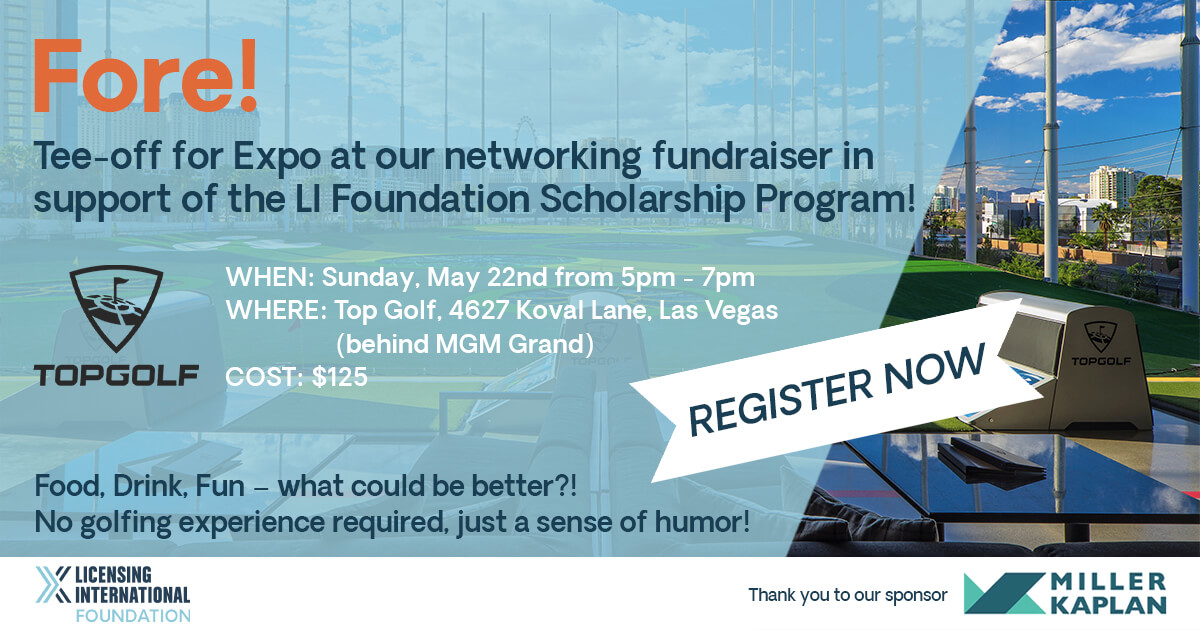 Scholarship Fundraiser – Top Golf
Event Time
5:00 pm - 7:00 pm PST
Tee-off for Expo at our networking fundraiser in support of the LI Foundation Scholarship Program! 
WHEN: Sunday, May 22nd from 5pm-7pm
Cost: $125
Food, Drink, Fun – what could be better?!
No golfing experience required, just a sense of humor!
Thank you to our sponsor:

Thank you for your purchase of admission to our networking fundraiser at TopGolf on May 22, 2022 in support of the Licensing International Foundation Scholarship Program. The admission to the event includes not only a high-tech golf experience but also food and beverages with a total estimated value of $83. The amount of a contribution that is deductible for federal income tax purposes is limited to the amount contributed, reduced by the value provided to you in return. Accordingly, $42 of each admission is eligible for an income tax deduction.
Your payment will be made to the Licensing International Foundation, Inc. which is a 501(c)(3) nonprofit organization. Your contribution is tax-deductible to the extent allowed by law as noted above. If you have any questions, please contact us at info@licensing.org
For residents in North Carolina:
Financial information about this organization and a copy of its license are available from the State Solicitation Licensing Branch at 919-814-5400. The license is not an endorsement by the State.
Thank you again for your support of this event.