PAW PATROL 3D PUZZLES
Assemble the parts of the world together!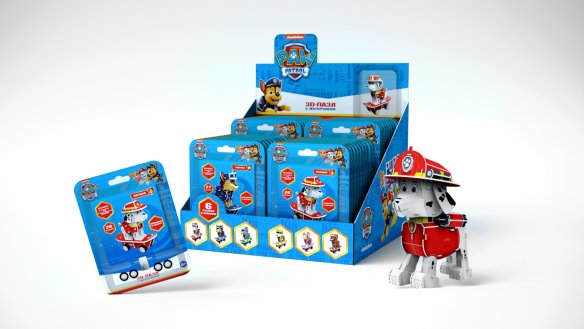 [RUSSIAN VERSION BELOW]
Fresh Trends Ltd. is excited to announce their latest 3D Puzzle branding line with the number one license, PAW Patrol. Partnering with both Spin Master, in association with Nickelodeon movies, Fresh Trends Ltd. Will bring all the PAW Patrol characters to life with several 3D Puzzle toy lines for all ages and PAW Patrol fans to enjoy!
The Fresh Trends Ltd. creative team of designers has been working closely on the PAW Patrol movie license brand for over a year. The company says that these 3D Puzzles differ from usual static puzzles, giving the PAW Patrol fans the opportunity to assemble their favorite characters in 3D likeness! "It's as if the PAW Patrol characters are jumping off the movie screen and are now right in front of you." Says Fresh Trends Ltd. CEO Sergey Bocharov.
PAW Patrol is adored by both boys and girls ages 2-5 that parents also love and trust! Airing in over 160 countries, in 30 languages, PAW Patrol is consistently ranked as a top-rated preschool series and is currently in its seventh season on Nickelodeon.
For more than five years now Fresh Trends Ltd. has been developing all kinds of 3D Puzzles with different licenses for Europe and Asia. Creating a new collection of 3D Puzzles for the whole world to see and engage with has always been their top priority. Today is very special for Fresh Trends Ltd. being able to announce and partnership with the number one leading preschool license PAW Patrol!
The Fresh Trends Ltd. team will be introducing several PAW Patrol 3D Puzzle lines, so kids can build and take them wherever they go!
The 3D Puzzle PAW Patrol line includes:
All the PAW Patrol characters in an action pose
PAW Patrol puppies on skateboards
The PAW Patrol High Tower for team rescuers
PAW Patrol Clock with real working time function
Two-Sided PAW Patrol Photo Frame
The line also includes other playsets and individual PAW Patrol character SKUs
The PAW Patrol 3D Puzzles are the perfect preschool toy to help kids develop logical thinking, increase counting skills, and help in social skills. Each puzzle piece is soft and flexible making is safe and easy for kids to handle.
The Fresh Trend Company signed a global license contract for developing, manufacturing, and distributing 3D puzzles with the Paw Patrol brand in all countries.
"We have already developed different retail solutions for any distribution chains. We are looking for exclusive distribution partners who are ready to accelerate their sales growth with a quality product and one of the most leading licenses on the globe!" Says Sergey Bocharov.
[RUSSIAN VERSION]
3D пазлы «Щенячий патруль» собирают пазлы мира вместе!
Fresh Trend с радостью сообщает о новинке – 3D пазлах с самой востребованной в мире лицензией.  Сотрудничая со Spin Master и Nickelodeon, компания обещает буквально оживить героев мультфильма «Щенячий Патруль», которых так обожают дети всех возрастов, в коллекции новых, развивающих игрушек.
Работая над коллекцией уже более года,  дизайнеры Fresh Trend говорят, что эти 3D пазлы выгодно отличаются от статичных пазлов и дарят детям возможность собрать своих любимых героев такими, какими они выглядят в мультфильме.  «Фигурки получаются настолько правдоподобными, что, играя с ними, ребенок представляет настоящих персонажей, которые словно выпрыгнули с экранов», – рассказывает нам генеральный директор Fresh Trend Сергей Бочаров.
Уже более пяти лет компания разрабатывает  3D пазлы с разными лицензиями для Европы и Азии, а в прошлом году Fresh Trend подписали контракт на разработку, производство и распространение 3D пазлов под брендом «Щенячий Патруль» по всему миру.
3D пазлы — это лучшая игра для дошкольников: так, играя с любимыми персонажами, ребенок развивает логическое мышление, навыки счета и даже общения. Кроме того, пазлы созданы из мягкого, эластичного материала – и держать их в маленькой ручке очень удобно.
Компания разработала  пазлы всевозможных размеров и форм, поэтому с такими игрушками дети смогут играть не только дома, но и на прогулке или в гостях.
В коллекции представлены:
фигурки героев;
щенки на скейтах;
башня спасателей «Щенячий Патруль»;
часы с любимыми героям и двусторонняя фоторамка;
а также всевозможные игровые наборы.
«Мы давно разрабатываем эксклюзивные розничные решения под ключ, а сейчас активно ищем партнеров-дистрибьюторов, которые готовы повышать продажи продукцией с самой востребованной лицензией», — добавил Сергей.