2022 Hall of Fame Inductee
KATHY IRELAND, CEO and Chief Designer, kathy ireland Worldwide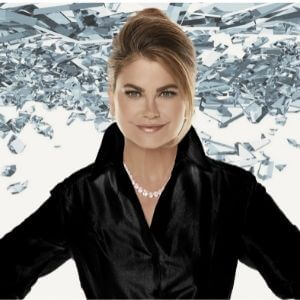 Founded in 1993, kathy ireland® Worldwide (kiWW) celebrates living & eclectic, individual style. Our mission …solutions™… soluciones™ est.
1998, inspire & empower, all kiWW® offerings, including: fashion for women, men & children, intimate apparel, accessories, fine jewelry, weddings & resorts, skincare, cosmetics, furniture, lighting, flooring, decor, cookware, appliances for homes & offices all over the world, insurance, telemedicine, recovery centers, merchant services, fintech, investment strategies, real estate, hospitality, comfort care for pets, nutraceuticals, supplements, recreation & adventure designs for Camping World, led by CEO, Marcus Lemonis, all resulting in a portfolio of over 20,000 skus, entertainment and sports including: publishing, film, television, music, artist & athlete management. kiWW®'s singular ability to innovate, design, and fulfill client demands for multiple markets, categories and price points propels the conglomerate to the 15th position of worldwide brands, according to License! Global magazine. Kathy's solely owned company, which began at the family kitchen table with Worldwide Creative Director, Jon Carrasco, is the highest-ranking woman-owned licensing business in American history. In 2021, Kathy is being elected to the Licensing International Hall of Fame and is the youngest person to enter this exclusive circle of transformational leaders. The IHFRA (International Home Furnishings Representatives Association), is bestowing the prestigious Icon Award on Kathy, who is reportedly the youngest executive and first woman to receive this rare, lifetime achievement accolade from the over 2000 member organization, which guides the home furnishings industry. Presenting the award to Kathy, are kiWW's first furniture client & dear friend, Irv Blumkin of Nebraska Furniture Mart, a Berkshire Hathaway Company and kathy ireland Home partner, Michael Amini.
Beginning at age 16, Kathy's fashion career began its runway walk, gracing the covers of the world's most famous magazines, becoming a Supermodel and Fashion Icon. Kathy Ireland covers include: Vogue, Cosmopolitan, Forbes, People, Harpers Bazaar, WWD, License! Global, Good Housekeeping, Women's Day, Glamour, Guide Post, The New York Times, Hola, Reader's Digest, Seventeen, WSJ, others & multiple appearances in several of the publications listed. Kathy Ireland® is one of the 50 most influential people in fashion, according to Fairchild. The success of kathy ireland® Worldwide is passion, creativity, teamwork and dedication to service.
Kathy, is a fearless human rights advocate whose tireless work, financial support, lobbying and intervention on behalf of oppressed people is the reason for receiving the International Religious Freedom Champion Award. kiWW® supports many non-profits including: YWCA Greater Los Angeles of which Kathy is Ambassador, Founding Ambassador Dream Foundation, Providence Educational Foundation, 911 for Kids/AEFK, former National PTA Ambassador for Youth, the St. Jude Children's Research Hospital, former March of Dimes NICU Chair, Founding International Youth Chair for National Pediatric Cancer Foundation, Ambassador for American Cancer Society, Ambassador for the Elizabeth Taylor AIDS Foundation, first woman to serve on Board of Directors NFLPI, Advisory Board WNBPA, Advisory Board Member to Serena Williams Companies, Advisor James Madison Program, Princeton University.
As an outspoken defender of Israel and the Jewish people, Kathy communicates passionately, openly and regularly against all forms of discrimination: including and not limited to: Support for all oppressed human beings, anti-Semitism, anti-Asian hate, discrimination against Black, Latino, LGBTQ+, anti-Muslim hate inclusive of the Uyghur people, and anti-Christian hate. Kathy is a member of WIZO, and is honored by the ADL, the JNF, Didi Hirsch Mental Health Services, Los Angeles Team Mentoring, and is the Executive Producer of Marilyn McCoo & Billy Davis Jr.'s "blackbird Lennon-McCartney Icons", on the kathy ireland® Worldwide business unit, EE1 BMG, which returned the 7-time Grammy Award winning couple to the Billboard Charts, after a 45-year absence, on the only album committed to history, racial equality and bringing awareness to atrocities committed against American Christians, starting from the 1800s, and continuing today. Kathy's additional philanthropic commitments include: the war on sex trafficking, improved access to medical care, mental health concerns, recovery from addiction for men, women and children, as well as honoring, America's brave military members and their families.