White Papers & Case Studies
Licensing International's partners make white papers and case studies available to members of the brand licensing community that address key issues and trends for the global industry.

Turning Licensing Data into Strategic Insights
It's never been more important to make a data-driven case when selling a brand to potential licensing or retail partners. As one licensing agent puts it, looking at the next five years "decisions will be made on a much more data-driven basis, and access to that data and how you interpret it will be really important." This special report features comments from licensing executives about how they accumulate actionable insights, and the tools they use to automate and streamline the process.
Presented in partnership with 


Looking Forward: The State of the Licensing Business
An exclusive 30-page report exploring the trends, opportunities, and challenges facing the licensing business going forward. The report also includes the perspectives of 35+ brand licensing executives from across the world on lessons learned during the COVID pandemic (and how they can be applied to the future), as well as their key questions about the next few years.
Presented in partnership with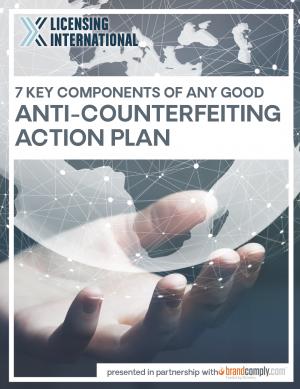 7 Key Components of Any Good Anti-Counterfeiting Action Plan
Counterfeits are a huge and growing problem for companies in the licensing business. In fact, the value of counterfeiting of all sorts reached $1.2 trillion in 2017, and is projected to rise to more than $1.8 trillion in 2020. This exclusive white paper, presented in partnership with Octane5, outlines actionable strategies for licensees and brand owners to fight counterfeiting and protect their brand image.