Hall of Fame Inductee
SALVATORE LaROCCA, President, Global Partnerships, National Basketball Association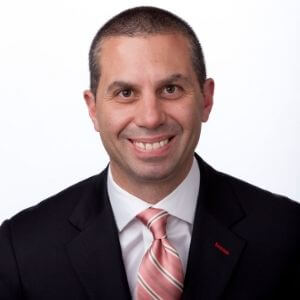 As President, Global Partnerships, Salvatore LaRocca oversees the commercial partnerships business for the NBA, WNBA, NBA 2K League, NBA G League and USA Basketball on a global basis. LaRocca leads a team that structures, negotiates and manages the league's global merchandising and marketing partnerships.
Previously, LaRocca served as President, Global Operations and Merchandising, where he managed the NBA's regional offices and international development as well as the league's award-winning merchandising and consumer products business. In that role, LaRocca oversaw a staff based in offices worldwide who manage the NBA's international business activities across consumer products, television and media, marketing partnerships, events, communications and new business initiatives.
Under his direction, NBA merchandise has grown to global distribution in more than 100 countries on six continents and sales on NBAStore.com have increased by more than 100 percent. Under LaRocca's leadership, LIMA, the worldwide trade organization for the licensing industry, has named the NBA Sports License of the Year and the league's Hardwood Classics collection as Best Sports Product.
LaRocca was also responsible for the completion of the NBA's global merchandising and marketing partnerships with adidas, Dapper Labs (maker of NBA Top Shot), Electronic Arts, Fanatics, Nike, Panini, Take Two and Wilson, and developed the structure of the NBA 2K League and the league's global video game and e-commerce businesses. Prior to this, LaRocca served as the NBA's Vice President of E-commerce, managing the 2000 relaunch of NBAStore.com.
In 1996, he was promoted to Vice President of Licensing. Prior to 1996, LaRocca oversaw the league's apparel and USA Basketball licensing programs. LaRocca joined the NBA in March 1990 as Eastern Regional Sales Manager.
LaRocca serves as Chair of the Board of Trustees of LaSalle Academy in New York City and is on the Board of Directors for the Sports and Fitness Industry Association. LaRocca has previously served on the board of LIMA and is a past recipient of SportsBusiness Journal's Forty Under 40 award.