2000 Hall of Fame Inductee
Walt Disney, Walt Disney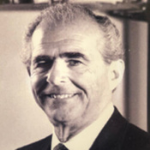 Arnold Bolka was the first person to recognize the need and the potential for a cohesive source of licensing information, and to do something about it. In 1977, seeking to fill a void that existed in the emerging licensing business, he founded and launched the Licensing Letter, a periodical devoted to hard news and data about the business of licensing.
He later sold this publication to EPM Communications. Today, the Licensing Letter is considered one of the most respected sources of information for people in the licensing business. In that same year, he organized a meeting of about two dozen licensing agents for the purpose of trying to form a licensing trade association. One year and dozens of meetings later, the Licensing Industry Association (LIA) was formed and Arnie was hired as its first Executive Director.
In 1982, he was instrumental in organizing the Licensing Merchandisers' Association (LMA) and became that group's Executive Director. Two years later, Arnie played a key role in the merging of the two groups to form the International Licensing Industry Merchandisers' Association (LIMA).
These accomplishments have had a major impact on the growth of the licensing industry, for which LIMA is proud to induct Arnold Bolka into the Murray Altchuler Licensing Hall of Fame. Today, Arnie is President of Licensing Programs Div., New Market Enterprises, Inc. and is actively involved in new licensing opportunities.