2008 Hall of Fame Inductee
Bill Battle, Founder The Collegiate Licensing Company (CLC)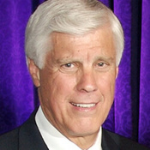 Bill Battle founded The Collegiate Licensing Company (CLC) in 1981, the nation's oldest and largest marketing agency dedicated to providing domestic and international licensing services to the collegiate market. He revolutionized the collegiate licensing industry with CLC's Consortium philosophy that each collegiate institution would have a greater voice in the market if they worked together as a consolidated program.
The early years of CLC were dedicated to educating universities about their rights to their own marks and changing the minds of manufacturers who had been producing collegiate product without a license for years. From there, Bill had to grow the industry by encouraging manufacturer and retailer involvement. As the collegiate market grew and diversified, CLC under Bill's guidance had to adapt to the market and change focus.
Bill essentially developed the collegiate licensing industry from the ground up and fostered its evolution to become the third largest sports "league" in retail sales behind only the NFL and MLB. The collegiate market may be the only licensed property with merchandise in all retail channels of distribution, from campus stores to fan shops, from mass to mid-tier to upscale, and from sporting goods to home décor.