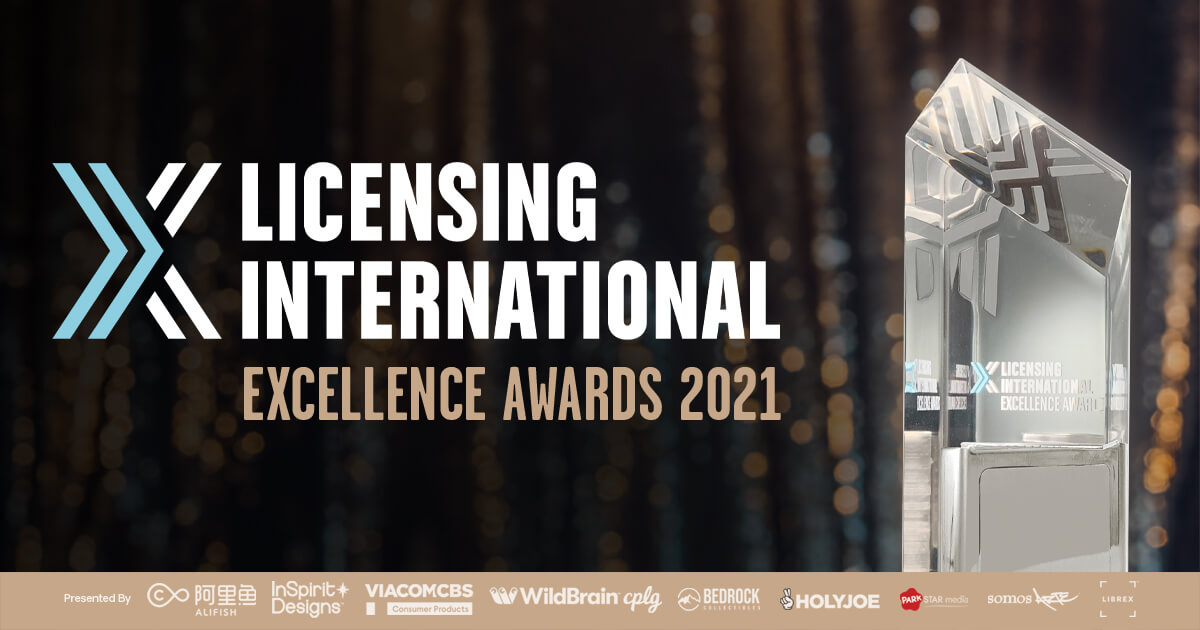 2021 Licensing International Excellence Awards Winners Unveiled
New York, NY, August 24, 2021 – The winners of the 2021 Licensing International Excellence Awards were unveiled today in a virtual gathering that brought together nearly 1000 industry executives from around the world to celebrate the best of the best.
The 22 award winners from seven countries – China, Finland, France, Japan, Singapore, United Kingdom and the U.S. – were selected from among 152 nominees from around the world who made the final ballot. More than 650 entries were received, and an elite global judging panel narrowed those entries down to the final ballot, which was voted on by members of the licensing industry at large. The winners were announced from locations around the world by executives from the event sponsors – Alifish, InSpirit Designs, ViacomCBS Consumer Products, and Wildbrain CPLG.
The awards honor innovation and creativity in the way brands use licensing to further their goals; how licensees develop and bring to market products using those licenses, and how retailers creatively spotlight licenses on their shelves. One special award added this year was for the Pandemic Pivot, recognizing companies' efforts to use licensing to react to the effects of the global pandemic. From among six companies on the ballot, Peanuts Worldwide took home that honor for its work in developing and making available for free in-home educational materials and lesson plans, among its other efforts.
In addition to honoring the work of the nominees and winners, the ceremony included the announcement that Kathy Ireland, CEO and Chief Designer at Kathy Ireland Worldwide; and Salvatore LaRocca, President, Global Partnerships of the National Basketball Association, as the newest inductees into the Licensing Hall of Fame; they'll be formally feted at an event in late October.
This was also a showcase of this year's six international Rising Stars: James Choi (ELLALAN); Addie Dorsey Goossens (Ubisoft); Rachel Hak (Crayola); Kevin Ramsey (Warren James); Jyoti Sardana (OneTeam Partners); and Carolina Verdugo (Beanstalk).
"In our 36th year of honoring the best of the global licensing industry, it's inspiring to see the quality of the work produced by people and companies even as they were adapting to new ways of creating and collaborating amid the effects of the pandemic," says Maura Regan, President, Licensing International. "The achievements that we honor today are testament to the power of brands, and the power of licensing as a business to create products and programs with lasting appeal."
Here are the 2021 Licensing International Excellence Awards winners:
BEST LICENSED PRODUCTS
APPAREL / FOOTWEAR / ACCESSORIES – Martens for Jean-Michel Basquiat Boots
APPLIANCE / AUTOMOTIVE / HOUSEWARES / ELECTRONICS ­­– Beijing Xiaomi Mobile Software Co. for Pokémon Travel
TOYS / GAMES / NOVELTIES FOR AGES 0-8 – PlayMonster for Peppa Pig Grow & Play Peppa Pots
APPS / SOFTWARE / VIDEO GAMES – Topgolf for Angry Birds Interactive Golf Game
FOOD / BEVERAGE – Kinnerton Confectionery for Harry Potter Chocolate Range
HEALTH & BEAUTY AIDS – Mad Beauty for Friends Bath & Body Essentials
HOME DÉCOR – Secret Lab for Batman Gaming Chairs
PUBLISHING / BACK-TO-SCHOOL – Chronicle Books for LEGO Note Brick
TOYS / GAMES / NOVELTIES FOR AGES 8+ – LEGO for Andy Warhol LEGO Art Edition
BEST LICENSED BRANDS
ART / DESIGN / CELEBRITY / FASHION BRAND – The Very Hungry Caterpillar by Eric Carle Studio
DIGITAL / APP / VIDEO GAME BRAND – Super Mario by Nintendo
CORPORATE BRAND – Goodyear by The Goodyear Tire & Rubber Company and IMG
ENTERTAINMENT / CHARACTER BRAND: ANIMATED – Peppa Pig by Hasbro & Hasbro China
ENTERTAINMENT / CHARACTER BRAND: LIVE-ACTION – Harry Potter by Warner Bros. France
FOOD / BEVERAGE / RESTAURANT BRAND – Coca-Cola, Hi-C & Sprite by The Coca-Cola Company
SPORTS / COLLEGIATE BRAND – NFLPA by NFL Players Association
OTHER AWARDS
BEST LICENSED PROMOTION – Direct Line & Born Licensing for "We're On It" with Transformers, TMNT & Robocop
BEST LICENSED COLLABORATION – Crayola x Adidas x Donovan Mitchell
BEST RETAILER FOR A CHARACTER / ENTERTAINMENT INITIATIVE – BoxLunch for Marvel Eat the Universe
BEST RETAILER FOR A CORPORATE / LIFESTYLE/ SPORTS INITIATIVE – H&M for Coca-Cola
BEST LICENSING AGENCY – IMG
THE PANDEMIC PIVOT AWARD – Peanuts At-Home-Offerings by Peanuts Worldwide
About Licensing International:
Licensing International is the leading trade organization for the global licensing industry. Licensing International's mission is to foster the growth and expansion of licensing around the world, raise the level of professionalism for licensing practitioners, and create greater awareness of the benefits of licensing to the business community at large. Founded in 1985, Licensing International members in over 40 countries enjoy access to an array of benefits, including extensive educational programming and worldwide networking events. Visit LicensingInternational.org for more information and to utilize licensing's definitive online resource.