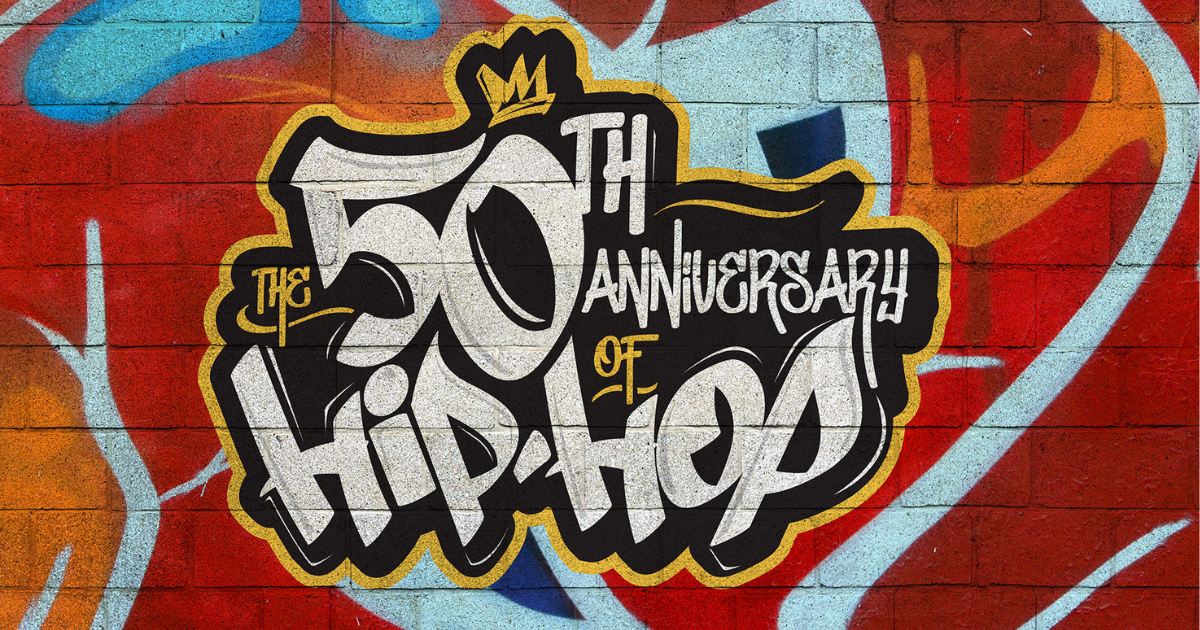 50th Anniversary of Hip Hop Launches "Hip Hop Is Black History" Pop-Up at City Point, Brooklyn February 24-26
3-Day Event to Culminate with Star-Studded Invitation Only Black Tie and Sneaker Ball
Brooklyn, NY — The 50th Anniversary of Hip Hop team of Legends Recordings, Beats Rhymes and Relief and The Brand Liaison announce, "Hip Hop IS Black History," an art installation pop-up that celebrates 50 years of Hip Hop and Black History Month through the lens of social justice.  The installation will be part of the 3rd Annual Black Creatives + Culture Market curated and hosted by DA SPOT NYC ("DA SPOT") and City Point.
Highlighting Black excellence, spotlighting local creativity, and amplifying the impact of hip hop culture, the event will take place on February 24th – February 26th at City Point, located at 445 Albee Square West in the heart of Downtown Brooklyn.  The celebration will conclude at the Black Tie and Sneaker Ball, where music icon Ice-T will present the Mayor of New York City Eric Adams with an award for his commitment to the hip hop industry.  The 3-days of programming are free and open to the public with the Black Tie and Sneaker Ball being by invitation-only.
Beats Rhymes and Relief founder Rameen Aminzadeh explains, "Hip Hop is Black History and our mission through this exhibit is to uplift 50 years of Hip Hop through a social justice lens and live art show. We are thrilled to be presenting this point of view with our synergistic partners – DA SPOT and City Point.
Market curator and founder, Michelle Cadore, Partner, at DA SPOT adds, "At DA SPOT, we create to elevate. Since launching Black Creatives + Culture in 2021, our goal has been to empower Black business owners by providing visibility, economic opportunities, and community connections."  She continues, "Two years later, we are honored to partner with Beats, Rhymes and Relief in celebration of New York City's 50th Anniversary of Hip Hop".
As part of NYC Mayor Eric Adams ambitious goal of producing 50 events in NYC for 50th Anniversary of Hip Hop, Legends Recordings and Beats Rhymes and Relief will introduce events and experiences throughout the year.  Likewise, The Brand Liaison will continue to launch exclusive merchandise and licensing for the cause.
HIGHLIGHTS OF THE 3 DAY EVENT TO INCLUDE:
DA MARKET showcase of fashion, beauty, wellness, art, and lifestyle brands, DA MUSIC STAGE showcasing performances and DJs, and DA ARTIST LOUNGE's "Imaginary Lines," exhibit featuring 15 local BIPOC artists representing a range of disciplines.
Beats Rhymes & Relief presents the Hip Hop IS Black History Pop Up Museum, which will feature Joe Conzo (@joeconzo), DJ Jazzy Jay (@originaldjjazzyjay), Michael Murphy (@perceptual_art), and more.  Plus, the 50th The Pillars of Hip Hop, which will spotlight legendary DJ battles with icons including DJ Jazzy Jay (@originaldjjazzyjay).
About The 50th Anniversary of Hip-Hop
August 1973 marks the origins of Hip Hop music, and an entire culture that has moved the world for 50 years….   As part of the global celebration of this cultural milestone, Legends Recordings, LLC is proud to lead the licensing program in partnership with The Brand Liaison. The international licensing programming will include musical festivals, educational events, television, podcasts, collaborations, and worldwide merchandising rights in virtually every imaginable category.   For more information, contact Laurie Smith at Laurie@thebrandliaison.com
About The Brand Liaison, LLC
The Brand Liaison is a boutique licensing agency focused on creating new revenue streams for clients through licensing, strategic partnerships and other brand extension programs.  For licensors, the company commercializes opportunities to extend brands into cohesive product categories, which maximize their licensing potential.  For manufacturers, it assists in acquiring brands and developing strong licensing programs.  The company works closely with its clients to ensure that brand extension activities compliment their strategic goals and objectives.  http://thebrandliaison.com 
About Legends Recordings, LLC
Legends Recordings, LLC is the official licensor of the 50th Anniversary of Hip Hop trademarks and art assets.  For more information on the 50th Anniversary of Hip Hop Licensing, contact Laurie Smith of The Brand Liaison: Laurie@TheBrandLiaison.com
About Beats Rhymes & Relief
Beats Rhymes & Relief is a 501(c)3 charity that harnesses the power of Hip-Hop to raise awareness and support for global humanitarian relief projects, including the Hip-Hop Community Fund, the first of its kind focused on a holistic approach to healing. With an initial goal of raising $250,000,000, this fund will be used to issue grants to 50 U.S.-based organizations with missions to improve the community through at-risk youth services, violence prevention, criminal justice reform, food security, and health and wellness services.
About DA SPOT
Established in May 2017 by Michelle Cadore and Frantz "Face" Farnolle, DA SPOT is a platform for creativity which supports emerging BIPOC businesses and artists.  The retail store, located at City Point in Downtown Brooklyn, features 25+ creative brands and the custom printing business.  In 2019, Tyler Jordan joined the team, adding C.A.N.V.A.S. art gallery to the business. DA SPOT hosts creative workshops, business panels, and live performances with partners including the Downtown Brooklyn Partnership, MasterCard, New York Knicks, Madison Square Garden, Goldman Sachs, Shea Moisture / Unilever, and others.
About City Point
CITY POINT, a 1.8 million-square-foot retail, entertainment, residential and office complex at the epicenter of Downtown Brooklyn, is the nexus of the burgeoning borough's creative energy and entrepreneurial spirit. The mixed-use development includes over 1,100 residential units, the culinary and entertainment destination DeKalb Market Hall, Alamo Drafthouse, Trader Joe's, and Target.  The property features a mix of local and national retailers including Primark, Lululemon, Joybird, McNally Jackson Bookstore and more.