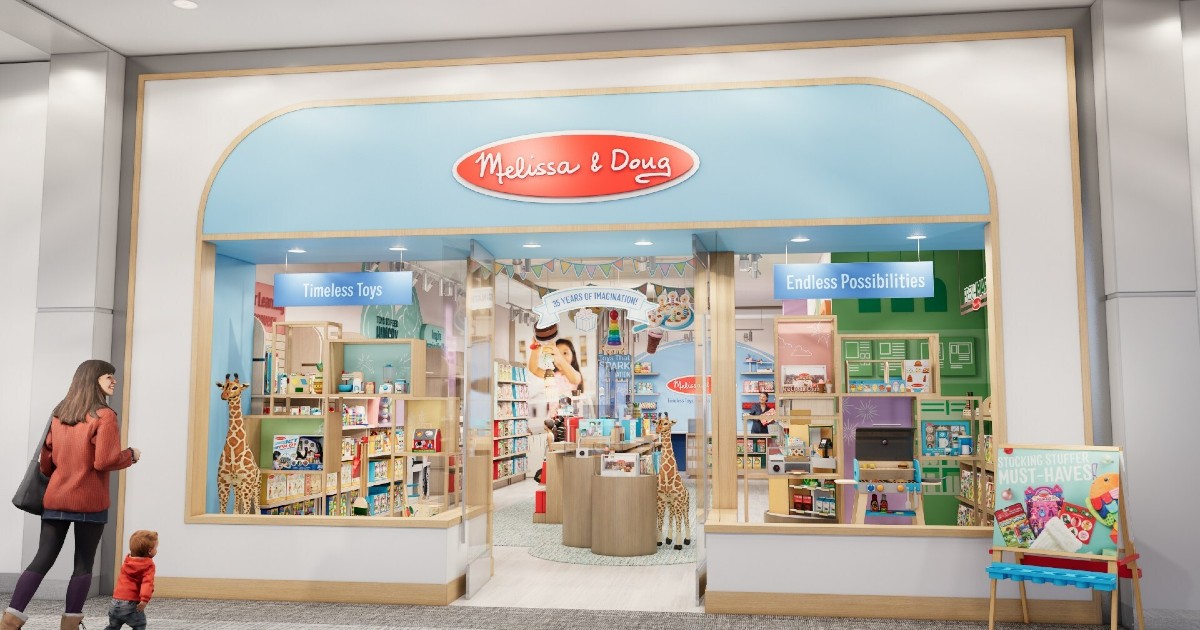 Toymaker Melissa & Doug to Open First Retail Store
Wilton, CT – Melissa & Doug, recognized by parents as the #1 preschool brand for wooden and sustainable toys, announced today the grand opening of its first-ever retail store this fall. The 1,600-square-foot store is scheduled to open its doors on October 6, 2023, in The Westchester, a premium shopping mall in White Plains, NY.
As the company's first brick-and-mortar location in its 35-year history, the store will feature a wide selection of the brand's top-selling toys across categories including pretend play sets, learning toys, baby and toddler products, puzzles, and arts & crafts. The designed-to-inspire store will bring the brand to life in innovative ways consumers have not seen before in traditional physical and online spaces. Consumers will get a closeup experience of the attention to detail, quality, and play value of the toys.
"Melissa & Doug has been a mainstay in the toy industry for nearly four decades, helping families ignite imagination and create lifelong memories together," says Fernando Mercé, Chief Executive Officer. "We're always looking for new ways to share our important purpose and quality toys with consumers, especially during the gifting season. We're thrilled to open our first-ever retail store where consumers can discover and shop a curated selection of open-ended, screen-free toys for their little ones."
Consumers will find top sellers and innovative new products throughout the store with trained brand ambassadors at the ready to assist them with their shopping experience and recommend the perfect toy for every child. Families can also expect small engaging moments throughout, including a spot where kids can measure how many "scoops of ice cream" tall they are, as well as exclusive take-home activities. Plus, Melissa & Doug will honor its 35th anniversary with the in-store debut of the all-new Rainbow Giraffe, a special edition of its iconic 4-foot giraffe plush toy. The colorful plush is exclusively available at the store and on MelissaAndDoug.com.
"Families really look to Melissa & Doug when seeking toys that inspire imaginative, screen-free play especially in those first few years," says Bridgette Miller, Chief Marketing and Sustainability Officer. "When designing a shopping experience for parents and caregivers, it was important for us to create an environment that really represented this. Adults and children alike will love walking into our store and seeing the brand come to life!"
The Melissa & Doug retail store will open its doors on October 6, 2023, with prize giveaways, product demonstrations, and more fun surprises for its first customers. Melissa & Doug will be supporting the store and driving traffic through in-mall signage, media and press events, local marketing efforts, and sponsorship of the mall's Santa Experience. The store can be found on Level 3 of The Westchester.