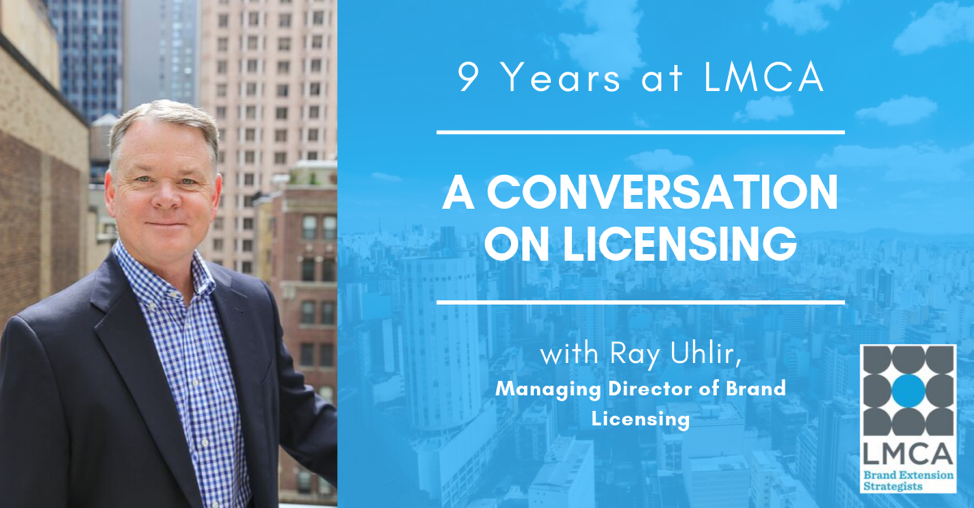 A Conversation on Licensing with Ray Uhlir, Managing Director of LMCA
Ray Uhlir, LMCA's Managing Director of Brand Licensing, is celebrating his 9th year at the company this month.  A licensing industry veteran, Ray has been involved in creating and directing major internal licensing programs for companies like Motorola, IBM and Gibson Guitars.  On his 9th anniversary at LMCA, we sat down to talk with him about how he broke into the business, some of the lessons he's learned being in the industry, and what he is most excited about for the future of brand licensing.
Ray, you have been at LMCA for 9 years and been in the licensing industry for over two decades, can you share your background and how you ended up choosing licensing as your specific career path?
My career certainly didn't begin in licensing. After doing flight test in the Air Force and then working as an Electrical Engineer at E-Systems/Raytheon, I migrated into product management, marketing and program management involving diverse technology systems. I made the leap to IBM with more focus on marketing and branding of options and accessories supporting IBM's #1 share PC line at the time. We quickly realized that there was great opportunity to utilize the licensing model to expand our portfolio and even migrate struggling internal businesses to a license. I championed the idea at IBM and that was the beginning in the 1997 timeframe.
You were in charge of building one of the largest brand licensing programs with IBM. What was that experience like and what were some of the successes and lessons you learned along the way?
It was a great experience. I had to start from scratch and develop all strategy, guidelines, processes, contracts, standards, etc. I put together a small team organized around 3 pillars, Business Development, Marketing and Product Management, and Quality/Safety. We ramped to over 20 licensees and tens of millions in royalties in 2 years. It supported IBM's strategy at the time to become more relevant with consumers, offer products they wanted from IBM, enhance their image with younger consumers, get into new channels of distribution, and deliver solid profit on royalties while protecting trademark IP. The keys were getting buy-in at the very top management on all aspects and having a carefully coordinated process that allowed turn-key approval by key internal stakeholders and rapid rollout by licensees while maintaining IBM standards. A tall order but doable if well-defined upfront. Ultimately IBM's strategy changed away from consumers and personal computers in general, but the program ran successfully for several years as a real industry benchmark.
How has working for a licensing agency been different than running a brand's internal licensing program?
Working with a broad diversity of great brands and an even broader range of categories and market segments at the agency level is the biggest difference. Running a brand program internally gives you more direct control and visibility into the program direction, so that is why it is important for brand owners to treat their agents as true extensions of the company to allow more effective operation and success. Having run programs internally at IBM, Motorola, and Gibson Guitar, has provided great insight into the internal hurdles and also mistakes that brand owners can make. It provides great value for our clients at the agency level. While many clients have great experience and knowledge, an agency brings a much more diverse range of brand strategy, market, category, and deal structure experience that can be leveraged by brand owners. Typically, agencies will also have a much bigger network of key relationships, more focused staff, and best practice learnings than is possible by a brand owner.
Do you have a favorite deal you've been a part of? And why is it your favorite?
Licenses are like children. You love all your babies, so it is hard to pick one. However, the Westinghouse Water Heater license is one I tend to favor because it hits so many check boxes on what we strive for. It properly leverages the brand equity of reliability, quality and delivers the brand promise of "Innovation you can be sure of" as stated in the Westinghouse tagline. It is also a license with a strong American company with made in the USA products. The products are premium positioned with advanced features such as condensing for high efficiency, stainless steel tanks, and some with lifetime warranties. It has great visibility in major channels including online at The Home Depot and has continued to grow delivering strong royalties for the client and strong sales for the licensee. Everybody wins including the consumer.
What qualities makes for an ideal brand to license?
At a minimum, the brand needs to have high awareness, positive consumer perception, and strong brand attributes that can be transferred to targeted categories allowing it to differentiate and compete in the market. It also helps to have a rich history and strong share or placement in its core business segments. The ideal brand also has a brand equity allowing it to logically extend into a broad range of categories or be a dominant player in a focused segment.
If you could pick any brand in the world to build a licensing program for today, which would it be and why?
We love our current clients, and we have already chosen to work with them because they all exhibit unique qualities that make them great opportunities to build on and grow. There are of course powerhouse brands like Apple, Google, Nike and others, but one that has great appeal to me is Dyson. The brand exemplifies innovation and excels in everything it does. It has premium positioning and is broadly extendable into many areas that need innovation with a brand that provides the platform for new approaches and technology but with a level of confidence and trust that consumers seek.
What are you most excited about for the future of licensing?
All segments are becoming more competitive and business is moving faster and becoming more virtual. Licensing provides a business model to adapt to these trends. You no longer have to make or sell everything yourself. By leveraging licensing, you can partner with great companies and experts in areas where you may lack internal resources or know how. Licensing allows you to expand your capabilities virtually, deliver on your brand promise and serve your loyal customers with a broader range of products or services.  As new technologies or categories emerge, consumers continue to want brands they can trust to deliver those new segments, and licensing provides the vehicle.
Ray has worked as a licensing executive at IBM, Motorola, and Gibson Guitar where he created and directed major internal licensing programs.  He also served as a Senior Vice President at Equity Management Inc., working with a wide range of brands including GE, Maytag, Goodyear, Nissan and Lockheed Martin.  He is the Founder of BRANDDelivery, Inc. supporting licensing efforts for clients such as HP, Oreck, Vivitar and others.
Ray has been nominated for his work for best Corporate License of the Year. He has also been a speaker at business forums on licensing and marketing at the University of Virginia's Darden Graduate School of Business as well as the University of Colorado Graduate School of Business.  Ray served as a US Air Force Officer. He holds an Electrical Engineering Degree from Auburn University and Master of Engineering Management/Marketing from George Washington University.