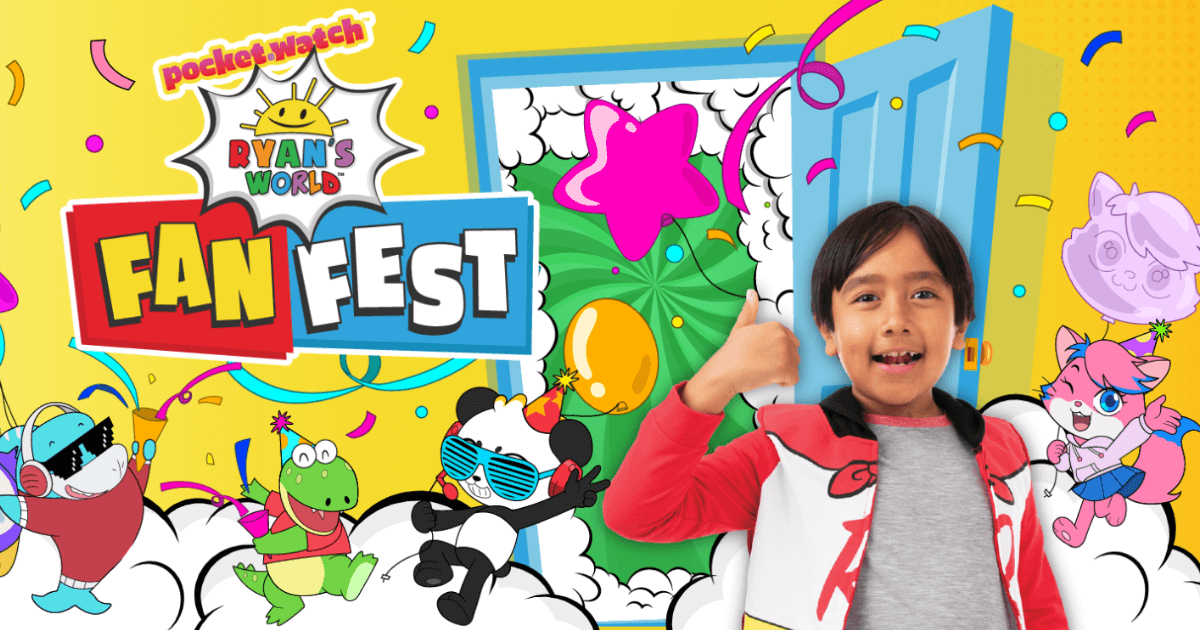 Global, Interactive Online Video Streaming Event to Feature YouTube Superstar Ryan Kaji Of Ryan's World
The Franchise's First-Ever FanFest Experience Debuts Free For Kids & Family Audiences On Saturday, November 27 At 10:30am PST / 1:30pm EST; 
Special Guest Appearances by Rosanna Pansino, GEM Sisters, MarMar, Chuck E. Cheese, and WWE Superstars Kofi Kingston and Xavier Woods
Los Angeles, CA – Pocket.watch, the premier kids and family entertainment company, and Sunlight Entertainment today announced a new interactive global experience, Ryan's World FanFest. The live-streamed event takes audiences through a fun set of activities featuring YouTube sensation Ryan Kaji, his parents Shion and Loann, and twin sisters Emma and Kate, along with fan-favorite animated friends and special guests. The first-ever experience of its kind for Ryan's World's 30M+ fans is free to stream globally at www.ryansfanfest.com on Saturday, Nov. 27 at 10:30 a.m. PDT (1:30 p.m. EDT) and will air in-person at 468 Chuck E. Cheese Watch Parties nationwide as part of pocket.watch's new partnership with the family entertainment company.
The FanFest platform is a brand new and interactive event for Ryan's World fans who hail from all corners of the world. The 90-minute extravaganza invites fans into the Kaji family home as Ryan discovers a secret portal leading to "the multiverse" unlocking doors to various worlds, from the North Pole, to Ryan's Lab, to Rainbow World, where they work to solve puzzles and challenges alongside his animated pals of the Ryan's World franchise. Prior to the event, pocket.watch welcomed parents of Ryan's World fans to submit videos and photos of their children to be incorporated into FanFest.
"The hard work and success of pocket.watch creator franchises is made possible by the dedicated fans around the world who consume every piece of content and engage in these exciting activations," said Kerry Tucker, Chief Marketing and Franchise Officer of pocket.watch. "This first, and most interactive, Ryan's World experience to date is a giant 'thank you' to fans around the world who show up time and time again to play and learn with Ryan. Pocket.watch is proud to be working with FanFest's partners Target and Chuck E. Cheese, who share in our mission to bring kids more of what they love and be everywhere they are."
"Ryan's World fans are so dedicated and have stood by our side these past six years throughout all the amazingly fun opportunities Ryan's enjoyed the privilege of hosting," said Shion Kaji, Ryan's father and founder of the family's production company Sunlight Entertainment. "We've never been more excited to bring together fans from all over the world at the same time to participate in what will be the biggest and most interactive extravaganza the Ryan's World universe has ever seen!"
"We are thrilled to offer our Guests and Ryan's World fans an immersive and in-person experience in our venues across the country," said Melissa McLeanas, VP of Global Media, Licensing and Entertainment for CEC Entertainment. "As the exclusive destination for FanFest viewing parties, this partnership brings to life the power of content and creators across multiple platforms, delivering family entertainment for the next generation of kids."
Guest stars for the event include Rosanna Pansino, GEM Sisters, MarMar, Chuck E. Cheese, and WWE Superstars Kofi Kingston and Xavier Woods. Fans can also expect the following new and interactive features throughout the program:
Photo booth: Families can pose for pictures with Ryan and friends while watching the show.
Downloadables: Parents can download and print free coloring pages, puzzles, science experiment activities, and DIY projects inspired by the show.
Active Objects: Fans can click on objects in the video to interact like never before for Ryan's World. They can choose which door they would like Ryan to pick and even curate their own holiday wish list of Ryan's World toys.
Voice-Activated Emojis: During segments of the show, fans can use their voices to make emojis appear!
During the program, Ryan will exclusively reveal five of his hot holiday toys available at Target this upcoming season, and provide full Ryan's World downloadable holiday wish lists for kids to create and share. Additionally, The Foos, characters from codeSpark Academy, will demonstrate to kids and families how they can learn to code through their wide-ranging games and challenges. The FanFest after party will take place in Roblox where Ryan's twin sisters, Emma and Kate of EK World, will debut their Roblox avatars for the first time and fans can play a new minigame inspired by FanFest.
Ryan's World FanFest will start streaming Saturday, Nov. 27 at 10:30 a.m. PDT (1:30 p.m. EDT) on www.ryansfanfest.com. Check out a preview of the one-of-a-kid FanFest event HERE. For more details on the interactive and in-person viewing parties at Chuck E. Cheese visit chuckecheese.com/ryansworld.
About pocket.watch
Pocket.watch is the premier kids and family entertainment company that specializes in entertaining and inspiring kids and families through digital-first content and sparking their imaginations with lifestyle products ranging from toys to toothbrushes. The company inspires kids to seamlessly move between screen time and playtime and manages a growing portfolio of franchises that includes some of the largest kids and family YouTube brands in the world, including Ryan's World, Love, Diana, Toys and Colors, and Onyx Family. Pocket.watch created and produces the hit show Ryan's Mystery Playdate, which airs on Nickelodeon and is currently in its fourth season. The company was founded in March 2017 by Chris M. Williams and is located in Culver City, CA where it maintains an office and studio. Its management team is made up of studio veterans and visionaries from traditional and digital entertainment including Xavier Kochhar, Albie Hecht, Jon Moonves, Kerry Tucker, Ed Kaufman and David B. Williams. Investors and stakeholders include Viacom, Greycroft, Third Wave Digital and United Talent Agency (UTA), as well as notable strategic angels including Robert Downey Jr. (Team Downey) and Jon Landau with a significant stake in the company being held by Ryan's World creator Sunlight Entertainment. For more information about pocket.watch, please visit pocket.watch.
About Sunlight Entertainment
Sunlight Entertainment is Ryan Kaji's family-owned and operated production company that develops family-friendly content that is driven to help kids learn. Founded in 2017, Sunlight Entertainment was created by Ryan and his family to help streamline the workflow of one of YouTube's largest kids' channels, Ryan's World. The company continues to grow and currently manages tenYouTube channels: Ryan's World, Ryan's World Español, Ryan's World in Japanese, EK Doodles, Ryan's Family Review, Vtubers, Combo Panda, Gus the Gummy Gator, The Studio Space and the Stick with Kaji Podcast. Sunlight Entertainment employs a 30-person team of videographers, editors, animators, writers and voice actors to help produce live action and animated content — releasing about 25 videos a week.  Currently, Ryan's World has rapidly evolved from a toy review YouTube channel to a global kids play and entertainment brand through digital and broadcast entertainment, toys and consumer products. For more information, please visit ryans.world.
About CEC Entertainment, LLC.
CEC Entertainment, LLC is the nationally recognized leader in family entertainment and dining with its Chuck E. Cheese, Peter Piper Pizza and, delivery only, Pasqually's Pizza & Wings brands. As the place where a million happy birthdays are celebrated every year, Chuck E. Cheese's goal is to create positive, lifelong memories for families through fun, food, and play and is the place Where A Kid Can Be A Kid®. Committed to providing a fun, safe environment, Chuck E. Cheese helps protect families through industry-leading programs such as Kid Check®. As a strong advocate for its local communities, Chuck E. Cheese has donated more than $19 million to schools through its fundraising programs. Peter Piper Pizza features dining, entertainment and carryout with a neighborhood pizzeria feel and "pizza made fresh, families made happy" culture. Peter Piper Pizza takes pride in delivering quality food and fun that reconnects family and friends. With a bold design and contemporary layout, an open kitchen revealing much of their handcrafted food preparation, the latest technology and games, and beer and wine for adults, Peter Piper Pizza restaurants appeal to parents and kids alike. The Company and its franchisees operate a system of 556 Chuck E. Cheese and 114 Peter Piper Pizza venues, with locations in 47 states and 16 foreign countries and territories. For more information, visit chuckecheese.com and peterpiperpizza.com.