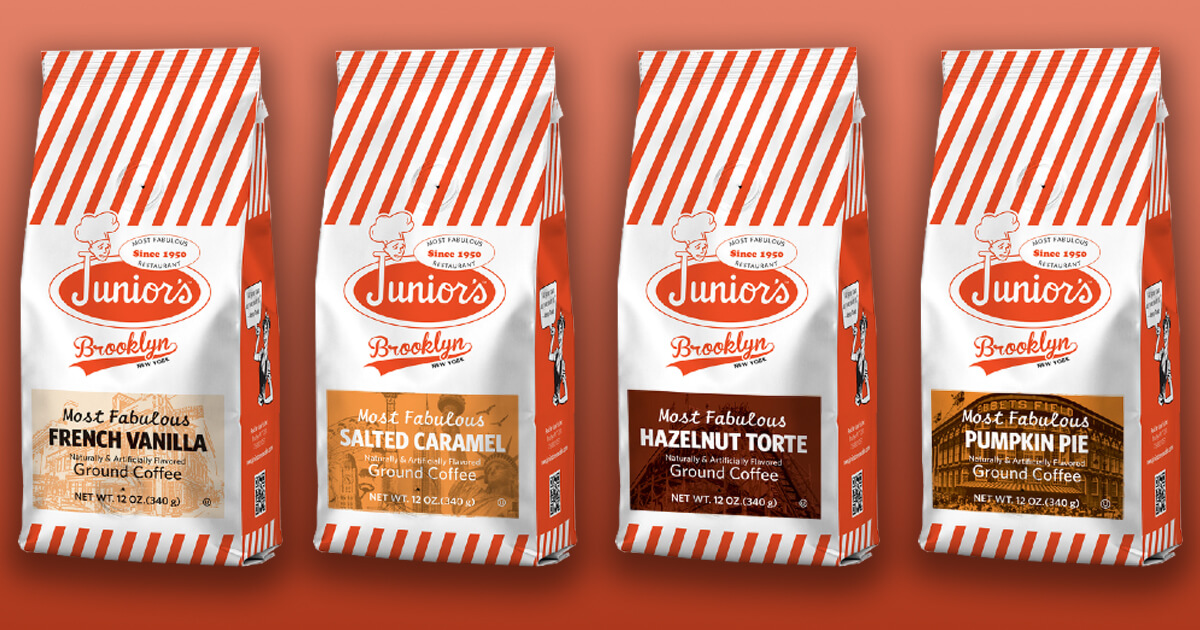 A Great Cup of Brooklyn Blend® Coffee is Brewing!
In its very first licensed product launch under a new multi-year agreement brokered by Surge Brands, White Coffee Corporation in Fall 2021 will produce and market Junior's® Brooklyn Blend®, a 100% freshly roasted Arabica coffee in bags and single-serve K-Cups. White Coffee will also introduce Junior's flavored coffees in French Vanilla, Hazelnut Torte, Salted Caramel and Pumpkin Pie, and not to be outdone, a dreamy Juniors Hot Chocolate K-Cup will also complete this new hot beverage line-up.
Junior's Restaurant was founded in Brooklyn, New York 72 years ago by Harry Rosen, who had two guiding principles.  The first was to serve the best cheesecake in the world, and the second was to give his customers "all you want as you want it," referring to what was then a revolutionary concept – the bottom-less cup of coffee. Rosen's legacy will now be realized throughout the U.S. and Canada at Supermarkets and Specialty Stores beginning Fall 2021.
"We are thrilled to have brokered the Junior's® coffee license with White Coffee Corp., bringing together two iconic New York-based companies in what is surely to be a great success," said Mark Freedman, president of Surge Brands. "What goes better with the world's most fabulous cheesecake than a cup of Junior's® Brooklyn Blend® of freshly brewed 100% pure Arabica coffee!"
"This is such a natural extension of our Junior's brand, a fitting homage to my grandfather's legacy offering customers the best cheesecake and family dining experience, as well as a pioneer of the bottomless cup of coffee," said Alan Rosen.  "Cheesecake and Coffee go together like a Pastrami on Rye, Steakburger and Fries, Blintzes and Strawberry Sauce– all of which we also proudly serve in our restaurants, by the way."
Junior's cheesecake is distributed in over 9,000 supermarkets and specialty stores nationwide, including Costco, ShopRite, Kroger, and Stop & Shop; is the number one dessert for sale on QVC, is available through Goldbelly®, and is featured in best-known steakhouses and restaurants.  In total, Junior's produces more than four million cheesecakes annually which include cheesecake flavors from the legendary original to raspberry swirl, strawberry shortcake, cherry crumb, key lime, chocolate devils' food, and carrot cake cheesecake among the best sellers.
The fact that Junior's has had a synergistic relationship with White Coffee for several decades, making the new venture even more appetizing. Rosen said, "White Coffee has been making the coffee served at Junior's restaurants in Times Square, Connecticut, and the original location in Brooklyn for many years. Over that time, our connection has transcended business; it's a true friendship. I can't think of a better partner to take our coffee beyond our restaurant walls."
Jonathan White, the executive vice president of White Coffee, echoed this sentiment, noting that, "we have the same values, both professional and personal, as Junior's.  Our goals are to ensure that our customers enjoy the best-tasting Junior's coffee experience and to treat them – and treat everyone that works with us as family.  We are truly excited to be collaborating to make Junior's Brooklyn Blend a coffee brand as appealing and famous as its cheesecake is to its legions of fans across the country."
Freedman, of Surge Brands, explained that the timing of the new venture couldn't be more opportune.  "People always enjoy indulging in comfort food and are loyal to brands with heritage and great taste that have always satisfied them and make them happy.  I see this trend continuing for years to come."
About Junior's
Since the 1950's, Junior's Restaurant and Bakery in Brooklyn, New York has been famous for great food, great fun, great service, and, of course, the World's Most Famous Cheesecake. Serving breakfast, lunch and dinner daily, Junior's Restaurant and Bakery's menu features New York and Brooklyn comfort food dishes ranging from classic New York deli sandwiches piled high, famous 10 oz. steak burgers, salads, jumbo half pound hot dogs, fresh seafood and a full-service bar.  For more information, visit juniorscheesecake.com . Instagram: @JuniorsCheesecake, Twitter: @JuniorsCheeseck  Facebook: @JuniorsCheesecake
About White Coffee
White Coffee is a third generation, family-owned roaster located in Long Island City, NY.  Since 1939, White Coffee has imported, roasted, packaged and distributed the finest specialty coffees for the leading local and national retailers in the club store, mass retail, supermarket, online, specialty store, hospitality and foodservice/restaurant supply channels.  In 2019, White Coffee imported more than nine million pounds of raw coffee, and consumers enjoyed more than one million cups every day. A certified SQF Level 3 facility for food quality and food safety, White Coffee has been repeatedly recognized as one of the nation's leading licensees, offering coffee to prominent brands including Kahlua, Entenmann's and Harry & David.
About Surge Brands
Surge Brands, Inc. a sister company to Surge Licensing, Inc. was founded in 1986 by Mark Freedman, a pioneer in the licensing Industry.  Surge is credited for the discovery and launch of the Teenage Mutant Ninja Turtles IP into a global multi-billion consumer products and entertainment phenomenon. Surge Brands key mission is to strategically and creatively expand IP in the corporate brand, food and confectionery spaces by building out intelligent licensed consumer products and promotional programs through best in class licensed partners that share the vision, heritage and passion for our clients' brands.