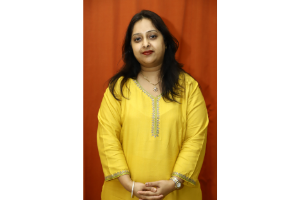 A method to the "madness" – Smita Maroo
Today we are chatting with Smita Maroo – Senior Vice President (Animation, Digital Kids, L&M) Shemaroo Kids. Over the last 2 decades, Smita has been at the forefront of Shemaroo taking it from strength to strength. Today the agenda is to understand a little more about Shemaroo's brand new offering Yedaz – Bollywood Madness…..
Tell us what was the idea behind creating Yedaz- Bollywood Madness who were the people involved and what was the vision?
SM:
Idea:
Shemaroo houses the biggest Bollywood film library. Such is the work environment where everyone talks and breathes Bollywood. We like to believe, every moment we live is a story and someone behind the lens is filming us, such is our love for Bollywood. In India, for most people, there are few films, few characters, dialogues or songs that they closely relate to. The challenge was to bring this love and passion for all Bollywood things in a tangible fashion to the end customer. That's when we thought why not print this Bollywood madness on clothes we wear, on home accessories, and spread the love! Little did we know what was to follow was a deluge of madness and ideas for goodies! So, madness prevailed and amidst this, we found the apt name for the brand Yedaz which means mad people literally and hence our tagline "Bollywood Madness"!
People involved:
The core concept of having Bollywood themed merchandise was conceived at the management level. However, to bring this to reality, we first tried working with a lot of creative agencies externally. Still, they could not help crack a design which would translate our vision. So finally, the core team of the L & M division brainstormed, and after many trials and errors, we eventually cracked our winning formula, which was very simple and intuitive.
Vision: The vision is to keep the iconic Bollywood legacy alive for generations to come in the form of tangible Bollywood merchandise that every Bollywood fan can proudly own.
How has Yedaz adapted to the changes and trends in the merchandising industry since it began its journey in 2016?
As the business environment is very dynamic and is constantly evolving, we at Yedaz aim to engage with the audiences through various modes such as ground events, campus events, social media engagements, and so on. We continuously talk to our customers, take their feedback, and incorporate into our products. Thereby adapting to the trends in the market. For example, one of our customers asked for a Bollywood themed whiskey glass, and we promptly delighted them by bringing out a range of whiskey glass designs.
What are the offerings at Yedaz and what is your plan on expanding these offerings?
 SM:
Offerings:
Today Yedaz is the official Bollywood licensing and merchandising rights holder. It is a one-stop shop for all Bollywood themed products ranging from T-shirts, coffee mugs, coasters, beer mugs, whiskey glasses, shot glasses, fridge magnets, cushion covers, badges, mobile covers, notebooks, tote bags and much more which are available on major
e-commerce platforms as well as our own Yedaz website.
Expansion Plan:
Since we want to build up a complete ecosystem of Bollywood licensing in India, we are doing a strategic partnership with many of the licensees to grow this segment together. Also, at our own pace, we are expanding into various new categories. We are also tying up with current and new upcoming e-commerce platforms nationally as well as internationally.
What are the channels of distribution you work with? Also, tell us about the recent collaborations you have done?
Distribution:
As a brand, we started with a digital presence on all the e-commerce platforms and our own website yedaz.com. Also, we are tying up with many of the licensees and slowly venturing into offline markets as well.
Collaborations:
ADLABS IMAGICA
We are now associated with India's favorite theme park Imagica, and all the latest Bollywood Merchandise from Yedaz is now available across Imagica Stores. It is a chance for all Bollywood fans at Imagica to grab and take their favorite Bollywood merchandise home!
MACMERISE
We have officially partnered with Macmerise for Bollywood themed mobile accessories for all the markets where Macmerise is present.
Tell us about some of the recent developments with Yedaz?
SM:
Developments:
Yedaz.com has been growing steadily. Initially, we started with just 3 e-commerce platforms, and now we have grown to many more such as Amazon Prime, Flipkart, Snapdeal, Pepperfry, Rediff, Paytm, Paytm Mall & Shop clues. Also, recently Yedaz was awarded as the winner in ILA 2018, and we have been nominated for LIMA International Licensing Awards 2019.
pic courtesy Flipkart.com
WINNER FOR LICENSOR OF THE YEAR (Category – Bollywood – at the Prestigious India Licensing Awards 2018)
NOMINATION FOR LIMA INTERNATIONAL LICENSING AWARDS 2019 -Category – Entertainment / Character Live Action
As you also head the licensing division at Shemaroo, what has your experience been in the licensing Bollywood in this Hollywood era? How do you plan on growing the Bollywood licensing industry in India and globally?
SM: Even though Bollywood is a huge industry churning more than 800 films every year when it comes to licensing and Bollywood, this space has never been exploited. In fact, we at Shemaroo are trying to create a new segment of official Bollywood themed merchandise. Hollywood has been well established around the world and has reaped the fruits from the licensing industry whereas Bollywood licensing business is just about seeing the light of day. So far, the biggest challenge was how to present Bollywood themed merchandise, which we have cracked. Currently, we are engaging with licensees to help integrate iconic Bollywood designs with their products.
There are a plethora of opportunities and this is just the beginning. India and Indians around the world are Bollywood fans. We at Yedaz want each Bollywood fan to own a piece of Bollywood in their everyday life. To be able to achieve this, licensing of Yedaz designs across multiple product categories both in India and globally is the way forward.
Thank you for speaking with us. We wish you all the best!