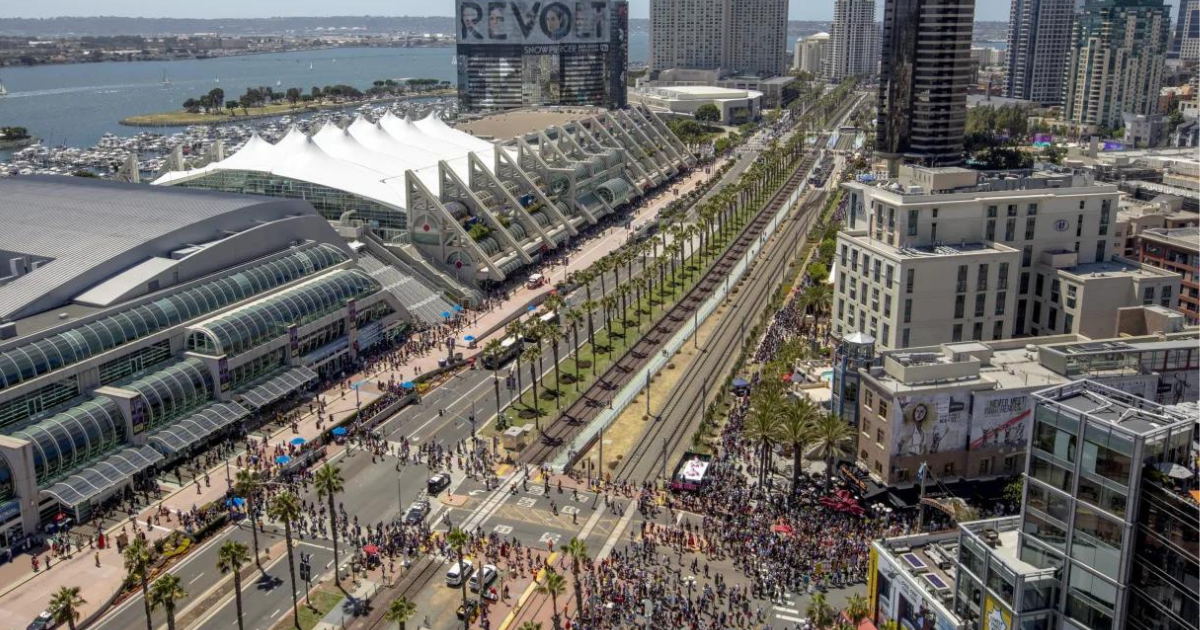 A Striking Change for Comic-Con
As San Diego Comic-Con (SDCC) gets underway Wednesday, an air of uncertainty hangs over what traditionally is a first-look opportunity at new films, streaming and TV series, and licensed products tied to them.
With both actors and screen writers on strike together for the first time in 63 years, content output and the licensing deals related to it hang in the balance. Of utmost concern, at least for the licensing industry, is what impact the strikes will have on releases in 2024 and beyond if the strikes drag into September and October, since content slates for the fall are set. The SDCC show, which launched in 1970, typically attracts 160,000 attendees.
The impact is being underscored by some studios scaling back or having no presence at the bi-annual fan conclave that typically is a showcase for the entertainment industry. The first signs of change appeared in early May when the Writers Guild of America (WGA) went on strike. That was followed by the Screen Actors Guild (SAG) and American Federation of Radio and Television Artists (AFTRA) walking off the job late last week after failing to reach agreement on a new contract.
The twin strikes were partially behind Disney and its subsidiaries Marvel Studios and Luscasfilm not planning any panels at SDCC in dropping an opportunity to showcase upcoming projects like The Marvels (Nov. 10 release), Loki Season 2 (Oct. 6), Ahsoka (Aug. 23) and Haunted Mansion (July 26). HBO, which has a fourth season of True Detective due and a second season of House of The Dragon (2024) in production, isn't taking booth space. The same holds true for Sony Pictures Entertainment (Gran Turismo, Aug. 11, and Kraven the Hunter, Oct. 6), and Universal Pictures (Last Voyage of Demeter on Aug. 11,  Strays on Aug. 18, and The Exorcist, Oct. 13). Netflix, which previewed its One Piece genre series (Aug. 31) at its Tudum fan event in Brazil, also is sitting out the show.
Warner Bros. Home Entertainment will have four panels for its upcoming releases and the premiere of and panel discussion on Justice League: Warworld. Paramount Pictures also will have a panel for Teenage Mutant Ninja Turtles: Mutant Mayhem (Aug. 2).
"The strikes won't slow down attendees at this point since the badges were sold out long ago," a licensing executive said. "And I don't think attendees will abandon their plans. But this year's show might impact 2024 if the 'news' for fans isn't good enough without the studios being there."
With the studios' presence at SDCC likely to be limited, some licensees will likely gain a higher profile. Mattel, whose Barbie movie is due for release on Friday, will have a series of fan experiences highlighting its licenses for World Wrestling Entertainment and its own properties including Monster High, Little People and Uno and will host three panels. Jazwares will host its first SDCC panel highlighting several licensed properties including Pokémon, Star Wars and All-Elite Wrestling as well as its own Squishmallows property. Funko also will likely promote its plans 5,000-sqiare-foot licensed brand stores as it looks to expand on its partnership with rapper Snoop Dogg, which debuted the Dogg House in January.
"For all collectibles companies, constant innovation is the key to growth and never growing stale," said Dolly Ahluwalla, VP for Licensing and Emerging Brand Development at Funko. "Finding the right form factor that excites fans is not as easy as it seems, which is why knowing how rabid Pop! Collectors are, it makes sense to give them additional ways to purchase."
In casting that wider net, some collectible companies are broadening their reach to include candy and cereal brands as they become less reliant on entertainment properties.
Super Impulse, for example, is expanding its lines of micro-collectibles, which has become a licensed category unto itself as more companies enter the fray. Super Impulse will highlight 3.75-inch figures including those for Eternals and Silent Bob, as well as the addition of the Dude character from the film The Big Lebowski, Sonic the Hedgehog, and Trolls to a Poptaters line that combines Hasbro's Mr. Potato Head figure with licensed characters. It has also added licenses with Kellogg's (Pop Tarts and others) and Hershey (Reese's, Hershey bars) for its "Minis in Minis" line, where a collectible is tucked inside a mini- container. Funko will also highlight its Bitty Pops, 0.9-inch versions of its Pop! Figures.
"In the past the typical curve for micro-collectibles was a sharp increase and decrease in sales," Super Impulse CEO Alan Dorfman said. "But with the continued availability of them in new categories, brands and licenses seem to be maintaining the business. At the same time consumer goods companies see an opportunity to have their brands available to a broader range of consumers."