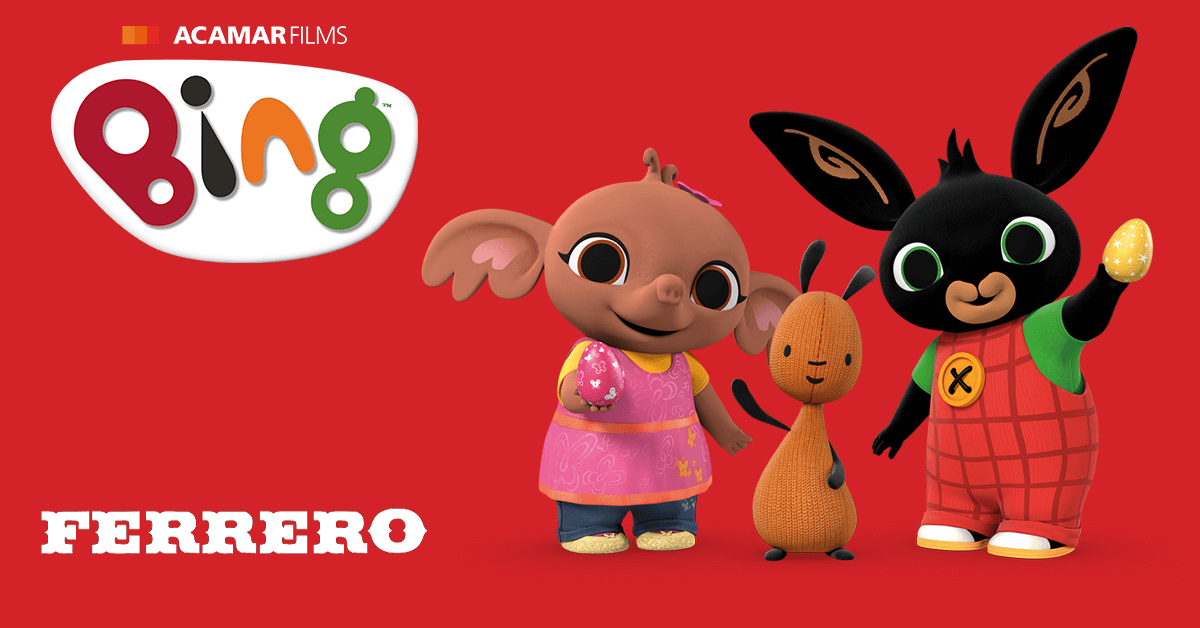 Acamar Films teams up with Ferrero for Bing Eggstravaganza
Bing, Acamar Films' award-winning global pre-school hit supporting healthy child development, has partnered with global chocolate confectionery specialist Ferrero to bring Bing Kinder Easter eggs to Italy for the very first time
The deal will see an exclusive collection of Kinder Grand Surprise Bing 150g Easter eggs launch in 2023 in Italy, supported by in-store activations. As part of the promotion, there will be a physical and digital surprise available when children open the Bing egg.
By scanning the Bing toy, children can unlock the character and bring it to life with Kinder's Applaydu app. One of the top apps for children in Italy, Applaydu is a free-to-download app which offers stimulating and entertaining games that can develop their skills and unlock their creativity, in a family-friendly, safe, and controlled environment.
The famous and hugely popular Kinder Surprise eggs contain the taste of Kinder chocolate plus a surprise and toy in every single egg. The combination of these three elements creates a world of fun and entertainment that helps children to develop their imagination.
Kirsty Southgate, Acamar Films' Director of Experiential & Promotions, said: "We are very proud to be partnering with Ferrero and their internationally recognised and loved Kinder brand. Bingsters in Italy will be able to engage with Bing in a fun new way with the Kinder Grand Surprise toys and we look forward to seeing their reaction."
First launched in Italy in 2018, Bing has experienced great success there and became the number one pre-school brand thanks to a multi-platform distribution strategy and robust licensing program in collaboration with Maurizio Distefano the Evolution of Licensing.
All 104 Italian episodes of Bing have just launched on Disney+ and Bing is also available to watch on Rai Yoyo, DeA Junior, Vodafone TV, Amazon Prime Video, TIMVision, a dedicated Bing YouTube channel and the all-in-one Bing app, "Bing: Guarda, Gioca, Impara".