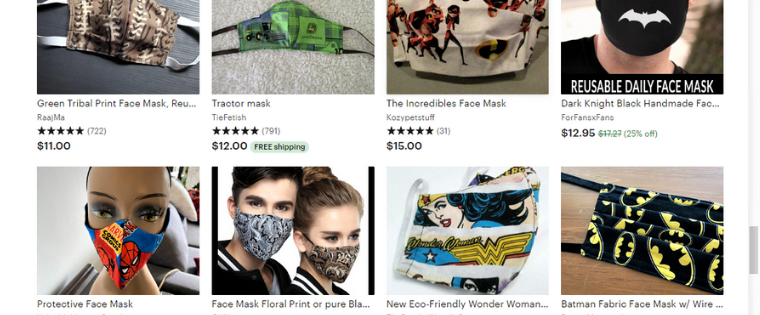 Brand Owners Faced With Mask Conundrum
Masks have become of the face of the battle against the coronavirus and are taking a little more style and flair. And, inevitably, characters, logos and designs of all sorts have begun to pop up to cover mouths and noses. As far as we can tell, they're rarely, if ever licensed. (We have no idea whether the masks above via Etsy are licensed; they merely illustrate the ubiquity of merchandise flooding the online world.)
A quick trip through the maker marketplaces is instructive. Going into the weekend, Etsy maker Kawaii Dress Shop had a line with Disney characters including Maleficent, Snow Queen Elsa from Frozen and Cinderella, all priced at $19. Turkey-based Art Plus had a version with Vincent Van Gogh's Irises artwork on Zazzle, while Etsy maker Back Stitch Beauty was selling Sesame Street character face masks in men's, women's and children's sizes.
A Disney spokeswoman declined to comment, and a Sesame Workshop spokeswoman said the design we cited isn't licensed but declined further comment. Spokespersons for the Van Gogh Museum, Etsy and Zazzle couldn't be reached.
Brand Owner Dilemma
Brand owners are in a ticklish situation – needing to maintain control over their characters, logos and other IP, but not wanting to come within miles of being perceived as profiteers during a crisis. They also have to be concerned about potential liability if, for example, a character-adorned mask is sold to somebody who thinks they're buying rock-solid protection and subsequently gets sick.
When Etsy CEO Josh Silverman said in an interview last week that the number of its makers producing cloth masks had increased fivefold to 20,000 during the prior weekend, he also hastened to add that "the CDC itself has said a fabric face mask is probably better than nothing but please do not assume that this keeps you or the people around you safe. It's an additive measure. It's not preventative."
So even as they pitch in to the collective effort, brand owners are conscious of walking a fine line. Natasha Fishman, EVP of Marketing at Authentic Brands Group, (ABG) acknowledged that if the state or federal government mandates wearing face masks, ABG would likely initially give them away to healthcare workers. ABG's Hickey Freeman division currently is making  masks using hospital-provided surgical curtains and distributing back to hospitals in the Rochester, NY area.
The goal is not to profit off the pandemic because "clearly there is a need , and that need starts from healthcare workers, then other essential workers," Fishman said. But "then it will translate to bringing product to people that becomes part of their personality for PPE."
Longer term,  ABG will make about a dozen of its more than 50 brands available for licensed masks, says an ABG spokesperson. The first ecommerce sales are expected to launch in the next few weeks.
"Up until a few weeks ago, Americans really didn't wear masks," says the ABG spokeswoman. "And going forward [a key element] it will be aligning with a real charity.  Brands partner with charities because they want to have a purpose that creates an authentic connection and we will see more of that. Once people stop buying masks frantically, charities will be a key component and eventually it will be OK for companies to make money from face masks."