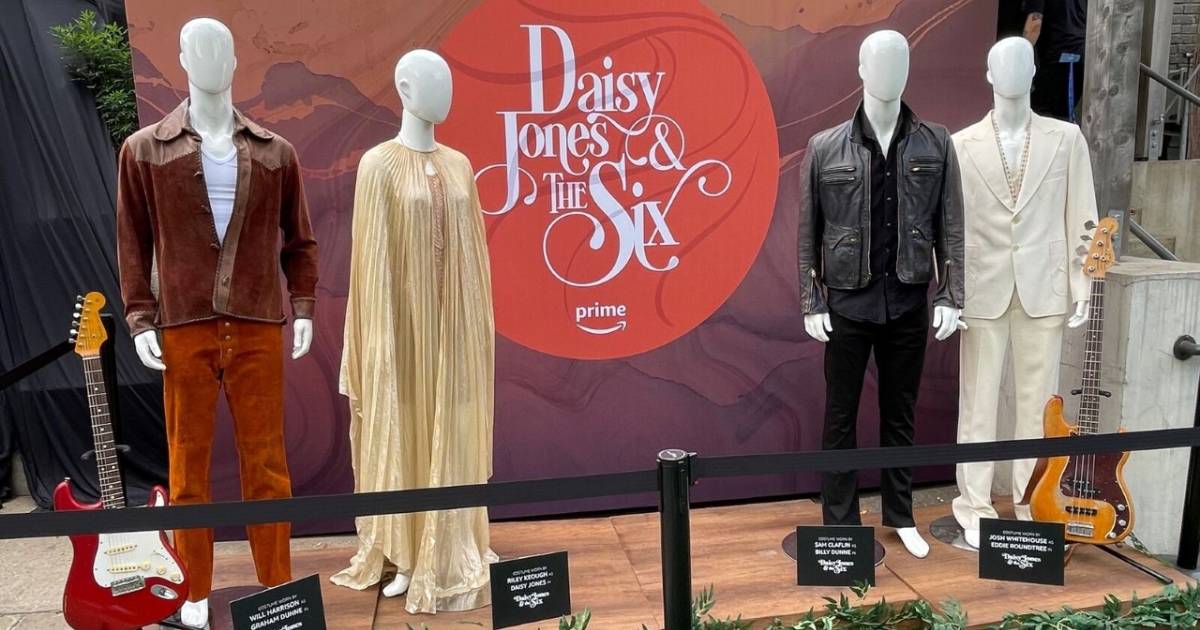 Amazon Prime Video Makes Noise with Daisy Jones & The Six
Daisy Jones and the Six debuted on Amazon Prime Video earlier this month, and it's already making some serious noise. The 10-episode series launched with several brand extensions spanning multiple categories. Will it result in a new playbook for brand-building in the streaming world?
The show, which launched on March 3, is an homage to rock bands in the 1970s. Just ahead of its premiere, an album (Aurora) hit shelves featuring original songs sung by the actors in character.
That was followed by a 50-piece apparel DTR collection with the 1,400-store Free People chain as well as an experience at the Hotel San Jose in Austin, TX during last week's South by Southwest (SXSW) event. The in-person experience allowed attendees to step into the fictional band's recording studio as well as view costumes worn on the show.
The series is based on Taylor Jenkins Reid's hit 2019 novel, which sold more than one million copies globally and spent six weeks on The New York Times best-seller list.
And while the series has a built-in fan base with the book's readers, will it have staying power after the final episodes air later this week? So far, aside from the collaboration with Free People, Amazon hasn't launched a licensing program.
"The burden to create the content, maintain and acquire people for the [streaming] platform, and also promote is a lot of exposure," said one licensing executive. "Before, you created the best show and put it on a network that spent time and energy garnering the audience. If you are a streamer, [the question is] how are you going to be everything to everybody? To successfully do a 360-degree marketing campaign, you really have to be everywhere."
Location-based experiences do seem to be a preferred strategy, however.
Faithful re-creations of well-known film and television sets have become a beloved fixture among the immersive activations at SXSW. Recent examples have included the Los Pollos Hermanos restaurant from AMC's Breaking Bad and Better Call Saul and the Double R Diner from David Lynch's Twin Peaks. Amazon Prime also featured a Jack Ryan experience at San Diego Comic-Con when it launched in 2018, and Netflix has launched multiple experiences inspired by its hit series Stranger Things.
"You have some tried-and-true marketing campaigns, but with everything being so digital now does a big activation pay off when you can reach a lot more people digitally?" asked a licensing executive that worked on the AMC activations. "Sometimes critics may not like a series, but the viewers are there, so maybe they know something we don't. There will only be so many people at SXSW, but if you can get them excited about it, maybe it drowns out any criticism of the series. Streaming is really just finding its footing now."
As wide-ranging brand activations come more to the fore in the streaming space, there remains another challenge. While licensed products from a series tend to sell well on the platform on which they are being streamed, that doesn't always translate to brick-and-mortar retail, licensing executives said.
"We have sold the products well on the platform but have not been able to get placement with other retailers," said Sam Hafif, CEO of Concept One Accessories, which had a license for the The Expanse series on Amazon Prime. "As always, it boils down to the IP, not the platform on which it sits."