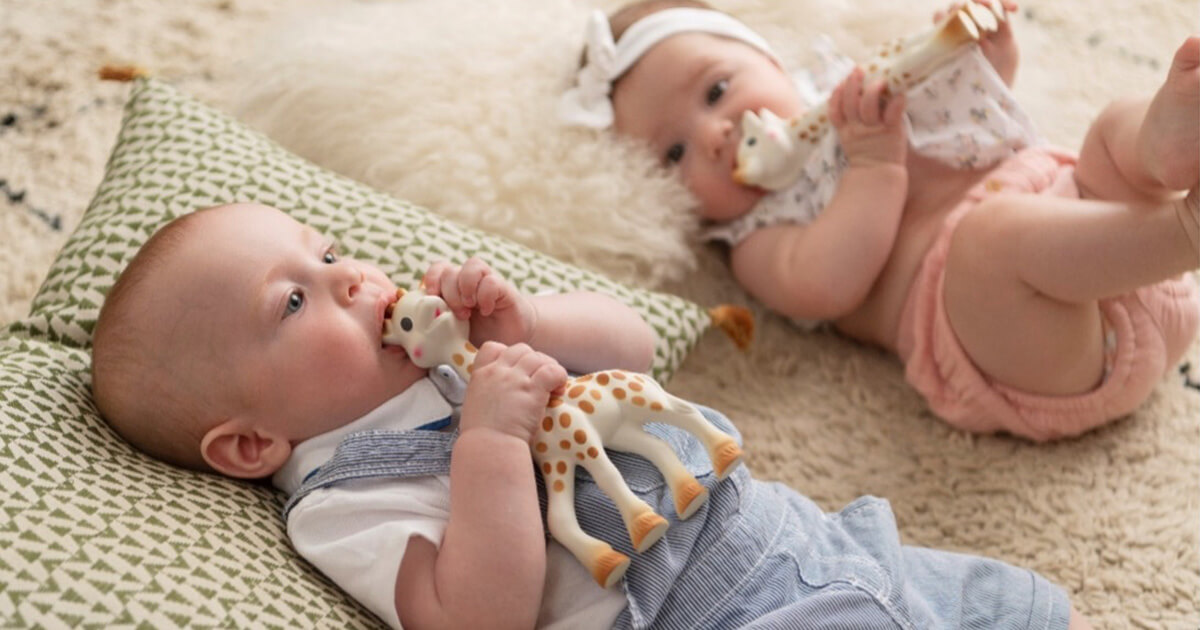 Animal Adventure Inks New Licensing Partnership With Sophie la girafe
Los Angeles (March 6, 2022) – Animal Adventure, LLC and its affiliate Dan Dee International, LLC, (jointly Animal Adventure) leaders in plush, baby, home décor, pet, and seasonal products, along with award-winning licensing agency Anjar & Becker Associates, today announced a new licensing agreement with DELISO S.A.S. for the premium infant brand Sophie la girafe.
Sophie la girafe is the best-selling teether in the world generating $100M+ in annual retail sales. Animal Adventure plans to market an extensive line of plush, feature plush, mobiles, activity mats, storage cubes, rockers, rocking horses, soft chairs, stroller toys, baby wedges, and seasonal products in the U.S., beginning in Summer, 2022.
"We're pleased to be partnering with Sophie la girafe, one of the world's most trusted infant brands and a great fit with our Animal Adventure business. Animal Adventure is known for creating wonderful baby products through a thoughtful, trend-driven approach, and we're excited to build a Sophie la girafe line that looks beautiful and leverages the unique position which the brand holds for parents and infants," said Mark Matheny, Head of Licensing, Animal Adventure.
"As a parent, having confidence in the products that I give my child is so important. Sophie la girafe was the first brand that my child was introduced to and has been trusted by parents around the world for generations," added Andrew Hogan, Licensing Director, Animal Adventure. "This partnership via Anjar & Becker Associates will bring elevated and innovative new products to parents and gift-givers, allowing infants to experience the Sophie brand in new and exciting ways."
"DELISO is grateful to Patti and Jonathan Becker for identifying and negotiating this deal with Animal Adventure. We always strive to offer the best for babies, and Animal Adventure's expertise in plush manufacturing, and their extensive distribution, make them the ideal plush licensee for the Sophie la girafe brand," states Stephanie Arnaud, Deputy General Manager, Vulli.
Maude-Sophie Guerret, Licensing Manager for Sophie la girafe adds, "DELISO is very pleased about this license with Animal Adventure. Animal Adventure's patented range of antibacterial and hypoallergenic plush products, further enhances the desirability of the plush products Animal Adventure will make available to the trade."
Patti Becker, CEO of Anjar & Becker Associates says, "We're very excited that we could bring Sophie la girafe and Dan Dee / Animal Adventure together for this expansive licensing deal. Sophie is a very special brand, and we know it's in good hands with Dan Dee and Animal Adventure. They make beautiful plush, and we're excited to have them join the family of Sophie licensees."
About Animal Adventure LLC & Dan Dee International LLC
Animal Adventure LLC and Dan Dee International LLC, jointly, are one of the world's largest designers and suppliers of plush products and North America's leading supplier of seasonal plush and décor. Animal Adventure and Dan Dee have established a reputation for developing high quality plush (including every-day, seasonal, basic, and animatronic plush toys), baby products, home décor, and pet toys that are freshly designed, innovative, trend-right, and attractively priced. Their customers include many of the world's leading mass, food, drug and specialty retailers who depend on the business's reliability to deliver large volumes and complete programs with great sell-through. With a 200,000 sq. ft. product development facility staffed with 150+ designers and over 50,000 copyrighted patterns, Animal Adventure and Dan Dee have the capability to supply their customers with unique products which differentiate them from their competitors.
About Sophie la Girafe® and DELISO S.A.S
Sophie la girafe® was born in 1961 in Paris, France, and is a $100+ million brand, produced from 100% natural rubber derived from the Hevea tree. Marketed in more than 85 countries, Sophie la girafe® is the #1 infant teething toy in the world. Moms trust Sophie la girafe® and recognize the brand as the most requested product in a newborn's gift basket. Sophie la girafe is the most-recognizable infant brand in the world, and is an award-winning, world-renowned toy. Each Sophie is unique, and handmade through a 14-step process. Sophie has soothed generations of teething babies. She's gender-neutral, classic, timeless, cross-generational, and appeals to each of baby's five senses. Sophie's shape makes it easy for baby to grasp. She's loved by celebrities around the world and is an Amazon.com best seller and ASTRA winner for Product of the Year! In the U.S. over the past 5 years, Sophie has experienced huge growth in popularity, particularly with millennials, with whom it's a 'must have' toy for their babies. Sophie celebrated her 60th birthday in 2021.
About Anjar Co. LLC & Becker Associates LLC
Anjar & Becker Associates is an award-winning IP licensing and brand management agency, who provide international licensing and distribution opportunities to the toy and game industry, and brand extensions into pets, apparel, bed and bath, fitness and wellness, publishing, and footwear.  Anjar & Becker Associates have licensed more than 1,000 products, including products co-branded with Disney®, Pokémon®, Sesame Street®, Nickelodeon®, Warner Bros.®, Marvel®, G.I. Joe®, Barbie®, The Simpsons®, Batman®, Spider-Man®, Superman® and Hello Kitty®.  Anjar & Becker Associates is the exclusive licensing agent for some of the most famous and iconic brands in the world, including Wham-O®, Frisbee®, Hula Hoop®, Super Ball®, Hacky Sack®, Slip 'N Slide®, Boogie Board®, Trac-Ball®, Fireball Island, Go for Broke, Sophie la girafe®, Timber Tots®, Steve Kaufman®, and Anne Geddes® and Wham-O Pets.  In 2021, Anjar & Becker Associates were recognized as one of the 100 Most Influential Figures in Toy and Game Design. The Beckers' mission is to inspire play, which is universal, and create lifelong memories and experiences across its portfolio of products, turning many of the best-known toys and games into world-famous, global brands. Anjar's founder, James R. Becker, was inducted into the National Toy Hall of Fame in 2018, on Anjar's 50th Anniversary. For more information on Anjar & Becker Associates, please visit: www.Anjar.com and www.BeckerAssociates.com.