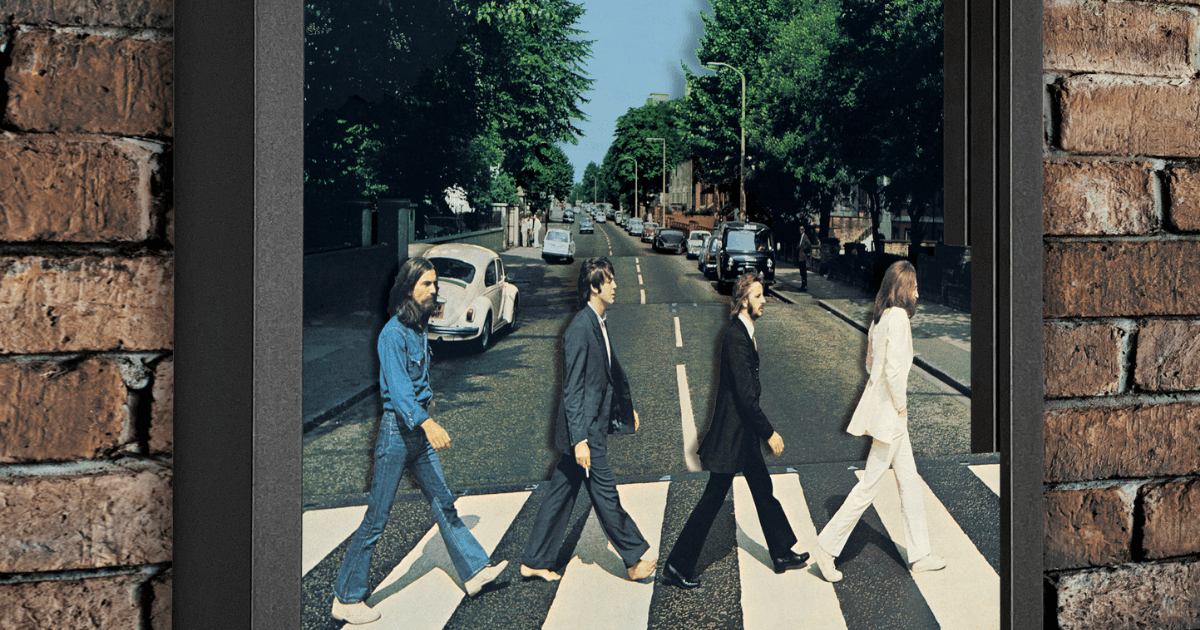 Artovision Announces Licensing Partnership With The Beatles to Create Collectible 3D Artwork
Eau Claire, WI — Artovision and Apple Corps Ltd have entered into a licensing partnership to bring the art of the Beatles to life through Artovision's innovative range of multi-dimensional printed collectibles bringing some of the band's most iconic art and album covers to life with a three-dimensional depth never seen before. The deal was brokered by Sony Music's Thread Shop, The Beatles North American licensing agent
"This has been a great project for everyone involved and we're looking forward to seeing some of the Beatles most iconic album covers and photos given Artovisions treatment" said Joe Marziotto, Vice President, Branding & Licensing of Sony Music / Thread Shop.
Artovision's shadowbox artwork combines four layers of art, each printed in high-resolution on optical grade acrylic panels, and assembled within a durable vinyl-wrapped frame to create astonishing visual depth. Artovision's desktop artwork, meanwhile, combines two high-quality printed layers in a freestanding optical grade cast acrylic block, perfect for brightening up desktops, bookshelves and home entertainment systems.
Stuart Sandler, CEO of Artovision adds "Having the opportunity to work with the most prolific and loved bands of all time is truly humbling as both fans of their incredible music and visuals loved by music fans worldwide. We couldn't be more excited to bring the iconic Beatles album covers and artwork into a a whole new dimension for Beatles fans everywhere to enjoy!"
The first products of this collaboration are due to launch in spring 2021 and will feature classic imagery from the Beatles including the Abbey Road crosswalk, Sgt. Pepper's Lonely Hearts Club, the Yellow Submarine and more created into stunning collectible dimensional shadowbox and desktop artwork.
About The Thread Shop:
The Thread Shop is a leading music merchandising company from Sony Music Entertainment focused on enhancing artist revenue, branding and marketing through the development of high-quality products and compelling shopping experiences. The Thread Shop designs, manufactures and markets fashionable and functional merchandise and lifestyle goods that reflect the vision and aesthetic of its artist and brand partners. It offers artist-specific product lines, limited-edition customized merchandise and full-scale tour merchandising through a variety of online and physical retailers, as well as through artist e-commerce sites and pop-up retail environments in tour venues and stores. Its artist partners include A$AP Ferg, Bob Dylan, Camila Cabello, DJ Khaled, Foreigner, Led Zeppelin, Lil Nas X, Maluma, Ozuna,  P!nk, Rosalia, Shania Twain, and Zayn among others.
About Artovision:
Artovision is a pioneering collectibles brand inspired by our earliest experiences playing arcade games with a pocket full of tokens, blasting away on our Atari home video game computer system or collecting $200.00 as we pass Go. We believe in celebrating this genre of pop culture and its iconic characters, stories and art by creating collectible artwork that we've transformed into a new dimension. Artovision is family-run business with all of its products handcrafted Eau Claire, WI, and produced ready to hang with no assembly required. These officially licensed products are also supplied with a certificate of authenticity, making them a must-have for gamers, art lovers and collectors. Artovision collectibles are produced thoughtfully and responsibly, using a pollutant-free print process and 100% recyclable packaging. Find out more at: https://artovision3d.com