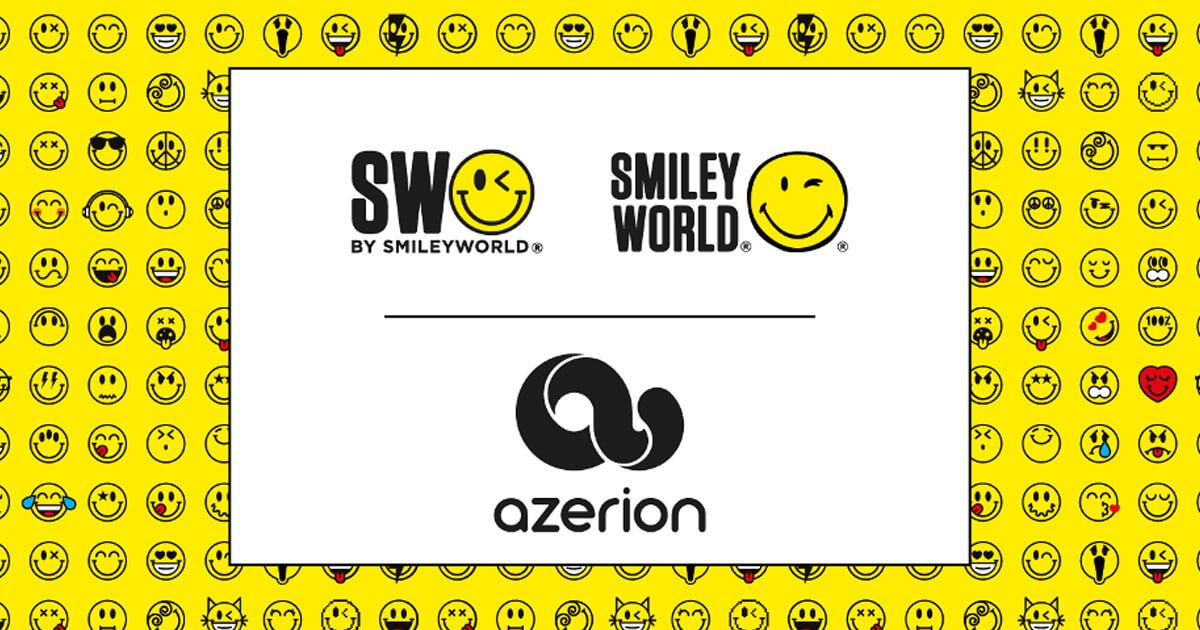 Azerion and The Smiley Company join forces to put a smile on every face by gamifying The Original Smiley
Long-term licensing partnership to craft a series of custom digital content to gamify SmileyWorld brand values of Positivity, Self-Expression and Lifestyle
Amsterdam, The Netherlands – 17 March 2022  –  The digital entertainment and media platform, Azerion, today announced a long term partnership with The Smiley Company to create an array of digital entertainment content to gamify their brands including SmileyWorld and SW by SmileyWorld and engage with fans through Azerion's vast distribution network.
"The original Smiley® has been part of our day-to-day life for 50 years now. We use Smileys to communicate, care and love with friends, family and colleagues. They are the way to go beyond language barriers and generations in the modern times. SmileyWorld has a profound history and is a lifestyle brand that connects people," said Erol Erturk, EVP Games and Strategic Partnerships at Azerion.
Through the partnership, Azerion has the global rights to develop digital content utilizing the SmileyWorld and SW by SmileyWorld trademarks, and will cover the full cycle from production and distribution, to monetization. Starting with a handful of HTML5 games, including SmileyWorld branded match-3 and Mahjong, Azerion will create a series of cross-platform branded games and digital entertainment experiences that will then be released across their distribution network of more than 2,000 gaming portals, telcos and mobile stores.
"With over 16,000 game titles under our belt, we are excited about this opportunity to work with Smiley to further expand our footprint in bringing games to life to our core audience groups, allowing deeper engagement with fans of SmileyWorld while increasing reach for advertisers," said Erol Erturk, EVP Games and Strategic partnerships at Azerion.
"As we celebrate the 50th anniversary of Smiley bringing happiness and positivity to millions of people across the world, we are thrilled to be partnering with Azerion to bring the SmileyWorld & SW by SmileyWorld brands to life in the digital universe. Pairing Azerion's expertise and knowledge in digital gaming with Smiley's creativity and positive brand values creates a winning proposition to create engaging and entertaining content," said Lori Heiss-Tiplady, SVP Digital at The Smiley Company. "SmileyWorld and SW by SmileyWorld are lifestyle brands with deep roots in fashion and also emotional intelligence, enabling self-expression and the sharing of positivity. Working with Azerion to apply this to gaming will allow people to spread happiness and express themselves in a whole new way."