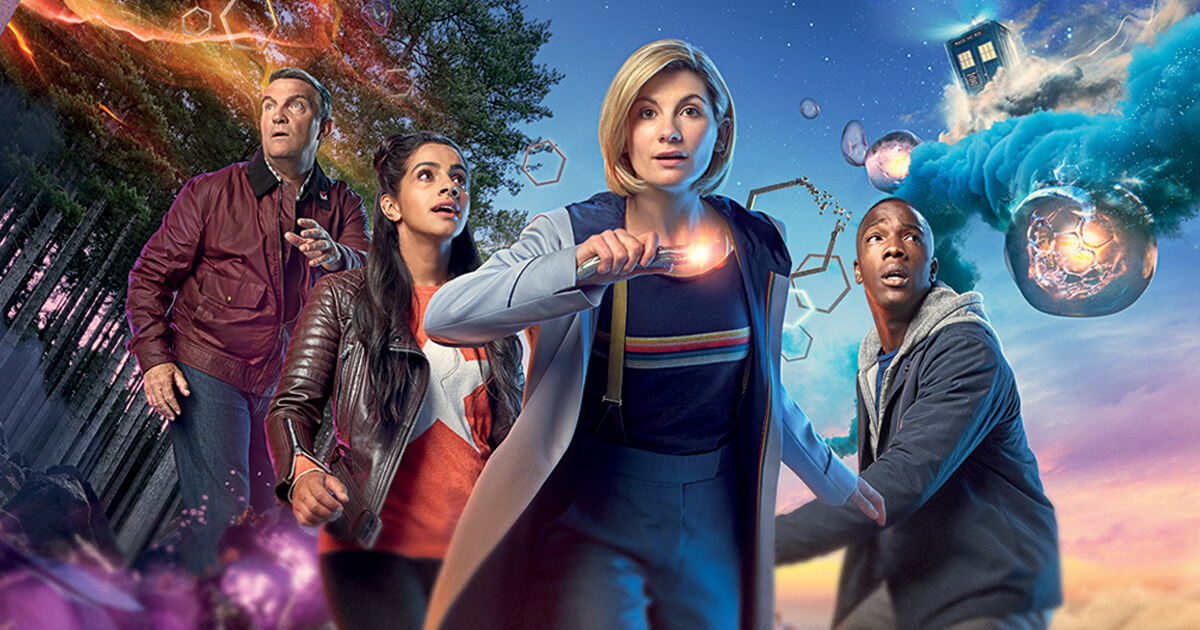 BBC Studios Welcomes New Licensing Deals for Doctor Who
Beeline Creative, Hallmark, and Rittenhouse Join Team TARDIS
BBC Studios, the distributor and licensing agent for the long-running action adventure series Doctor Who, is partnering with Beeline Creative, Hallmark, and Rittenhouse to bring brand new collectibles to fans in the U.S. later this year.
Suzy Raia, VP, Licensing, BBC Studios–Americas says: "Fans are the lifeblood of Doctor Who. Those who have been along for the ride for decades will enjoy adding these collectibles to their collections – and if you're just joining us, these are great gifts for the Doctor Who newbie in your life as well."
Beeline Creative (Available Starting October 7)
Spice up your kitchen cabinets or collector shelves with the brand new line of Doctor Who Geeki Tikis® mugs from Beeline Creative. Each Geeki Tikis® mug features beautifully sculpted detailing true to the character to which it is paying homage. Crafted from high-quality ceramic, each Geeki Tikis® mug is top-shelf dishwasher and microwave safe. The newest Doctor Who collectibles from Beeline Creative include:
K-9 Geeki Tikis® Mug ($12.99)
Eleventh Doctor Geeki Tikis® Mug ($19.99)
Dalek Geeki Tikis® Mug ($24.99)
Tardis Geeki Tikis® Mug ($29.99)
Doctor Who Mini Muglet 4-Pack Collector Case ($39.96, Walmart.com available starting July 24th)
Hallmark (Available Starting October 2)
Bring Time and Relative Dimension in Space to your holiday celebrations with the latest release of ornaments from Hallmark. Launching October 2, 2021, the new Hallmark and Doctor Who collectibles include:
TARDIS Keepsake Ornament with Light and Sound ($24.99)
The Fourth Doctor Keepsake Ornament ($19.99)
Rittenhouse (Available Early 2022)
In a global deal, Rittenhouse Archives plans to release its Doctor Who: Series 11 and 12 Trading Cards, featuring autograph cards signed by Jodie Whittaker (The Doctor), Mandip Gill (Yaz), Tosin Cole (Ryan), Sacha Dhawan (The Master), Patrick O'Kane (The Lone Cyberman), Chris Noth (Jack Robertson), Alan Cumming (King James), and dozens of other cast members.  This premiere edition collection will also feature images and plot synopses from every episode of Series 11 and 12, and much more.  More details will be available in the coming weeks and months from Rittenhouse at www.scifihobby.com.
Doctor Who is available in the U.S. exclusively on BBC America, with past seasons available to stream on HBO Max. In the U.S., classic Doctor Who can be found on BritBox.
About Doctor Who
Doctor Who, produced and distributed by BBC Studios, is one of the longest running series in the world, spanning 57 years and winning over 100 awards. This British brand has a huge global following, with over 10 million fans across social platforms and over 200 million video views on Facebook and YouTube. Doctor Who has fans in over 239 territories and has been honoured by Guinness World Records as the longest running science-fiction series in the world. Doctor Who reached a third of the UK population during Series 12, is BBC America's number 1 series and is a top 20 drama on ABC in Australia.
Doctor Who has partners spanning the consumer products, publishing, audio, live events, gaming and apparel industries, having sold over four million Sonic Screwdrivers, twelve million action figures, eighteen million DVDs and one million tickets to live events.
About BBC Studios
BBC Studios, a global content company with British creativity at its heart, is a commercial subsidiary of the BBC. Formed in April 2018 by the merger of BBC Worldwide and BBC Studios, it spans content financing, development, production, sales, branded services, and ancillaries. BBC Studios' award-winning British programs are internationally recognized across a broad range of genres and specialties. It has offices in 22 markets globally, including seven production bases in the UK and production bases and partnerships in a further nine countries around the world. The company, which makes over 2,500 hours of content a year, is a champion for British creativity around the world and a committed partner for the UK's independent sector.
In the Americas, BBC Studios' operates two production units – one in Los Angeles, responsible for ratings juggernaut and Emmy®-nominated Dancing with the Stars and multi-award-winning Life Below Zero, and the other in Brazil, where local productions Dancing Brasil and Bake Off Brasil have become breakout hits. The company manages joint venture relationships with AMC Networks for flagship channel BBC AMERICA (U.S.) – home of original series Killing Eve and global brands Dynasties, Doctor Who, and Top Gear – and with ITV for SVoD service BritBox (U.S./Canada), as well as strategic partnerships in Canada with Blue Ant Media for BBC Earth Channel and Corus for BBC Canada. The company also boasts a franchise management business and a robust linear and digital content sales and co-productions operation.