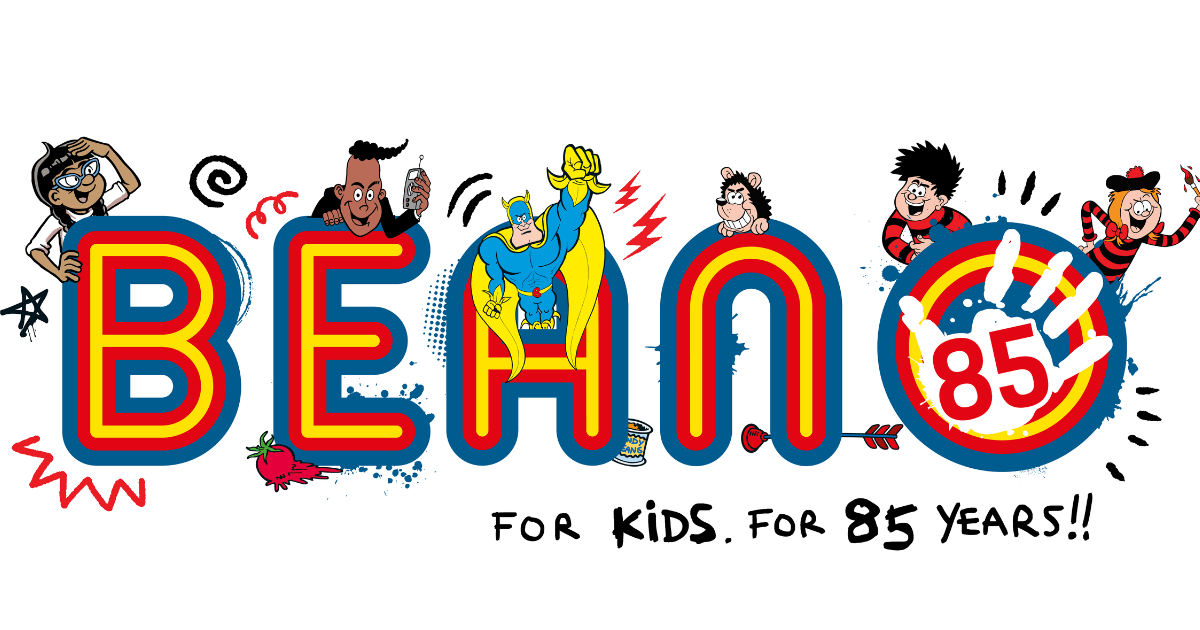 Beano Celebrates 85 Years in 2023
Rocket Licensing is preparing a celebratory range of consumer products to mark the milestone
Having begun its story in 1938, Beano has become one of the most recognizable British brands of all time, alongside names such as James Bond and The Beatles1 and in 2023 it celebrates a momentous 85 years since it first hit newsstands.
Now the world's longest-running weekly comic, Beano has recently reported its fifth year of consecutive sales growth2 and with more than 28 million Brits having read the comic as kids,3 its unsurprising that it is loved by all generations, with 84% brand recognition amongst kids, and a whopping 94% recognition amongst adults4.
The special year will be commemorated by the brand across the year with a special comic issue, a national press and media campaign, schools' activity and special appearances from the comic's celebrity fans. More details of the celebrations will be announced soon.
Rocket Licensing, which manages the rights for the property in the UK, is preparing an exciting schedule of consumer products and events, as it's not only Beano celebrating, but Roger the Dodger, Minnie the Minx and the Bash Street Kids will also be celebrating their 70th-anniversaryth anniversary milestones, while The Numskulls will be marking their 30th anniversary.
The huge year follows in the footsteps of Dennis's 70th celebrations which saw celebrations by fans young and old with the brand and Dennis trending worldwide on Twitter across the year. Beano is also officially children's magazine of the year, winning the accolade at the PPA awards.
Beano will, as always, support World Book Day 2023, to help children unlock a love of reading for fun. Licensed products and categories planned to feature in-store during this important seasonal window include new Beano book releases from Farshore, dress-up from Rubies and nightwear from Aykroyds.
Charlie Donaldson, Joint MD at Rocket Licensing, commented: "Beano is part of the culture of Britain, and we're thrilled to be able to honour the brand's 85th birthday next year. Dennis' 70th anniversary in 2021 was a huge success and the nation celebrated in style with a range of fabulous products and events. We're planning even more excitement for 2023 and are looking forward to working with existing and new partners to ensure the anniversary is one to remember."
Talking of the momentous year, Vanessa Andreis, Franchise Planning and Partnerships Director, commented, "2023 is going to be Beano's biggest year yet! Kids and their families won't be able to miss our celebrations as we commemorate both the iconic comic and our incredible characters which are so loved."
As part of the celebrations, the brand is also delighted to launch Beano: The Outdoor Game, in partnership with the Outdoor Gaming Company, for families all over the country. Starting with London and Dundee, followed by other major towns and cities over the coming months, the game will see families help Dennis find Gnasher in their local town or city by solving clues, completing tasks, and answering questions.  
About Rocket Licensing
Fifteen years old and one of the UK's leading award-winning licensing agents, Rocket Licensing represents a diverse and focused roster of brands that spans entertainment, preschool, heritage, lifestyle and specialist interest properties. Rocket's portfolio currently manages UK licensing programmes for an array of leading entertainment studios and licensors including: Bapper; Beano; Studios; Bob Ross/Firefly; BocPix; Eastman Kodak Co; The European Space Agency (ESA); Hat Trick International; Kiri and Lou Ltd; Kyandi, Legendary; Metro-Goldwyn-Mayer Studios (MGM); Peckings; Scholastic/Horrible Histories; The Joester Loria Group/Eric Carle; The Lumistella Company; Timbuktu Labs; Toho International and Yakka Dee! Ltd. For more information, please visit www.rocketlicensing.com
About Beano Studios
Beano was first published in July 1938 and is still created every week in its original Dundee headquarters and printed in the UK. Beano recently reported an ABC of 58,053 and is in its fifth consecutive year of circulation growth. The brand reaches over 5m fans a month on its digital network, centred around multi-award winning Beano.com, featuring jokes, quizzes and games in a kid safe environment.
Beano Studios is a rebellious multi-media publishing, entertainment and creative business powered by data and insight. The Studio produces diverse content across TV and the award-winning Beano.com – as well as theatrical, live experiences, licensed products, the Beano Shop and the legendary Beano comic and annual.