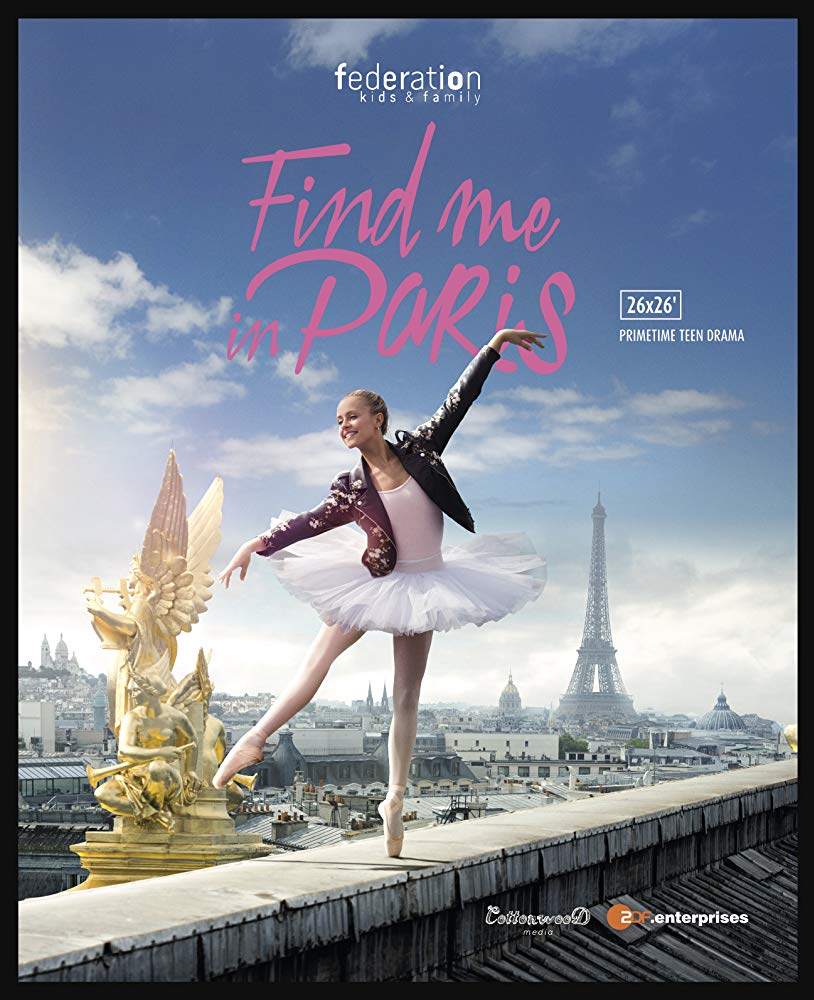 Bentex to Launch Find Me in Paris Apparel line
PARIS,  France – Premium European Kids content producer Cottonwood Media, (a Federation Kids & Family company), has signed a deal with U.S.-based Bentex Group to launch an exciting line of apparel for tween drama series "Find Me in Paris."
Bentex Group will develop a wide range of core apparel featuring T-shirts, dresses, separates, as well as product extensions with dance and swimwear for tween girls in North America.  The product line will support and translate the unique storyline from the hit time-travelling ballet series,  combining classic and contemporary looks and delivering fashion items that are great to layer in to express a girl's unique style, in the same way the characters do in  Find Me in Paris.
The deal was brokered by Beacon Rock Growth, licensing agent for Find Me in Paris in the U.S.  and Canada, in partnership with Ana Micoud who leads Cottonwood's licensing business through her company The Wizards.
Find Me in Paris, which has been nominated for 'Best Live Action Series' (Tween/Teen Category) at next month's Kidscreen Awards, has phenomenally sold into 130 countries to date, and broadcasts in over 80 territories worldwide.
"We have seen tremendous results for Find Me in Paris in the U.S., not only in terms of viewing figures but also thanks to the level of engagement from fans across multiple social media platforms. We can't wait to see the beautifully created fashion lines from Bentex hitting the market, as they have a brilliant track record when it comes to reflecting the heart of brands," said Ana Micoud.
"We are very excited to be working with Cottonwood on the launch of Find Me in Paris apparel. The beauty of this series should inspire girls to dream of their future and dance to their hearts content," said Susan Peia, EVP of Licensing, Bentex Group.
With 3 Seasons, Find Me in Paris (78 x 26') is a premium hit tween series that combines world-class ballet, modern dance, drama and comedy.  It follows the story of Lena Grisky, a time-travelling ballet dancer from 1905 Russia trapped in modern day Paris, and the many dilemmas she faces finding her place between two worlds.
Find Me in Paris is produced by David Michel, Zoé Carrera Allaix, and Cecile Lauritano (Cottonwood Media) and co-produced with ZDF, ZDF Enterprises, Be-Films and the Opera National de Paris.  Written, and co-executive produced by Jill Girling and Lori Mather-Welch (creators of Nickelodeon's hit series Ride), with Leila Smith as Executive Producer, Find Me in Paris is directed by Matt Bloom (Emmy Award-Winning Hank Zipzer, and Disney's The Lodge), along with heavyweight Irish directing team Ronan and Robert Burke (TV3's hit show Ed Rock, Netflix's Free Rein, animated series Roy and Damo & Ivor: The Movie).
Find Me in Paris is distributed worldwide by Federation Kids & Family (excluding Germany, GST and Scandinavia which is handled by ZDF Enterprises).  Various seasons of the 12-million-euro time-traveling ballet series have already been snapped up by a plethora of international broadcasters such as France Télévisions and Disney (France and Italy), NBC Universal and Hulu (USA), ABC (Australia), VRT (Belgium), RAI (Italy), Quebecor (French speaking Canada) , HBO (Portugal), Hot TV (Israel), and SVOD service Showmax (South Africa), to name a few.
About Cottonwood Media
A subsidiary of Federation Entertainment, Cottonwood Media was created by David Michel, Zoé Carrera Allaix & Cécile Lauritano.   Cottonwood Media creates, produces and invests in premium, talent-driven content with a focus on bringing together North American and European audiences, on both linear and non-linear platforms. In 2015 Cottonwood Media partnered with Federation Entertainment to form Federation Kids & Family, a global distribution division which distributes original content from both companies as well as third party acquisitions. Based in Paris and now in Berlin, through its subsidiary company Cottonwood Media Gmbh, Cottonwood Media currently has four series and one feature film in development.  
About The Wizards
The Wizards, founded by Ana Micoud, is a Paris based consultancy firm specialising in the global development of brands in the media and entertainment sectors. Combining diverse competencies from strategy consultancy, brand licensing to new business creation, The Wizards focuses on brands and licensing management, new partnership negotiations, and the direction of innovation and diversification of projects.
About Bentex
Bentex Group, Inc is a family of affiliated consumer driven companies. They are fully engaged in the design, development and marketing of apparel, home décor, electronic and pet products worldwide. Bentex is a leading supplier to the major retailers, supplying licensed, branded and private label products. This is achieved through their category and consumer segment focused teams: Bentex, Dreamwave, HIS International, MiGear. Greenberry and One Design.
About Beacon Rock Growth
Beacon Rock Growth is a boutique business development agency dedicated to brand strategy and positioning, as well as licensing strategy and execution, for brands already based in the United States or those looking to enter the U.S. market. The agency provides brand owners the foundation to build and develop a sustainable, profitable business. Leveraging an internal ecosystem of industry experts, and an external network of buyers, licensees, and partners, Beacon Rock Growth assembles the right team for each client and then deploys its resources and capabilities to maximize success.
Media Contacts:
Celine Xerri-Brook
Tel: +4479 57334228
Valérie Tailland
​Tel: +33 (6) 82 57 06 09