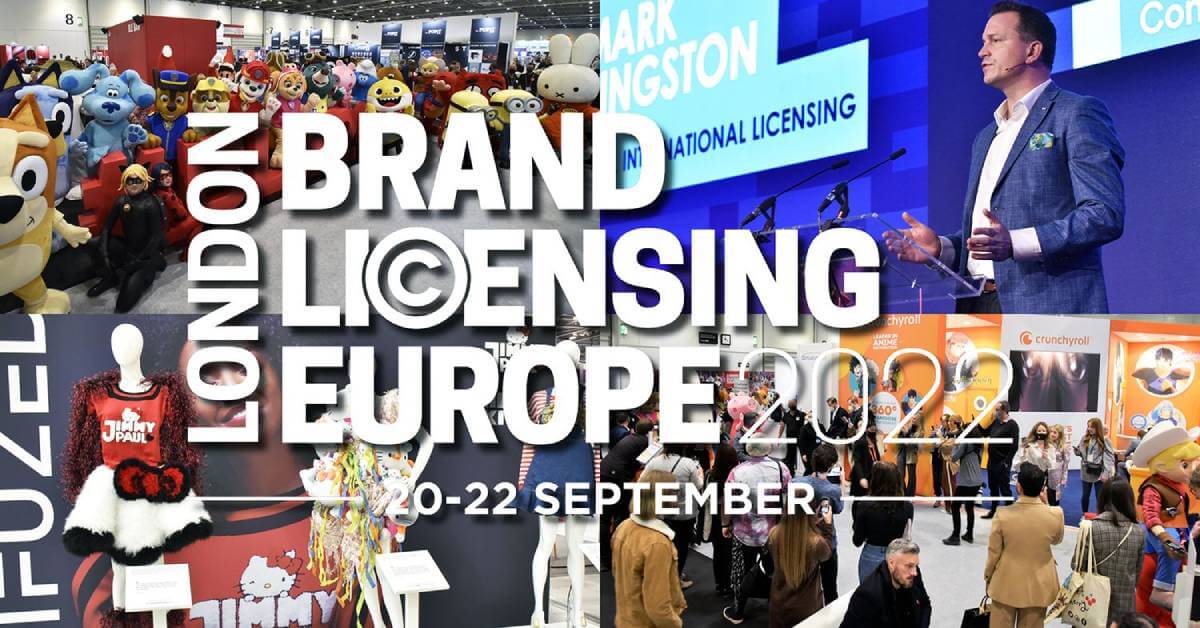 Brand Licensing Europe Announces Packed Agenda of Experiential, Educational, and Networking Events
22nd BLE takes place 20-22 September at ExCeL London
2022 theme is fashion
Free registration open now
Europe's leading event for licensing and brand extension – Brand Licensing Europe (BLE) – has announced an exciting schedule of networking, educational, and experiential events for its 22nd show, which takes place 20-22 September 2022 at ExCeL London.
Welcoming thousands of European retailers, manufacturers and brand owners, BLE 22 will present the latest brand collaborations, inspire future product ranges, display the hottest product design innovation, showcase new and emerging IPs, and highlight the endless opportunities for brands to extend into new categories and markets.
Attendees can register for free to join Amazon, Aykroyd & Sons, Tesco, Moonpig, Panini France, Jakks Pacific, HMV, Danilo, Paladone Products, Clementoni Spa, Spin Master, Ravensburger, and more already registered to visit.
More than 150 exhibitors have confirmed their participation including Mattel, NBCUniversal, TF1 Licensing, Acamar Films, Pokémon, Sophie La Girafe, Difuzed, Crunchyroll, Bravado, The Smurfs, AC Milan, Asterix, Formula E, Paramount, BBC Studios, Hasbro, Gallimard Jeunesse, and Ubisoft.
Attendees can enjoy the following experiential, educational and networking highlights:
Experiential highlights include:
10 choreographed catwalk shows forming part of BLE 2022's fashion theme focusing on Footwear, Kids, Food & Beverage, Collabs, Sports & Athleisure, Culture & the World, and Sustainability
4 branded cafes and bars offering immersive experiences, product installations, and additional meeting space
The much-loved character parade, taking place at 11:30am on 20 and 21 September – follow the characters as they walk through the show before emerging outside the West entrance of ExCeL
The Kelvyn Gardner License This! competition finale returning on 22 September from 10:30am until 12:00pm. Watch the shortlisted entrepreneurs battle it out to win the 2022 Character & Animation and Brand & Design awards. Plus, last year's winners Sophie Jonas-Hill with Tea for Tattoo and Joel Mercer's Seed Folk exhibiting on the main show floor
A new sustainability and diversity programme spotlighting new and diverse brands and voices, with 22 September (final day of the show) exclusively dedicated to bringing this to life through activations and education
An exclusively curated Retail Lounge designed for retail attendees to mingle, gain product inspiration, and host meetings
Educational highlights include:

Free-to-attend keynotes on 20 & 21 September at 1:00pm in the License Global Theatre. Stay tuned for the first reveal next week.
A renewed partnership with Products of Change providing an educational platform for those looking for guidance on how to make their business more sustainable
A re-imagined experience for newcomers to the industry with orientation sessions, show tours, speed networking, and expert mentoring alongside pre-event on-demand content
Additional free educational sessions in the License Global theatre including category spotlihttps://licensinginternational.org/news/collaborations-stretch-brand-boundaries/ghts and conference sessions from the recently postponed Brand & Licensing Innovation Summit
Entertainment showcases on 20 & 21 September in the Platinum Suite
All sessions will be recorded and available on-demand in the online platform, available to all registered attendees and exhibitors. This does not include the invite-only entertainment showcases.
Networking highlights include
Opening Night Drinks on the show floor on 20 September from 5:00pm – 7:00pm open to all attendees and exhibitors
The return of the Online Meetings Service and Matchmaking Lounge allowing attendees and exhibitors to book meetings ahead of the event and maximise ROI from the show
Exhibitor drinks reception on 21 September at the Novotel from 5:00pm – 7:00pm
"The calendar for BLE is firming up quickly and we want to give the industry as long as possible to start planning and block their diaries before the meeting requests start coming in. With so much going on through the exciting Fashion theme, the packed seminar programme and more, there's something for everyone and we can't wait to welcome the European licensing community to ExCeL this September," said Informa Markets SVP of Licensing Anna Knight.
Upon registering, all visitors and exhibitors will gain access to the free online platform to setup their profile in preparation for the Meetings functionality opening mid-July to book meetings ahead of the event. All content will be available on-demand in the platform once the show ends.
For media information:
Charlie Le Rougetel at BIGTOP / charlie@bigtop-pr.co.uk/ +44 (0)7736 330676
About Brand Licensing Europe
Launched in 1998, Brand Licensing Europe is the only pan-European annual event dedicated to licensing and brand extension. The London event features over 2,500 brands and more than 7,500 licensees, manufacturers, retailers, distributors, and licensing agents. Brand Licensing Europe is a part of the Global Licensing Group at Informa Markets, the licensing industry's leading trade show organiser and media partner. Its mission is to provide licensing opportunities around the world by bringing brands and products together.
About Global Licensing Group
The Global Licensing Group at Informa Markets is the licensing industry's leading tradeshow organizer and media partner. Its mission is to provide licensing opportunities around the world by bringing brands and products together. The following events and information products are produced for the licensing industry by the Global Licensing Group at Informa Markets: Licensing Expo, Brand Licensing Europe, Licensing Expo Japan, Licensing Expo Shanghai, The Licensing Leadership Summit, License Global magazine, License Global Daily E-News and The Licensing Mixtape podcast. Global Licensing Group events are sponsored by Licensing International.
About Licensing International
Licensing International is the leading trade organization for the global licensing industry. Licensing International's mission is to foster the growth and expansion of licensing around the world, raise the level of professionalism for licensing practitioners, and create greater awareness of the benefits of licensing to the business community at large. Founded in 1985, Licensing International members in over 40 countries enjoy access to an array of benefits, including extensive educational programming and worldwide networking events. Visit LicensingInternational.org for more information and to utilize licensing's definitive online resource.