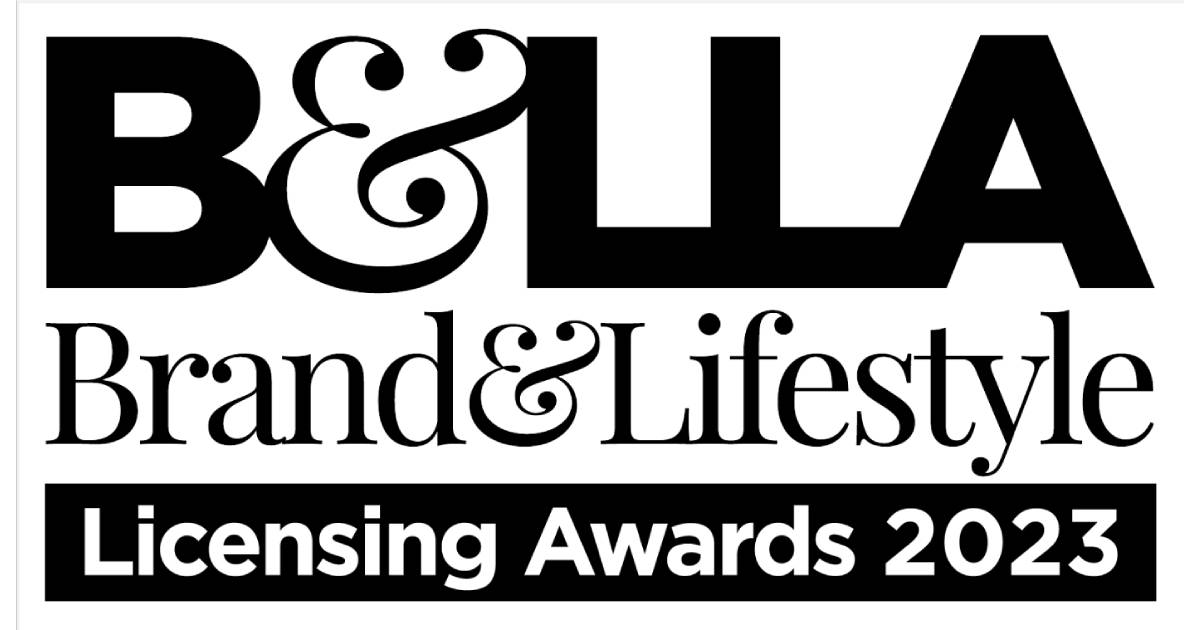 Brand & Lifestyle Licensing Awards 2023: The Winners
The winners of The B&LLAs 2023 industry awards were announced yesterday afternoon (Thursday 27 April) at a glittering awards event, held at the Royal Lancaster London.
Hosted by Matt Forde, the brand licensing community's annual get-together, was attended by some 450 retailers, licensees and brand owners who shared in the joy as the worthy winners made their way to the stage to collect their trophies. 
Before the awards, The Style Sisters – Gemma Lilly and Charlotte Reddington – told their story of how, in a few short years, they have turned organising into an art form and become household names, with a growing licensing programme. 
The grand finale of the awards ceremony was the Brand Ambassador Award, which was presented to Maxine Lister, head of licensing at the Natural History Museum, for her continued contribution to this dynamic sector.  
The winners of the B&LLAs 2023 are: 
The B&LLAs Rising Star Award (sponsored by BLE's Retail Mentoring Programme)
Amy Austin, brand licensing junior buyer, DFS 
PRODUCT AWARD CATEGORIES 
Best Brand Licensed Fashion Accessories or Lifestyle Product or Range (sponsored by Lisle Licensing)
TfL Handbag and Wallet Collection from Kurt Geiger 
Best Brand Licensed Food or Beverage Product or Range (sponsored by MDR Brand Management)
The National Gallery Canned Wine Collection from Canned Wine Co. 
Best Brand Licensed Health & Beauty Product or Range (sponsored by Country Living/House Beautiful)
Coca-Cola Creations Make-up Collection from Revolution 
Best Brand Licensed Adult Apparel Product or Range (sponsored by ASPIRE by WildBrain CPLG)
Alice Temperley A Life in Print Collection from Anthropologie 
Best Brand Licensed Gifting Product or Range (sponsored by The National Gallery)
Natural History Museum Collection from Blueprint Collections 
Best Brand Licensed Homewares, Kitchen & Tabletop Product or Range (sponsored by Natural History Museum)
Nadiya x Prestige Cookware and Bakeware from Meyer Group 
Best Brand Licensed Children's Product or Range (sponsored by Start Licensing)
Animal Planet Collection for George@Asda from Poetic Brands 
Best Brand Licensed Electrical &/or DIY Products or Range (sponsored by Golden Goose)
Dolce & Gabbana Kitchen Appliances from Smeg 
Best Brand Licensed Home Decor Product or Range (sponsored by Pink Key Licensing)
Country Living Paint Collection at Homebase from Homebase 
Inspired Innovation Brand Licensed Product or Range Award (sponsored by CAA Brand Management)
Jelly Belly x Myprotein Protein Powders from The Hut Group Nutrition 
The Sustainability Brand Licensed Product or Range Award (sponsored by Products of Change)
Natural History Museum x Dunelm Collection from Dunelm 
RETAIL AWARDS CATEGORIES 
Best Fashion Retailer of Licensed Brands (sponsored by Beanstalk)
Next  
Best Department Store or Mixed Retailer of Licensed Brands (sponsored by Metrostar)
John Lewis & Partners 
Best Supermarket of Licensed Brands (sponsored by TSBA)
Iceland 
Best Specialist Retailer of Licensed Brands (sponsored by Brandgenuity)
Boots 
PROPERTY AWARD CATEGORIES 
Best Licensed Heritage or Institution Brand (sponsored by Brand Licensing Europe)
Natural History Museum 
Best Licensed Lifestyle Brand (sponsored by Dependable Solutions)
Goodyear 
Best Licensed Design-led Lifestyle Brand (sponsored by Poetic Brands)
Smiley  
Best Licensed Food or Beverage Brand (sponsored by Licensing International)
Coca-Cola 
Best Licensed Fashion or Talent Brand (sponsored by H&A)
Sara Miller London 
Brand Licensing Ambassador of the Year 2023 (sponsored by Brandcomply.com/Octane 5)
Maxine Lister, head of licensing, Natural History Museum 
For further information please contact: 
Jane Garner / Sian Dorrington
jgarner@kgmpr.com
sdorrington@kgmpr.com