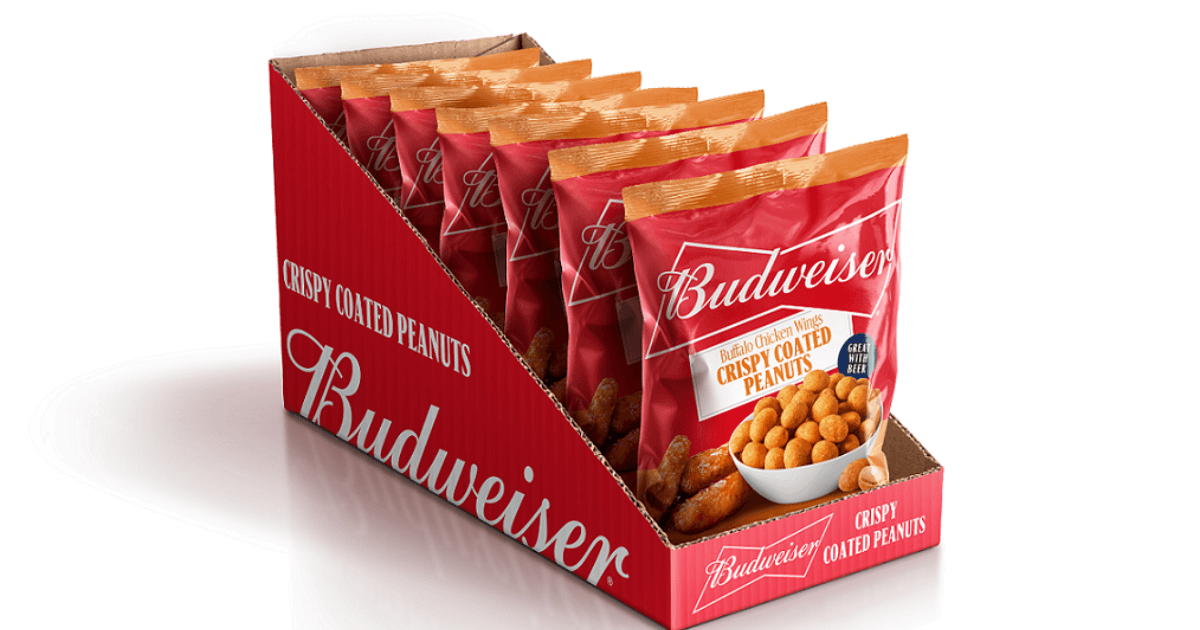 Budweiser Goes Nuts With Humdinger
London, UK — Humdinger, the multi-category healthy snack company, has partnered with the King of Beers Budweiser, to launch three brand-new flavors of peanuts, in a deal brokered by IMG.
Available in all-American flavours including Smokey Texan BBQ, Buffalo Chicken Wings and Flame-Grilled Ribs, the crispy coated peanuts have been crafted to pair with the smooth, crisp taste of Budweiser. Set to launch from 26 June at select UK supermarkets, prices will range from £1 for a 60g bag to £1.75 for a 150g bag.
Emma Perrett, Marketing Controller at Humdinger, Zertus, commented: "We are delighted to join forces with the Budweiser team to bring these products to market. This category has enjoyed strong sales in recent years and with the increase in social gatherings and events like the FIFA World Cup coming up, this will no doubt continue. We are hoping to introduce new shoppers to nuts with this iconic brand and these exciting, bold flavors that are the perfect snack to enjoy with an ice-cold Bud."
Georgia Doe, Senior Brand Manager at Budweiser, stated: "We are thrilled to be working with Humdinger to launch our very own crispy coated flavored nuts. Expanding into more occasions is hugely important for the brand and these nuts were developed to pair perfectly with the smooth, crisp taste of Budweiser"
Natalie Horne, Associate Vice President of Licensing at IMG, said: "We are excited about this new collaboration between the famous Budweiser beer and Humdinger. Combining one of the world's favorite premium beers with the quality, integrity, and sustainability values of Humdinger, we believe shoppers will love this new snack and we are looking forward to its launch next month."
Budweiser is the official sponsor of the 2022 FIFA World Cup and of the England Football team and the official beer partner of the Premier League.
Founded in 2001, Humdinger began when a group of ambitious people decided to create their own natural snack company and bought a factory in Hull. Today, they employ more than 200 people in the UK across three sites in the East of England. Now operating as part of Zertus, a German food company, Humdinger is a key part of a family of businesses committed to developing high quality food within growing market niches.
About Budweiser
Budweiser is a medium-bodied, flavourful, crisp American-style lager. Brewed with the best barley malt and a blend of premium hop varieties, Budweiser is an icon of optimism and celebration which is enjoyed in over 60 countries around the world. In the UK all Budweiser is brewed with 100% renewable electricity.
About Humdinger
Humdinger is a leading UK manufacturer of value-added snacks which include dried fruits, pulses, seeds and nuts. The company is focused on product quality and innovation and manufactures private label products for all major UK food retailers, as well as supplying premium snack solutions for many famous food brands. Humdinger is a subsidiary of Zertus UKI, a leader in manufacturing and marketing quality confectionery and savoury snacks.