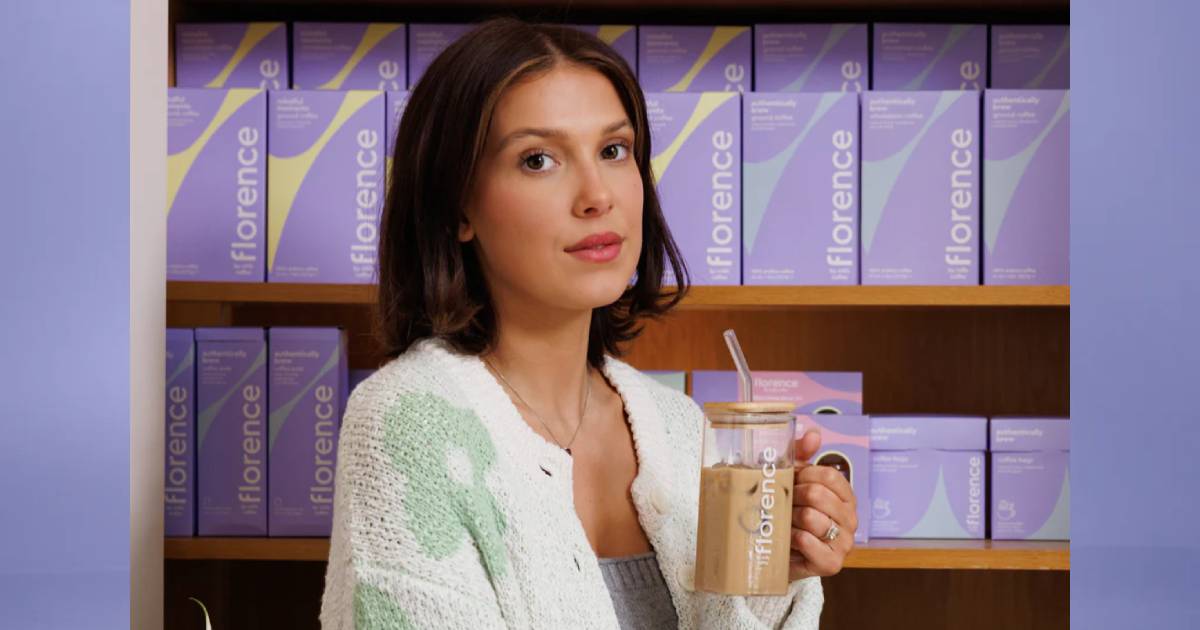 Celebrity Licensing Perks Up for Coffee
The coffee category is becoming steeped in lifestyle brands.
That's partly because celebrities and social media influencers are increasingly launching coffee lines as part of their overall lifestyle brands, alongside other offerings like apparel and footwear.
For example, TikTok star Charli D'Amelio has been a brand ambassador for Dunkin for a few years and had an iced coffee named after her ("The Charli"). Then, TikTok and YouTube influencer Emma Chamberlain took it step further when she formed her own coffee company in 2020. Chamberlain Coffee is all about lifestyle—most online orders are packaged with brand merch like apparel, stainless steel straws, or glassware (mason jars and tumblers). The company also offers a subscription box ($22) that features a different design from licensed artists each month. And after raising $7 million in funding last August, Chamberlain expanded to brick-and-mortar retail starting with 50 of the health food chain Sprouts' 340 U.S. locations.
And among the most recent launches is Stranger Things star Millie Bobby Brown's Florence by Mills Coffee, which was developed with private label supplier Collab Coffee. Collab also inked a deal with Hasbro's Dungeons & Dragons for a coffee club with the goal of making the program a "regular on the games table" and has also partnered with TikTok influencer Chris Olsen and self-help YouTuber Alfie Deyes.
"People absolutely want to brand themselves with everything coffee," Chamberlin Coffee CEO Christopher Gallant said.
For those with a well-established lifestyle brand, many celebrities are opting for a more measured approach when first entering the coffee category. For example, Justin Bieber started out with a line of donuts (Timbits) at Canadian coffeehouse and restaurant chain Tim Hortons before adding merchandise and finally iced coffee. In the case of Snoop Dogg, he moved into the business in March via coffee entrepreneur Michael Riady and the INDOxyz brand. That launch was inspired by a trip to Indonesia, which is among the world's top coffee-growing regions.
When it comes to marketing strategies for these celebrity and influencer coffee brands, there seem to be significant differences depending on the social media platform of choice. Chamberlain Coffee, for example, features stylized pictures of its products along with photos of Chamberlain herself on its Instagram feed. On TikTok, meanwhile, Chamberlain shares recipes that feature her products in casual videos.
However the products are marketed, coffee offerings that are part of a larger and pre-existing lifestyle brand need to feel organic and on-brand for that celebrity or influencer.
"My desire to be involved in the coffee industry existed before I had a career on the internet, so my passion for the category is thoroughly developed and genuine," Emma Chamberlain said. "As much as my heart and soul is present in Chamberlain Coffee, it was a priority for me to create a coffee brand that has an identity of its own, beyond me."
That identity, while still demonstrating its ties to the influencer or celebrity, is important since coffee is, after all, both a commercial venture and a brand extension that needs to stand on its own, licensing executive said.
That means keeping ahead of growing trends with constant new product launches. For example, cold coffee is a major area of focus moving forward, with Starbucks having re-designed some stores to focus on the product as it drives more than 70% of the chain's sales. Indeed, among Chamberlain's top sellers is "Careless Cat" Cold Brew Singles. Chamberlain Coffee also extended its line beyond coffee with a nod to the popularity of tea, bowing green and citrus chamomile single-serve offerings.
"The brand, whether it's [coming from] a celebrity or influencer, must remain authentic while also evolving to meet the latest trends and consumer demands," a licensing executive said. "That is the balance that has to be maintained."