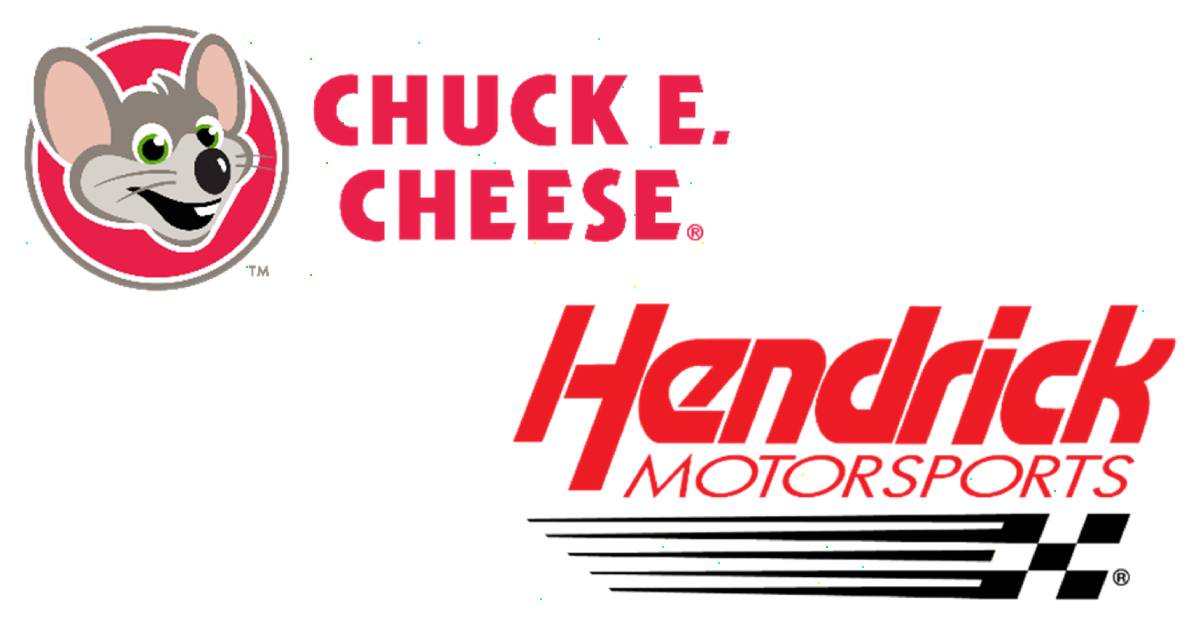 Chuck E. Cheese and Hendrick Motorsports Announce National Collaboration and Licensing Program with Shared IP
New licensed products, Fantasy Car and more to feature iconic characters and race cars introducing the world of auto racing to a new generation of fans
Dallas, TX —  Chuck E. Cheese and 14-time NASCAR Cup Series champions Hendrick Motorsports are proud to announce an innovative new collaboration that will bring together two of America's most beloved brands. The first-of-its-kind collaboration creates a unique platform to introduce the world of auto racing through entertainment to kids and families.
The two brands have a shared passion for family entertainment, and the world of racing presents the perfect opportunity to attract new fans to one of America's most popular sports. The new co-branded "Racing World" is an exciting addition to the growing Chuck E. Cheese licensed program, which includes merchandise for both kids and adults across its classic, retro and current styles. The program will feature Hendrick Motorsports, NASCAR's winningest team, in Chuck E. Cheese locations throughout the country offering a variety of licensed products, kid-focused video content and more.
"We are thrilled to partner with Hendrick Motorsports, one of the most successful and iconic teams in auto racing history, to bring the Chuck E. Cheese brand to millions of fans across the country," said David McKillips, President and CEO of CEC Entertainment, the parent company of Chuck E. Cheese. "In addition, our new in-store entertainment and promotional platforms offer a new and unique way to introduce this exciting sport to millions of young kids and diverse families in more than 460 locations across the nation."
"Like so many others, I grew up looking forward to every trip to Chuck E. Cheese," said Jeff Gordon, four-time NASCAR champion and current vice chairman of Hendrick Motorsports. "Having the opportunity to work with this iconic brand and connect millions of young kids to Hendrick Motorsports is very exciting. Racing brings so many families together, and I believe fans of all ages are going to have a lot of fun engaging with this program."
The collaboration will kick off May 25 with an appearance of the exclusive Chuck E. Cheese fantasy scheme car at a grand re-opening event in the newly remodeled Chuck E. Cheese fun center in Concord, NC. The car will also make appearances at the Hendrick Motorsports Fan Fest on Friday, May 26, and Saturday, May 27, before making its way to Charlotte Motor Speedway on Sunday, May 28, as part of the onsite fan zone activation on Speed Street. A limited selection of new co-branded "Chuck E. Cheese Racing World" merchandise will be available online in the Chuck E. Cheese Shop and at the track, with new products becoming available online and at retail throughout the year.
In addition to licensed merchandise, the collaboration will offer fans several ways to interact with racing and all new entertainment including:
Hendrick Motorsports integration within the "Chuck E. Cheese Racing World" mobile game, free to download in the iOS and Android app stores.
Co-branded entertainment content and activities, offering a "kids-eye-view" into the world of professional racing with the help of Chuck E. Cheese and Hendrick Motorsports.
Promotional activations at Chuck E. Cheese fun centers across the U.S. and online beginning June 14:

Weekly "They Win You Win" promotion awarding participants E-tickets based on where the Hendrick Motorsports team finishes during select races
A national sweepstakes for the chance to win a VIP race experience and Ultimate Birthday Party at Chuck E. Cheese
The two-year collaboration will offer existing and new fans of auto racing and Chuck E. Cheese more reasons to interact with Hendrick Motorsports and characters across new mediums. These integrated efforts were developed for fans all around the world to bring families together to share memorable entertainment and celebrate a shared passion for racing.
About CEC Entertainment, LLC. 
CEC Entertainment, LLC. is the nationally recognized leader in family entertainment and dining with its Chuck E. Cheese, Peter Piper Pizza brands and virtual kitchen concept, Pasqually's Pizza & Wings. Chuck E. Cheese is the place where half a million happy birthdays are celebrated every year, and where positive, lifelong memories for families are made through fun, food, and play. It's the place Where A Kid Can Be A Kid® with a commitment to providing a fun, safe environment, and helping to protect families through industry-leading programs such as Kid Check®. As a strong advocate for its local communities, Chuck E. Cheese has donated more than $20 million to schools through its fundraising programs. Peter Piper Pizza features dining, entertainment and carryout with a neighborhood pizzeria feel and "pizza made fresh, families made happy" culture. Peter Piper Pizza takes pride in delivering quality food and fun that reconnects family and friends. Created in 2020, Pasqually's Pizza & Wings offers a distinct, customized eating experience outside of a restaurant environment that amplifies classic pizza and wings and operates out of 400 ghost locations nationwide. The Company and its franchisees operate a system of nearly 600 Chuck E. Cheese fun centers and more than 120 Peter Piper Pizza venues, with locations in 47 states and 19 foreign countries and territories. For more information, visit chuckecheese.com, pasquallyspizza.com, and peterpiperpizza.com.
About Hendrick Motorsports:
Founded by Rick Hendrick in 1984, Hendrick Motorsports is the winningest team in NASCAR Cup Series history. At the sport's premier level, the organization holds the all-time records in every major statistical category, including championships (14), points-paying race victories (296) and laps led (more than 78,000). It has earned at least one race win in a record 39 different seasons, including an active streak of 38 in a row (1986-2023). The team fields four full-time Chevrolet Camaro ZL1 entries in the NASCAR Cup Series with drivers Alex Bowman, William Byron, Chase Elliott and Kyle Larson. Headquartered on more than 100 acres in Concord, North Carolina, Hendrick Motorsports employs approximately 600 people. For more information, please visit HendrickMotorsports.com or interact on Twitter, Facebook and Instagram.