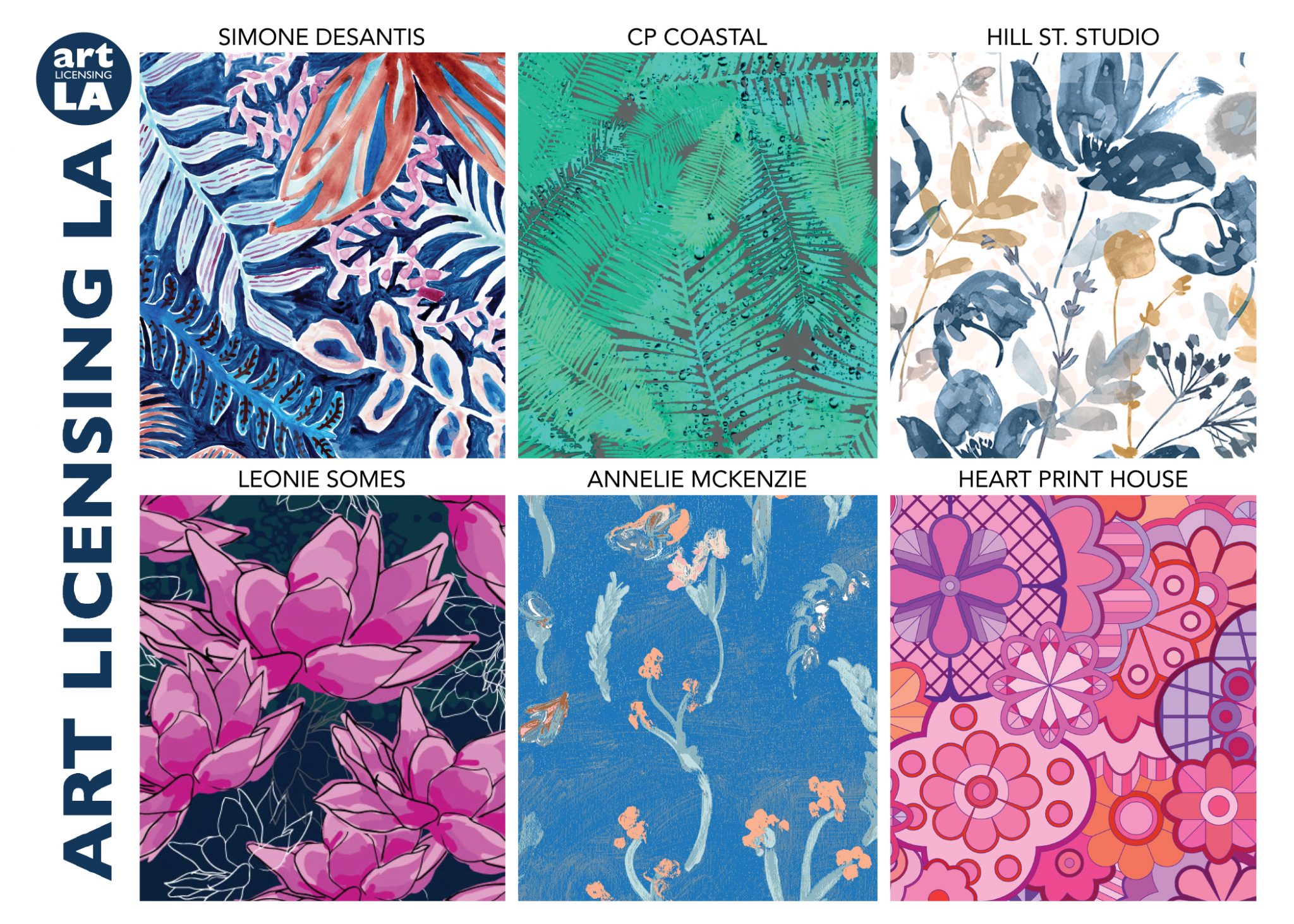 Collaborative Agency "Art Licensing LA" Debuts New Talent At Licensing Expo Las Vegas 2020
Los Angeles, CA – November 18, 2019
We are pleased to announce that Art Licensing Los Angeles will debut six artists at Licensing Expo 2020 in Las Vegas. ALLA is a collaborative agency of independent artists led by licensing expert Debra Valencia. The artists consist of a diverse blend of painters, printmakers, illustrators, surface designers, graphic designers, and interior designers, each with an original sense of style and fresh approach. They will be exhibiting their dynamic collections in booth J79 at the Mandalay Bay Convention Center, May 19-21, 2020.
The members include:
Christine Barker of CP Coastal
Karyn Cherie of Hill St. Studio
Simone DeSantis
Ester Hodikian of Heart Print House
Annelie McKenzie
Leonie Somes
"As a licensing coach and teacher, I established ALLA in 2013 to launch the careers of emerging artists. This new group of talented artists, with a stunning range of collections and product designs, will appeal to manufacturers across every category," said ALLA's founder Debra Velencia.
ALLA specializes in artists based in the cultural melting pot of Southern California. Inspired by the Californian lifestyle—progressive, modern, colorful, confident, bold—their designs translate across all markets and regions. They are especially passionate about creating a wide variety of fine art, illustrations, graphic and surface designs suitable for licensing to manufacturers in the stationery, gift, textile, home décor, and craft industries.
More than an art resource, individual ALLA artists are partners with each manufacturer for success: building brands, designing innovative product lines, and growing sales. Their vast combined experience includes art direction, package design, branding, marketing, merchandising, production, research and development. Furthermore, the members are all design professionals and knowledgeable in manufacturing techniques and digital artwork file preparation.
With a combined library of over 2000 images, ALLA effectively applies talents to give each client an edge within the different markets. They currently offer popular licensing themes including florals, coastal, nature/wildlife, food/beverage, home/garden, baby/child, holiday, travel, pet, novelty, inspiration, humor, shibori, and more. They can develop custom themed collections upon request to meet the demands of current trends. Additionally, they understand consumer trends and provide strategic direction for product line development to manufacturers.
Christine Barker | CP Coastal
CP Coastal, founded by Christine Barker, is a creative design studio based in Los Angeles, CA. The brand specializes in coastal themed designs for placement on apparel, home décor, and beach lifestyle products. Designs reflect a mix of modern, impressionist, and vintage styles, with elements of bold colors; and feature a wide array of classic coastal and nautical themes capturing the essence of beach living – living life with an adventurous spirit and laid-back attitude. CPC brings the coastal vibe to any place. Designs are available for licensing or purchase.
Karyn Cherie | Hill St. Studio
Karyn Cherie's fresh, modern and gestural watercolor style is at the heart of Hill St. Studio. She draws inspiration from everyday life and the boundless beauty of the natural world. Ideas come to life with her fresh eye for unexpected compositions, unique colors and dynamic brushwork. Her hand lettering, florals, geometrics, abstracts and playful characters can be effortlessly mixed and matched to the things you already love in your home.
Since graduating with an Illustration degree from the Academy Of Art in San Francisco, she's had more than 20 years of professional experience in the home decor industry including wall decor, home textiles and accessories. Today, Hill St. Studio is a personal continuation of her passion for creating.
Simone DeSantis
Meet Simone DeSantis, an artist and pattern designer in Los Angeles on a mission to bring more happiness and vibrant color into your home. From geometric patterns to endless floral combinations, she creates colorful designs that blend seamlessly into everyday living.
With a background in interior design and furniture manufacturing, Simone naturally imagines filling a room with patterns when designing each collection. She loves combining hand-painted designs, block prints, and Shibori patterns into her collections in order to achieve a hand-selected and eclectic look.
Ester Hodikian | Heart Print House
Heart Print House celebrates colorful, joyful, and playful living. It elevates the spirit through vibrant design by merging bold prints, bright colors, and beautiful products in a contemporary style. Founded by Ester Hodikian, HPH is a surface design studio of original prints for decorative applications across various product categories.
After pursuing a Masters in Interior Design from Pratt Institute in New York, Ester completed a certificate in Textile Surface Design from Otis College of Art & Design in Los Angeles. She combined her two passions by developing a collection of prints for home décor, and is now expanding into licensing across all categories. Her designs are defined by vivid hues, expressive linework, a bold illustrative style, and a whimsical spirit.
Annelie McKenzie
Annelie McKenzie is a contemporary artist and surface designer. Her colorful oil paintings reference the feminine in art history, and her designs translate this into home decor, textiles, and other surfaces. The brand mixes bold vintage 80s with heavy-on-the-florals Victorian style—think Lisa Frank meets Jane Eyre. A sense of humor and history join together in her vibrant, campy and beautiful designs.
Born in Montreal, Canada, McKenzie earned a Masters of Fine Art from California State University, Long Beach in 2013, and a Bachelors of Fine Art from the University of Calgary in 1997. She has exhibited her work in New York, California, Canada, and overseas. McKenzie currently lives and works in Los Angeles.
Leonie Somes
Leonie of Leonie Somes is a surface pattern designer whose signature style combines digital and traditional techniques to create unique patterns and rhythmic repeats. With a focus on abstract florals, textures and geometrics, Leonie's vision is to elevate the everyday by bringing her spirited designs to surfaces and products including fabric, accessories & stationery.
Leonie studied art & design in London before following her heart to Los Angeles, where she gained experience in product design, marketing & merchandizing and continues to pursue her passion for pattern.
Contact:
Debra Valencia
310-266-1577
www.artlicensingla.com Coming January 2020