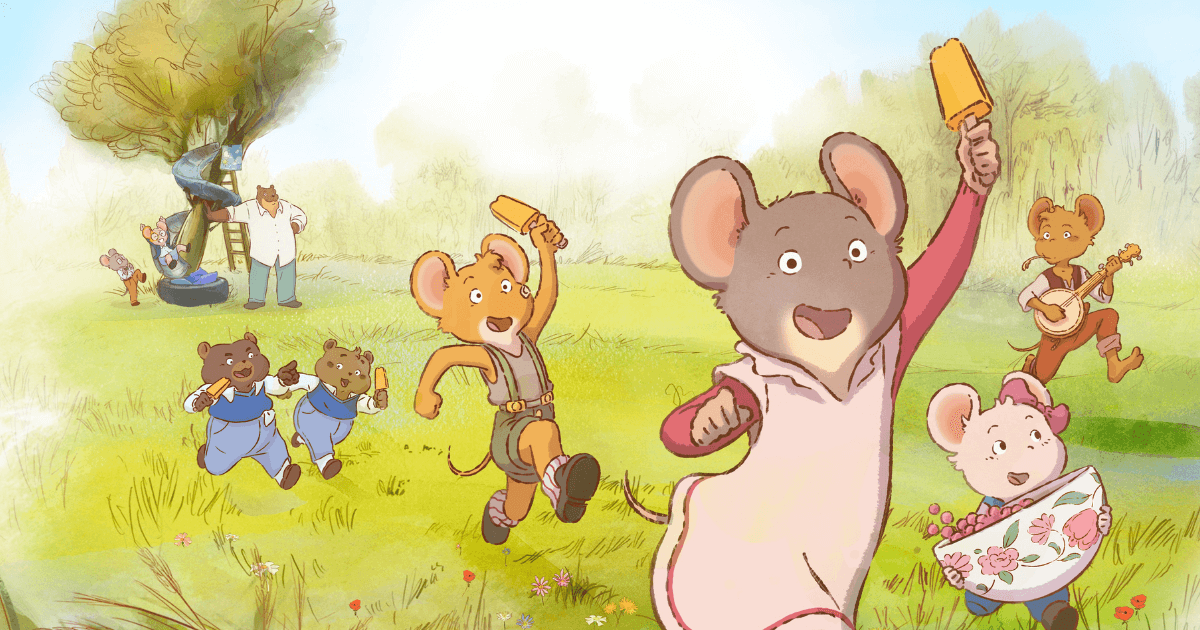 Dandeloo Gathers Pre-Sales  For Season Two Of The Pre-School Series "Ernest And Lestine – The Collection
Paris,  France  —  Emmy Award-winning French animation production and distribution company Dandelooo is delighted to announce pre-sale deals for Season Two of the charming, pre-school series Ernest and Célestine – The Collection (26 x 13'), based on the cult books by Belgian author and illustrator Gabrielle Vincent.
Onboard for Season Two are France TV, TV5 Monde, TVP (Poland), RTP (Portugal), DR (Denmark), Ceska TV (Czech Republic), RTBF (Belgium), CLS (Russia), HRT (Croatia), LTV (Latvia), RTVS (Slovenia), YLE (Finland) and RTS (French Speaking Switzerland). Produced by Folivari (France) and Melusine (Belgium), the new episodes will be available in April 2022.
Ernest and Célestine – The Collection follows the thrilling adventures of a big eccentric bear and a mischievous little mouse. Season Two will introduce three new characters and focus on Célestine and her mice friends. Ernest and Célestine has received critical acclaim, won several awards including France's César Award for Best Animated Feature, and was nominated at the Oscars (86th Academy Awards) for Best Animated Feature. Ernest, a rather large and insignificant bear, and a street musician and clown has invited Célestine, a mischievous little mouse, to live with him.
These two loners support and comfort each other, turning the established order on its head. For, in the world of bears befriending a mouse is frowned upon and it isn't long before their friendship is put on trial by their respective bear-fearing and mice-eating communities.
"This year Ernest and Célestine will celebrate their 40 years of friendship, but their story has never been so modern, thanks to the second season of the collection. We are delighted that they will making friends around the world with the second season and the second feature film soon to be released in cinemas", commented producers, Didier and Damien Brunner Folivari.
Emmanuèle Pétry Sirvin, Co-Founder of Dandelooo added, "We are very honored that Didier and Damien Brunner have chosen Dandelooo once again as the worldwide distributors for this wonderful series which touches kids hearts all over the world."
About Dandelooo
Dandelooo is a French award-winning creative company based in Paris dedicated to the development, production and distribution of original and ambitious animated programs. Dandelooo's productions include the hybrid pre-school series The Treehouse Stories (three seasons on air, a 4th in production and two theatrical films), which won an International Emmy Kids Award in 2017, Chico Chica Boumba commissioned by M6 and the animated feature film Houdini. The company has just delivered Stinky Dog (52 x 11′) to France Televisions and TV3 Catalunya, and the wonderful TV Special Mum is pouring rain (winner of a Jury Award for a TV Special at Annecy 2021) to Canal+, is now in production for the pre-school series Billy the Cowboy Hamster (52 x 11′) and is about to start production for The Upside Down River (8 x 26′) a serialized series for kids based on the cult novel by Jean Claude Mourlevat. Dandelooo is also developing loguis, an original project to initiate yoga for preschoolers.