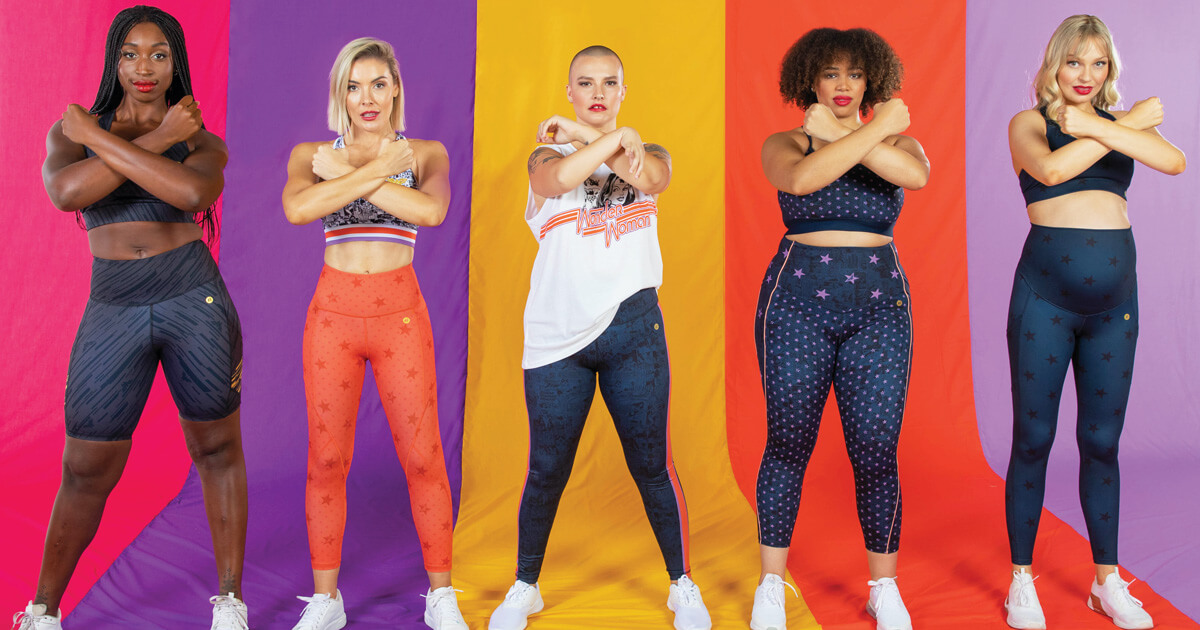 DC and Warner Bros. Consumer Products Celebrate International Women's Day Inspired by the Powerful Women of DC
Iconic DC Characters including Wonder Woman, Catwoman and Batgirl Featured
To support women everywhere and celebrate IWD, Warner Bros. Consumer Products and DC have announced new offerings and experiences dedicated to the women of DC. Featuring Wonder Woman at the helm, DC's roster of powerful women also includes Batgirl, Catwoman, and more. On International Women's Day and every day, fans can take inspiration from these characters' strength, guts, smarts and skills.
New products and experiences featuring the women of DC include:
Launching ahead of IWD, Australian activewear label Active Truth has released a Wonder Woman inspired activewear collection. The 18-piece, size-inclusive collection gives women everywhere the opportunity to put on a 2022s version of a superhero cape and activewear and come together to "Break the Bias" on IWD and beyond. The WONDER WOMAN x Active Truth Collection launches globally at 9am AEDT Tuesday 1 March, 2022. Active Truth offers free express shipping and free returns. Learn more here: https://www.activetruth.com.au/pages/wonder-woman-x-active-truth
DC proudly presents the first Wonder Woman crossover of its kind in decades, brought to you by the writers behind Wonder Woman, Nubia & the Amazons, and Wonder Girl and some of the best and brightest artists in the industry.
The long-awaited Wonder Woman event Trial of the Amazons kicks off with Trial of the Amazons Issue #1 from writers Becky Cloonan, Michael Conrad, Vita Ayala, Stephanie Williams, and Joëlle Jones writing and drawing, with artists Elena Casagrande, Laura Braga, and Skylar Partridge, and Nubia and the Amazons #6 with Nubia and the Amazons to follow.
Participating comic shops will also be celebrating the event with three promotional temporary tattoos, each representing a different Amazonian tribe. The first temporary tattoo, representing the Themyscirans, will arrive alongside Trial of the Amazons #1, the opening chapter of the explosive story. The second, representing the Bana-Mighdall, will arrive alongside Nubia & the Amazons #6, the second installment of the seven-part crossover. The third, representing the Esquecida, will arrive alongside Wonder Woman#785 on March 15, part three of Trial of the Amazons.
Unique Vintage has partnered with Warner Bros Consumer Products and DC to produce an empowering collection of vintage-inspired pieces celebrating the Women of DC. Released in tandem with International Women's Day, the line features strong colors and prints in timeless silhouettes. Product offerings include graphic tees, printed dresses, and Super Hero swimwear, available in sizes XS-5X. The Unique Vintage collection launches on March 8 at https://www.unique-vintage.com/.
Warner Bros. World™ Abu Dhabi is introducing a new DC Super Hero 'Batgirl' who will be making her first appearance at the theme park on International Women's Day. Joining Batman's crusade on March 8, Batgirl will be fighting crime with The Dark Knight in Gotham City, just in time for the highly anticipated ladies-only event, 'Women of Warner'.
The Park's newest addition will no doubt get guests excited, offering them yet another iconic character to meet and greet for the most memorable visit. With Batgirl now appearing alongside Batman at Gotham City, Batman fandom will be taken to the next level at Warner Bros. World Abu Dhabi. For more information on 'Women of Warner', please visit https://www.wbworldabudhabi.com/en/events/women-of-wbw.
About Warner Bros. Consumer Products
Warner Bros. Consumer Products (WBCP), part of WarnerMedia Global Brands and Experiences, extends the company's powerful portfolio of entertainment brands and franchises into the lives of fans around the world. WBCP partners with best-in-class licensees globally on an award-winning range of toys, fashion, home décor, and publishing inspired by WarnerMedia's biggest franchises from DC, Wizarding World, Looney Tunes, Hanna-Barbera, Game of Thrones, Cartoon Network and Adult Swim. With innovative global licensing and merchandising programs, retail initiatives, and promotional partnerships, WBCP is one of the leading licensing and retail merchandising organizations in the world.
About DC
DC is one of the largest English-language publishers of comics and graphic novels in the world and home to some of the most iconic and recognizable characters ever created. As a creative unit of WarnerMedia, DC is charged with strategically integrating its stories and characters across film, television, consumer products, home entertainment, interactive games, and the DC UNIVERSE INFINITE digital subscription service and community engagement portal. For more information visit dccomics.com and dcuniverseinfinite.com.