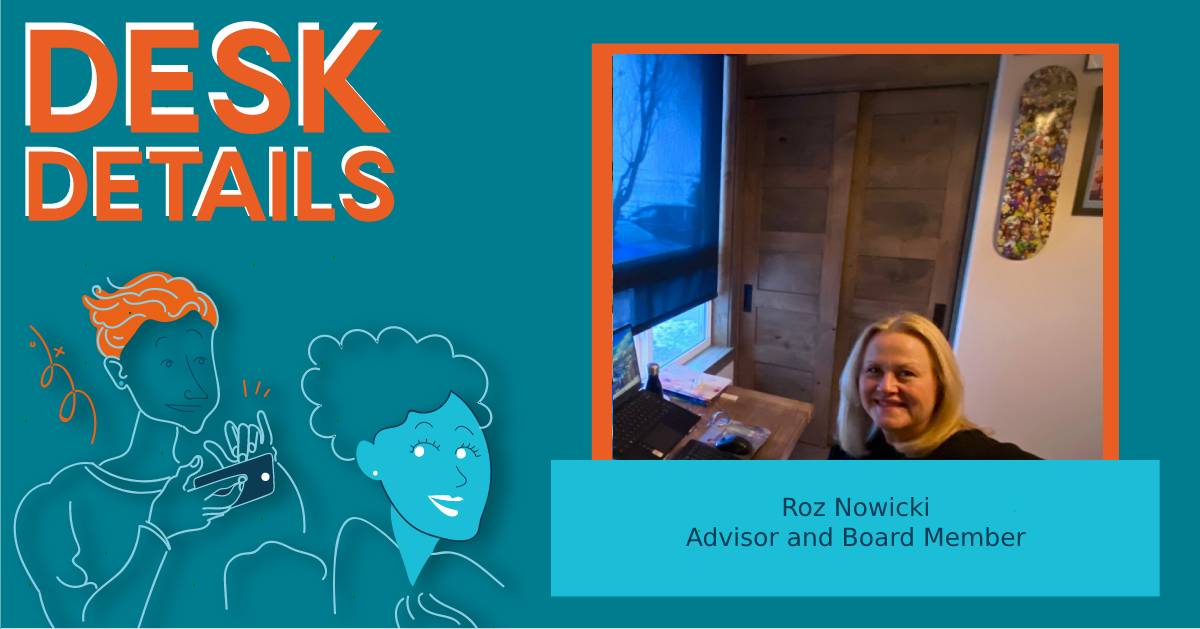 Desk Details: Roz Nowicki, Advisor and Board Member
The global licensing community is guided by an incredible group of senior executives whose diverse backgrounds and creative energy drive innovation and excellence. Each month, we're profiling one of these professionals in this ongoing series.
How do you start your day?
I wake up early to take in the beauty and peace of the sunrise. About five minutes later, I am checking e-mails, brewing a large pot of coffee, and getting Zoom ready!
What's one item you always need on your desk?
Besides my water bottle and a photo of my boys, I always have my physical calendar (in addition to a digital version) and a running to-do list, keeping me on-track and focused!
What unique skill or characteristic do you bring to your team?
I love building, leading, and mentoring teams. My role as a leader is to ensure my team clearly understands our strategies and goals and has the tools and support to achieve them. My value-add is my ability to identify areas of opportunity and develop go-forward strategies to fully maximize a thriving business or execute a turnaround.
What is something you learned at previous jobs that prepared you for your current role?
The culmination of my career learnings has shown that I am most successful when I have oversight of a total business and limited barriers to execution. Being granted a level of autonomy has been where I have achieved the most significant results. I am currently working on my own, using the tools and learnings from my many experiences, all ensuring that I am the very best advisor and board member.
What is your favorite aspect of your current role?
Presently, I sit on the board of Licensing International and was recently appointed to the board of HatchBeauty Brands. Both roles allow me to share my deep knowledge of licensing, strategic brand development, and franchise management—which I love—as well as the ability to mentor individuals and companies.
What is one thing you would change about the licensing industry?
The obsession of many IP owners with large advances and guarantees. The focus should be on creating the very best product and treating a licensee as a partner. When a licensing program is successful, everyone wins. Conversely, a licensee should only take a license that they are intent on supporting 110%.
If you had an extra hour in your workday, how would you use it?
Updating my contacts. Seriously, if you were in my "rolodex" 25 years ago, chances are you are in my contact list today, with an old number, company, and address. I have given up trying to correct this!
Most importantly, I would take that extra time to reach out and maintain the many relationships I have built through the years. Too often, when I reach out to colleagues, it is for a specific question or need and I would love to simply call to reconnect!
What is one thing you need to do every day to feel accomplished?
I am big on making to-do lists. I write a new one every evening before I power down, so I am ready to tackle it when I start work the next morning. I find I feel the most accomplished when I can check multiple items off that list each day!
Are you a carry-on or checked bag traveler?
Checked. When I travel for business for more than a few days, I want to be prepared for ANYTHING! Inevitably, I pack an extra outfit for that unexpected delay, and sadly that has come in handy—assuming you even have your luggage!
What do you always have in your suitcase on a work trip?
Workout clothes, so I have no excuses! But I can make excuses with the best of them!
If you weren't in licensing, what would you be doing?
My career in licensing has checked off a lot of boxes as it has been fun, rewarding, meaningful, and challenging. I honestly cannot imagine doing anything else at this stage of my career!
What advice would you give to yourself 10 years ago?
Stop driving so hard in your career that you miss wonderful moments with your family and friends and take some time for yourself. I am doing this now, however wished I had started re-prioritizing things many years ago!
What are you most excited about in 2023?
Doing more board, advisory, and mentorship work. I am super excited to contribute to the growth of HatchBeauty Brands as their newest BOD member. Another area I will devote significant energy to is further increasing the fundraising activity for Licensing International as Fundraising Chair. (Yes, colleagues, we will be calling you for support!) Most importantly, I am excited to put more life into my work/life balance.