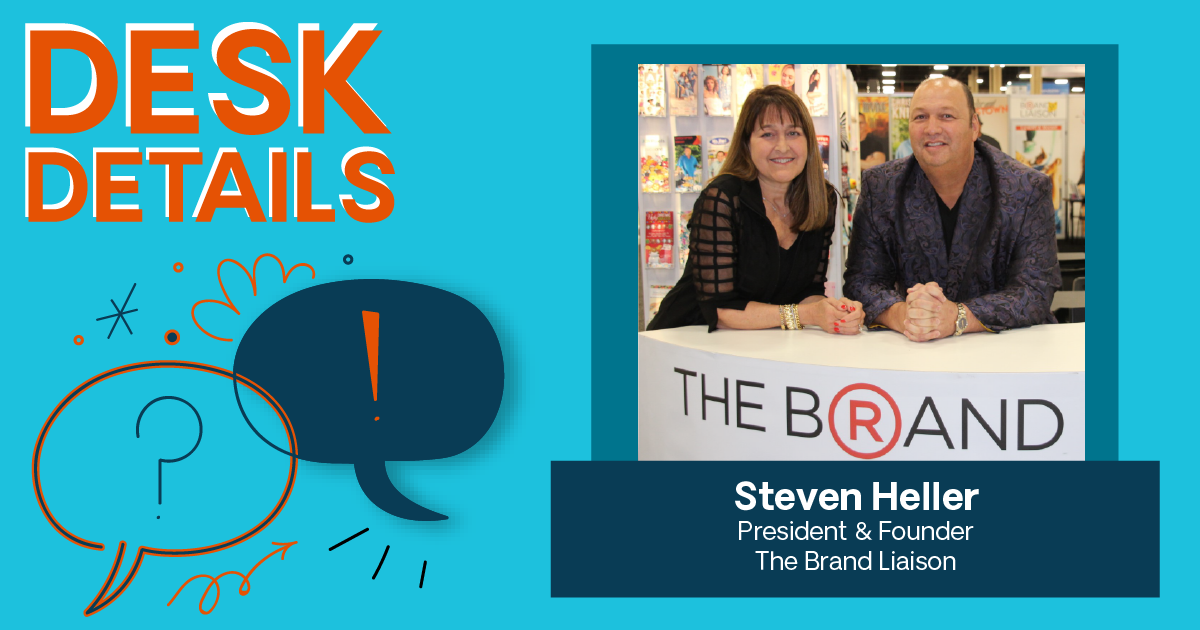 Desk Details: Steven Heller, President & Founder of The Brand Liaison
The global licensing community is guided by an incredible group of senior executives whose diverse backgrounds and creative energy drive innovation and excellence. Each month, we're profiling one of these professionals in this ongoing series.
How do you start your day?
For those that know me, they know I start my day super early.  I love get to my desk before all of the meetings, zoom calls, and the barrage of emails just to get my thoughts together and set my intentions for the day. It's those first few hours of quiet time with a cup of coffee that gives me a lot of clarity and motivation each day.
What's one item you always need on your desk?
Post-its and a note pad. There is always so much going on that I am constantly taking notes, crossing off and adding to my to-do lists. I would be lost without post-its and note pads.
What unique skill or characteristic do you bring to your team?
One of the things that sets me apart and really sets Brand Liaison apart as an agency is the fact that I came to the licensing world as an attorney first. I practiced law doing trademarks and licensing before I created The Brand Liaison as a licensing agency, so bringing the knowledge and skill sets that I learned and the relationships that I developed has proven invaluable.
What is something you learned at a previous job that prepared you for your current role?
Same answer! But seriously, the skillset of a licensing attorney and the ability to see through the legal-ese of our industry to come up with creative legal and business solutions to any issues saves us so much time in closing deals.
What is your favorite aspect of your current role?
I love what I do so it's hard to try to single out any one particular aspect as my favorite. It's the deal making, the action, the constant flow of deals, and the excitement when it all comes together and you see the final product on the retail floor. But more than that, if I had to pick one aspect of this business, it's the relationships that we develop. I have made so many great friends personally and work with so many great people professionally. That's what makes this industry so great.
What is one thing you would change about the licensing industry?
I don't think I can answer this question. The licensing industry is really not an industry in itself but it is a feature that cuts across virtually every other industry. Whether it's apparel and fashion, entertainment, toys, home goods, or sports, licensing touches every industry.  So, I don't know that I'm in a position to want to change anything.
If you had an extra hour in your work day, how would you use it?
You want me to work another hour? I work super hard and I start very early, so if I had an extra hour I'm going to take it at Orangetheory Fitness.
What is one thing you need to do every day in order to feel accomplished?
Clear my inbox. I guess the theme of all of these questions is the constant flow of work and dealmaking we do everyday, so I can really judge how busy we are by the influx and responsive emails that go in and out on a daily basis. I have a personal policy of always responding to all emails and phone calls, so when I can clear my inbox and I've responded to everybody who's reached out, that's pretty satisfying.
Are you a carry-on or checked bag traveler?
I think everybody wants to be a carry on. But of course it depends how long of a trip you are going for. One night I can still stay in a carry on, but if it's more than two days I have to check a bag—which gives me permission to overpack a bunch of things that I never wear on that trip and then put them right back in the closet when I get home.
What do you always have in your suitcase on a work trip?
Business cards and our Brand Liaison rack cards. I know—I'm old school and still use a traditional business card. And we have these great rack cards for all of our brands that provide so much information and are so easy to carry and leave behind with people after a meeting. And a pad and a pen just like those post-its on my desk you asked me about. Even traveling, I make my lists and "things to do" just trying hard not to let anything fall through the cracks.
If you weren't in licensing, what would you be doing?
For the better part of the past 20 years I have been an adjunct professor of business and law classes at both the graduate and undergraduate level. I love teaching, so that's probably what I would be doing.
What advice would you give to yourself 10 years ago?
Enjoy the journey! We all work so hard that we forget to enjoy the journey.
What are you most excited about in 2023?
This will be a fun year. It's the 50th Anniversary of Hip Hop, so there are a ton of events and retailer programs. I will be sure to make time to reflect, laugh, enjoy the people around me, and enjoy this journey even when I am working hard.