Dollar Store Boom Gets Brands' Attention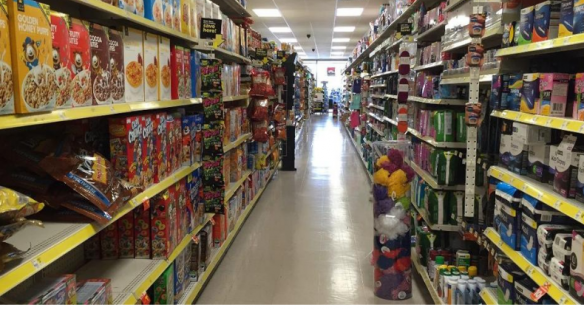 Many brand owners used to cringe at the thought of their properties on dollar store shelves. Now, in the words of one manufacturer, "at almost every licensing summit I went to, licensors were urging that we should be engaging with the value channel."
Said another licensee: "Licensors are well aware that many retail stores are closing and this is one of the few [brick-and-mortar] channels that's expanding and they want to take advantage of it."
Lots of locations
The sheer number of locations these companies operate is impressive. For example, the UK's Poundland had 837 stores at the end of its most recent fiscal year last September, while also operating more than 110 locations under the Dealz banner in Ireland, Spain and Poland. Dollarama has 1,301 stores in Canada and another 232 Dollarcity locations in Latin America.
And the two U.S. dollar store giants – Dollar General and Dollar Tree (which also operates Family Dollar) – have been growing rapidly. By the end of 2020, Dollar General plans to have opened 1,000 stores this year, and sees room for another 11,000 in North America on the top of the 17,000 it already operates, said CEO Todd Vasos as the company reported earnings last week.
Similarly, Dollar Tree plans to open 600 stores (325 Family Dollar, 175 Dollar Tree) this year, CEO Michael Witynski said. Dollar Tree has 15,479 stores.
Challenges
Yet navigating that channel is challenging.  To start with, licensees need to develop products or packaging configurations that can be sold at low prices, but also supply margins that can, in some cases, be 10% higher than in other distribution channels. Given those factors, licensors will sometimes agree to reduce royalty payments provided the products are developed exclusively for dollar stores, one licensee said.
"The only reason we have stayed away is most of our licensors would not give us permission to sell through the channel of distribution," says Howard Feldstein, Marketing Manager at giftware company Mark Feldstein & Associates, which has licenses for artist Thomas Kinkade, Coca-Cola, Freightliner and Peanuts, among others.
"Things are different these days and you have to look at things that you might not have looked at 10 years ago. If we have an opportunity with a dollar store, we would definitely approach a licensor to see if we could do it."
Rising costs, and prices
With costs rising, dollar stores are moving some prices past $1.  Dollar Tree carries $10 Halloween costumes and a $5-and-less category.
In the UK, Poundland, which emerged as the leader among UK value chains after buying 99p Stores in 2015 and seeing rival Poundworld liquidate two years ago, launched a multi-price strategy chainwide late last year. Since December, Poundland  has been selling products ranging from 50 pence (66 cents) to 10 pounds ($13) and dropped its slogan "Everything's £1". But 75% of Poundland merchandise is priced at £1, the company said. Dollarama has been passing on price increases amid rising vendor costs, CEO Neil Rossy said when the company released earnings in June.
"You'll definitely see some [price increases] where vendors have put through a large increase in our cost," Rossy said. "I can think of many items where the costs have gone up 20-40%. We will be passing on some of those increased costs to our customers."
Both the U.S. giants last week reported strong earnings, with sales in the second quarter ended Aug. 1 increasing 24.4% and 7.2%, respectively. They benefitted from being an "essential" retailer that remained open during COVID shutdowns, and from the money put into consumers' hands via federal stimulus checks.
Sales of "discretionary" products (as opposed to consumables) soared in the second quarter. Family Dollar sold "tens of thousands" of Baby Yoda plush toys as part of a 28% increase in revenue from discretionary goods, said Dollar Tree CEO Witynski. Family Dollar's same-stores sales increased 11.6%, while those at Dollar Tree were up 3.1%.
Dollar General, which registered a 18.8% increase in same-store sales, also posted double-digit gains in sales of discretionary products.