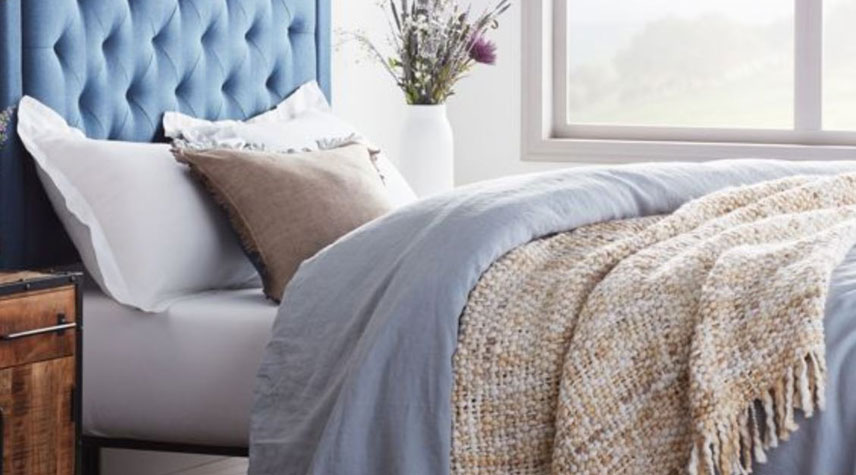 Dr. Oz Announces New Sleep Products Partnership with Maven
New York, NY — Dr. Mehmet Oz, host of The Dr. Oz show, has teamed up with consumer goods company Maven to release a new science-based sleep brand with cutting-edge products aimed to help people sleep better. Dr. Oz Good Life™ will launch this new product line in fall 2020 featuring adjustable bed bases, mattresses, and soft goods. Products will be available for sale at Macy's, QVC and on drozsleep.com.
"Sleep is crucial for your overall health and well-being," shared Dr. Mehmet Oz, world-renowned cardiac surgeon, author, and health expert. "Americans are simply not getting enough. In fact, the negative effects of insufficient sleep is the No. 1 health problem people are now waking up to."
Marking his first-ever product partnership, Dr. Oz's passion for good sleep can now directly impact American consumers.
"Maven is a company that produces quality product while doing good in the world. They feel like family. Now that we have teamed up, we can't wait to share better sleep with every family," Dr. Oz said.
Jim Fife, Maven director of sales and licensing said, "At Maven we are continuously striving to bring better sleep to our customers. Partnering with Dr. Oz is a perfect way for us to get the message out to as many people as possible that better sleep equals better results in every aspect of your life. With a focus on the science behind good sleep, Dr. Oz worked with our product development team to create the best sleep solutions. We are excited for this wonderful partnership and the impact it will have on improving sleep for all."
CAA-GBG Global Brand Management Group and The Joester-Loria Group participated in the origination and successful conclusion of the License Agreement. For the partnership, CAA-GBG represented Dr. Mehmet Oz and Joester-Loria represented Maven Brands. 
About Dr. Mehmet Oz, M.D.
Dr. Oz is an Attending Physician at NY Presbyterian-Columbia Medical Center, world-renowned cardiac surgeon, best-selling author and has won ten Daytime Emmy® Awards for The Dr. Oz Show.  The Dr. Oz Show is an informative hour on national daytime television that offers audiences the opportunity to learn about a wide range of health and wellness topics. Dr. Oz received his undergraduate degree from Harvard University and obtained a joint MD and MBA from the University of Pennsylvania School of Medicine and Wharton Business School.  His research interests include heart replacement surgery, minimally invasive cardiac surgery, complementary medicine, and health care policy. He has authored over 400 original publications, book chapters, and medical books and has received several patents.  Dr. Oz was a featured health expert on "The Oprah Winfrey Show" for six seasons from 2004-2009. He is the co-founder of Sharecare.com, which won "Best Medical App" award for AskMD in 2014 and has a bookazine with Hearst titled, "The Good Life." Dr. Oz is also the proud author of eight New York Times Best Sellers including his most recent, "Food Can Fix It," "YOU: The Owner's Manual," as well as the award-winning "Healing from the Heart." In addition to belonging to every major professional society for heart surgeons, Dr. Oz has been named one of Time magazine's 100 Most Influential People, Forbes' most influential celebrity, Esquire magazine's 75 Most Influential People of the 21st Century, a Global Leader of Tomorrow by the World Economic Forum, Harvard's 100 Most Influential Alumni, is a recipient of the Ellis Island Medal of Honor and AARP 50 Influential People Over 50.  Dr. Oz is a proud husband to his wife Lisa Oz and is a proud father of four and grandfather of four. 
About CAA-GBG Global Brand Management Group (CAA-GBG)
In a joint venture between Global Brands Group Holding Limited ("Global Brands") and Creative Artists Agency ("CAA"), CAA-GBG is the world's premier brand extension company. It combines the resources and licensing expertise of leading entertainment and sports agency CAA with Global Brands' international Brand Management Group. With 20 offices in 16 countries, CAA-GBG advises on and manages all aspects of brand extension programs, including branding strategies, market targeting, product development, retail activations, licensee acquisitions and multi-territory franchising. Furthering branding opportunities for clients across a wide range of consumer products, the joint venture combines Global Brands' established and strong worldwide brand management operation with CAA's extensive licensing, media and entertainment platform. CAA-GBG is a subsidiary of Global Brands and the operating vertical for its brand management business.
About The Joester Loria Group
The Joester Loria Group, www.joesterloriagroup.com, is an award-winning full-service licensing and brand extension agency, representing a number of the world's leading brands including McDonald's, Pepsi-Cola North America; Frito-Lay's Cheetos and Doritos brand; Constellation Brands Beer portfolio including, Corona Extra and Modelo Especial; Kellogg's portfolio of cereal and snack brands; Entenmann's baked goods; Jack Link's meat snacks; 1-800-Flowers portfolio including Harry & David & Moose Munch; TikTok influencers WeWearCute, and children's literary and entertainments properties including The World of Eric Carle™ featuring The Very Hungry Caterpillar; Miffy; and Rainbow's 44 Cats.