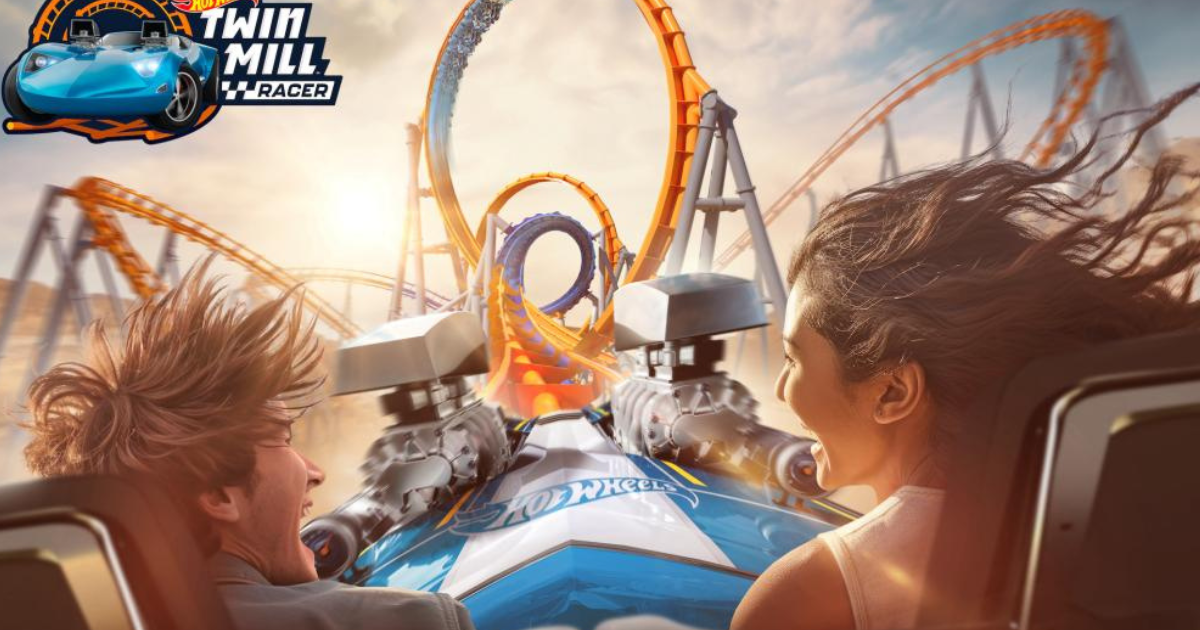 Epic Resort Destinations debuts Mattel Adventure Park's Hot Wheels Twin Mill Racer Car and new images of Barbie Beach House at IAAPA Expo
Glendale, AZ — Attendees of the International Association of Amusement Parks and Attractions (IAAPA) Expo in Orlando, Florida will be among the first to catch new glimpses at Mattel Adventure Park's newest attractions, the Hot Wheels Twin Mill Racer Roller Coaster and Barbie Beach House, from November 13-17. A real-life coaster car from the Hot Wheels Twin Mill Racer will be on display at the Chance Rides booth (2606), as will all-new images of the Barbie Beach House, which is currently being built.
The Hot Wheels Twin Mill Racer will take to the skies at the 9-acre Glendale, Arizona theme park located at VAI Resort opening just south of State Farm Stadium in 2024, but attendees of IAAPA can get a new sneak peek of the coaster ahead of its maiden voyage. Manufactured by Chance Rides, a Wichita, Kansas-based ride and amusement manufacturer, the coaster will set a new standard for amusement park enthusiasts and further solidify Mattel Adventure Park as a must-see destination for adrenaline-seekers of all ages.
"We are elated to debut the Twin Mill Racer coaster and introduce some of the other Mattel-branded attractions underway at Glendale's VAI Resort at the IAAPA Expo," said Mark Cornell, President, Epic Resort Destinations. "Arizona has long been known for its beauty, but it will soon be a must-visit destination for amusement park enthusiasts. Mattel Adventure Park is a place where adventure, imagination and family fun converge like never before, and we are excited to share some highlights with industry peers prior to introducing them to the world."
The Twin Mill Racer is just one of many attractions currently underway at Arizona's most-anticipated indoor/outdoor theme park and will take Hot Wheels fans on a 65-second thrill ride over a 2,503-foot track. The coaster, which loads and unloads inside with air-conditioned comfort, goes from zero to 50 mph in under three seconds before blasting riders outside, taking them on two vertical loops (one of which tops out at 116 feet) and navigating a series of corkscrew and hairpin turns before making its way back into the building.
"We are taking thrills to new heights with the Hot Wheels Twin Mill Racer," said Cindy Emerick, Epic Resort Destinations Attractions Development Engineer. "The Twin Mill Racer track layout features a wicked corkscrew threaded through two vertical loops that authenticates the Hot Wheels experience. We are excited to bring this iconic racing playset to life in a heart-pounding and exhilarating thrill ride."
While Twin Mill Racer will be one of the most identifiable attractions at Mattel Adventure Park when it opens next year, construction also continues on the Barbie Beach House, a dream destination for Barbie fans of all ages. Boasting state-of-the-art technology while simultaneously delivering a serious dose of nostalgia, the Barbie Beach House features an innovative "Flying Theater," a Barbie Dream Closet experience that brings Barbie to life using hologram technology, and a Barbie Beach Rooftop perfect for kicking back with a signature beverage.
"We're looking forward to joining our peers at IAAPA to share more of what's to come at Mattel Adventure Park," said Julie Freeland, Senior Director of Global Location Based Entertainment at Mattel. "We are committed to delivering new and unique experiences for fans with rides like the Twin Mill Racer roller coaster and Barbie Beach House, which will bring the brands to life in ways they never have before."