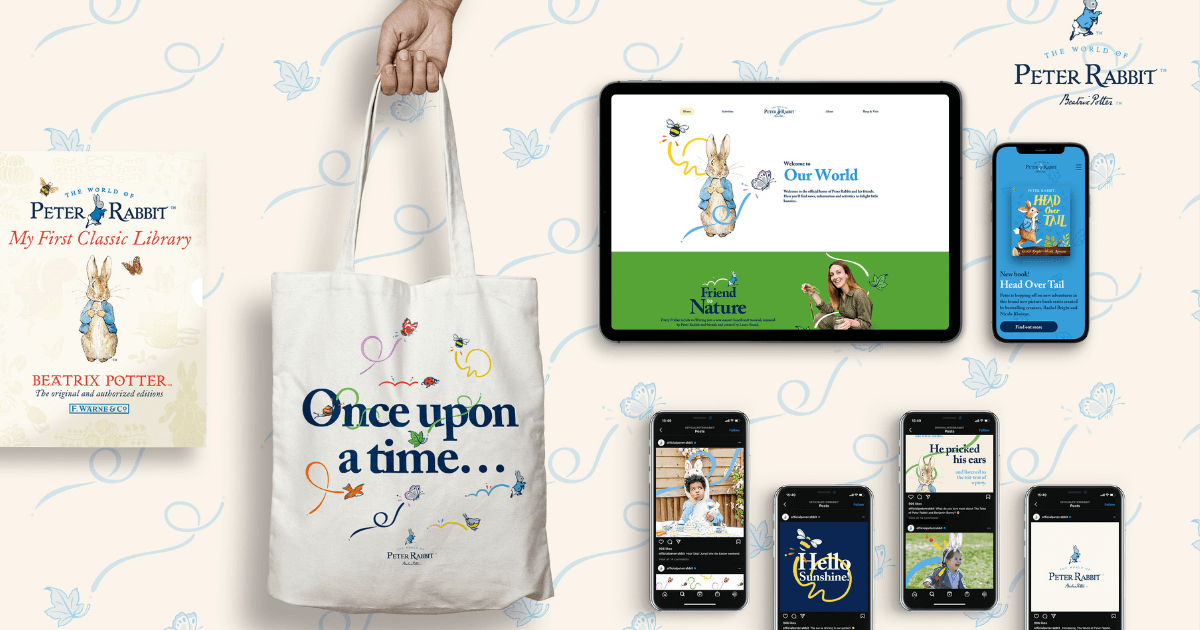 Evolution of a Classic Brand
Contemporary brand refresh for iconic Peter Rabbit
London, UK – Penguin Random House Children's has unveiled a brand refresh for Peter Rabbit, with a new world-building identity that places Peter front and centre of the world that Beatrix Potter created almost 120 years ago.
The World of Peter Rabbit™ brand refresh is being launched ahead of the classic character's 120th birthday campaign in 2022.  The progressive brand identity has been rolled out across social channels and digital platforms, and will appear on publishing and licensed product packaging from autumn this year in the UK. The global launch will begin in parallel with the 120th birthday celebrations next year.
The World of Peter Rabbit™ is managed by the Owned Brands Team within Penguin Random House Children's who are responsible for initiating and managing the brand refresh.
Izzy Richardson, Global Owned Brands Director at Penguin Random House Children's said: "Peter Rabbit has an incredible legacy that resonates with multiple generations all over the world.  We've seen the brand evolve through various creative iterations and touchpoints over the course of its 120 year history and ahead of the Birthday milestone, it was important for us to refine and refresh the brand identity, to continue to futureproof the brand for a new generation. The result is a subtle and contemporary refresh of our 'running rabbit' logo complimented by a new design system that can be used across marketing and promotional touchpoints for the brand.  It brings energy and adventure to The World of Peter Rabbit offering our family audience a dynamic and exciting Peter Rabbit experience."
Penguin Random House Children's enlisted design agency CreateFuture to lead the project, drawing on early source material to ensure the updated assets continued to reflect the legacy of the brand.  The refreshed logo showcases the iconic Peter Rabbit pose which has been reinterpreted by internationally recognised illustrator Chris Mitchell and now incorporates the title font from the first edition of The Tale of Peter Rabbit, as well as Beatrix Potter's signature.  These elements combined act as signifiers of the official and original Peter Rabbit brand.
"Beatrix Potter's exquisite illustrations are themselves timeless and remain perfectly pitched for physical books.  We are continually considering how best to translate the illustrations for a variety of applications while retaining their integrity and unique originality. Alongside developing a new design system that enables us to be visually consistent across all iterations of the Peter Rabbit brand, a refreshed logo fuses past, present and future, by combining the classic bespoke Beatrix Potter typeface with a reinterpreted version of the iconic running rabbit." said Anna Billson, Art Director – Penguin Random House Children's
The brand tool kit also includes a newly developed design system – Hop, Skip, Jump – consisting of three distinct treatments which can be used to target different audience demographics.   Taking inspiration from Beatrix Potter's animal and insect illustrations, a series of graphic trails has been created to add energy and narrative to static images.  'Hop' uses the trails with a soft and muted colour palette, a gentle application for infant sector, whilst at the other end of the spectrum, 'Jump' uses primary colours on clean backgrounds for a high energy, contemporary application.
"It was a privilege for CreateFuture to be entrusted with the brand refresh and subsequent toolkit for Peter Rabbit.  We felt a duty of care to Beatrix Potter's legacy; to 120 years of memories held by the fans and to ensure that Peter Rabbit remains relevant and loved by the next generation and embraced by new audiences.  Striking the balance between heritage and modernity was always going to be challenging, we are very proud of the result and hope the fans are too." said Dave Ward, Creative Director – CreateFuture
The outcome is a truly progressive brand refresh that has been authentically informed by the brand's 120 year heritage whilst simultaneously enabling Peter Rabbit to appeal to contemporary family audiences and a new generation of fans.
ENDS
For more information please contact:
Jen Cooper – PR and Comms, Owned Brand Team, Penguin Random House Children's UK
E: jcooper2@penguinrandomhouse.co.uk
About Peter Rabbit™ and Beatrix Potter
The Tale of Peter Rabbit is one of the world's best-loved children's books and was created by author and illustrator, Beatrix Potter in 1902.  The story has never been out of print since it was first published by Frederick Warne & Co. (today an imprint of Penguin Random House Children's) and has sold in excess of 45 million copies globally.  Today over 2 million of her 'little books' are sold globally every year, whilst Peter Rabbit has appeared on books and merchandise in more than 110 countries throughout the world.
In 2022 Penguin Random House Children's will celebrate Peter Rabbit's 120th birthday with a series of commemorative publishing, merchandise, experiential activity and high profile partnerships, ensuring that the adventures of Peter Rabbit continue to be enjoyed by a new generation of families.
PETER RABBIT™ © Frederick Warne & Co. 2021. PETER RABBIT and BEATRIX POTTER are trademarks of Frederick Warne & Co., a Penguin Random House Company.  All rights reserved.
www.peterrabbit.com
About CreateFuture
CreateFuture are an innovation and design company. Based in Edinburgh and working globally, they work across brand, proposition and experience for clients including Penguin Random House, adidas, Expedia, Beam Suntory and M&G Prudential.