Fit To Be Licensed – And Licensed To Be Fit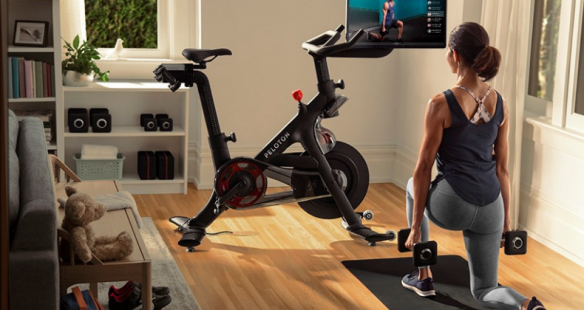 Amid the sharp rise in sales of at-home fitness equipment – connected and otherwise — several brands are getting traction with consumers that will likely run well past the pandemic.
Brands such as Peloton, Echelon, NordicTrack and others have seen a sharp rise in sales and subscriber revenue in recent months; the brand equity they've gained would seem to prime them for licensing.
Gear plus content
As gyms and fitness brands prepare for a post-pandemic world, the market will increasingly be shaped by content as online workouts gain ground on in-person training. Even Apple is entering the connected fitness game.
"The equity these brands are earning" with homebound consumers "will clearly benefit" them in a post-pandemic market and has the potential for converting those that weren't familiar with the brand into loyal customers, says Steven Heller of The Brand Liaison.
Peloton, for example, has more than doubled its number of connected fitness subscribers in the past year to 1.09 million, as of June 30.
Conversely, in-person gyms and personal trainers have been wounded by the reality of pandemic closures and capacity restrictions. Many have tried to stay connected to their members via regular eblasts of fitness tips and regimens.
Big opportunity
Home fitness equipment is a lucrative $14 billion market. Even before COVID turned a swath of consumer into home exercisers, about 16% of the U.S. population held a gym membership, and a survey found that 54% of U.S. consumers who work out at least once a month are interested in buying an at-home fitness system.
Some gym chains already have been in the licensing business. Gold's Gym (661 locations) has  had a major presence at Walmart via licensee Icon Health and Fitness' exercise equipment (an agreement which expired at the end of last year). Gold's filed for bankruptcy earlier this year and has since been acquired by Germany's RSG Group. Planet Fitness (2,059) worked with Brandgenuity, but dropped licensing efforts as part of a management change.
"The growth in at-home fitness categories has been accelerated by the work-from-home and hybrid work models developed during the pandemic," said Bruce Fletcher of CLC's Licensing Partners International, which represents the Gold's Gym brand. "While increased availability and affordability will continue to drive sales, it will be unique fitness content development and diverse product offerings that will fuel the category long term."
While licensing agents have pitched Peloton, Lululemon and others countless times, but with little results, there are signs that strategies are changing. For example, The Brand Liaison's Heller says an apparel client has been in discussions with Echelon – which has been marketing itself largely as a lower-priced alternative to Peloton. Echelon currently sources its own apparel that's sold largely to subscribers to its FitPass program.
Peloton has been moving to broaden its appeal, cutting $350 off the price of  its current entry-level  bike  — bringing it to $1,895 — as it introduces a higher end model (Bike+), and is offering a $700 discount, free yoga instruction and toning accessories to subscribers that trade in the old version for the Bike+.  It also will be launching its first two treadmills in early 2021, priced at $2,495 and $4,295.
"The lower price [for the exercise cycle] represents a really important step for us as it increases the accessibility of our products," Peloton CFO Jill Woodworth said earlier this month. "The heart of our strategy is increasing the value proposition of our platform and investing in new verticals."
Meanwhile, yoga apparel brand Lululemon (which launched a co-branded men's and women's activewear capsule collection last year with SoulCycle) moved into hardware for the first time when it recently acquired Mirror, a company that developed a mirror ($1,495) that doubles as a display for subscription on-demand workouts.  Mirror is expected to generate $150 million in revenue for Lululemon this year and will be initially be sold through 10-15 of the company's 489 stores, Lululemon has said.