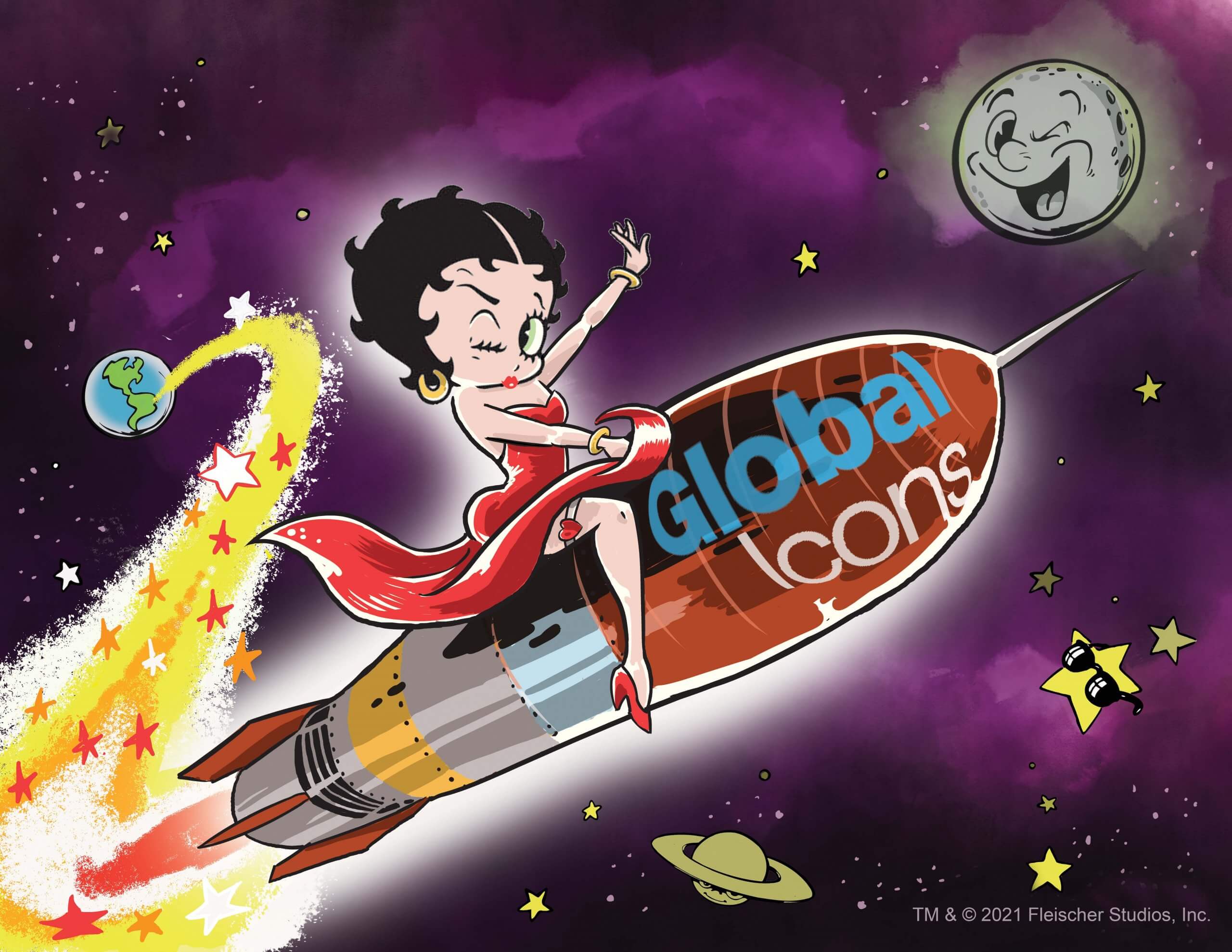 Fleischer Studios Names Global Icons New Licensing Agent for Betty Boop and its Slate of Beloved Classic Characters
Los Angeles, January 12th, 2021 – Fleischer Studios and leading brand-licensing agency Global Icons announced today that Global Icons is the new worldwide exclusive licensing agent for the Studios' beloved slate of classic characters, including the iconic animated screen star Betty Boop. The move was official on January 1st and comes as Fleischer Studios looks to expand opportunities for its properties in creative new ways.
Mark Fleischer, Chairman and CEO of Fleischer Studios said, "We're excited for the future and all the fantastic ideas in the works with Global Icons. I'm confident they'll do a superb job representing Betty Boop and our other classic characters. We also look forward to continuing to build our demographics and wonderful relationships in the Betty Boop marketplace in every way possible."
"I have been a longtime fan of Betty Boop and Fleischer Studios," said Jeff Lotman, CEO of Global Icons. "Betty is truly a cultural Icon that has gained the respect and admiration of millions of fans around the word. We can't wait to let our global team have the opportunity to grow the program in a very strategic and aggressive way."
Global Licensing will combine its expertise in brand building with their strength and resources around the world to connect Betty with new territories and consumers while creating exciting new opportunities for her core fan base.
Last year marked the 90th anniversary celebration for the glamorous international icon Betty Boop. For the past 9 decades, she has sung, sashayed, and "Boop-Oop-a-Dooped" past rules and conventions, unafraid to take risks or set trends, and proving time after time that she can do anything she sets her mind to. She is one of the most popular and successfully licensed characters in entertainment history, with licensees in the United States and around the world that produce quality products bearing Betty's likeness in virtually every category.
Betty Boop's popularity today shines through her prevalence in pop culture. Fashion magazines, advertisers, designers, and entertainment producers are constantly including and referencing Betty in their offerings. She is considered a style icon, trendsetter, and a symbol of women's empowerment.
In addition to Betty Boop, other Fleischer Studios classic characters adored by fans include Betty's beloved pup Pudgy, Grampy, her pal Bimbo, and the groundbreaking character Koko the Clown, the first character to ever be animated with the Rotoscope.
About Betty Boop and Fleischer Studios:
First introduced in 1930, Betty Boop was created by Max Fleischer for his "Talkartoons" series, the first animated "talkies" which Max's company, Fleischer Studios, produced for Paramount. Betty's stage style was inspired by the many popular Jazz Age flappers and singers of the 1920s. Mae Questel provided Betty's distinctive voice. By 1932 Betty, considered to be the first and only female animated screen star, had taken the country by storm.
Betty starred in more than 100 cartoons, 90 of which are included in the official "Betty Boop" series, which ended in 1939. Since then, Betty has appeared in dozens of hit movies, television specials and commercials. She was the first cartoon character to be profiled by A&E's "Biography" series.
Today, Fleischer Studios works with a great team of creative professionals to keep Betty entertaining millions of fans and collectors worldwide. Visit them online at www.fleischerstudios.com.
About Global Icons:
The premier brand licensing agency, specializing in the development and extension of corporate brands and trademarks, has attracted world-class clients by consistently developing new categories and unique products. As a worldwide leading agency for over 20 years, Global Icons provides licensing acquisition services for companies seeking to expand their distribution and customer appeal through licensing well-known brands.
Through the establishment of the right brand extensions, the company succeeds in increasing brand awareness, customer royalty and revenue. Select clients include HostessÒ Brands, Fred Segal, Southern Comfort, Turtle WaxÒ, Automobili Lamborghini, and USPS among others. For more information regarding Global Icons, LLC, please visit www.globalicons.com.
Contact:
Kristi Ling Spencer
Fleischer Studios
kristilingmedia@gmail.com
310-897-3100