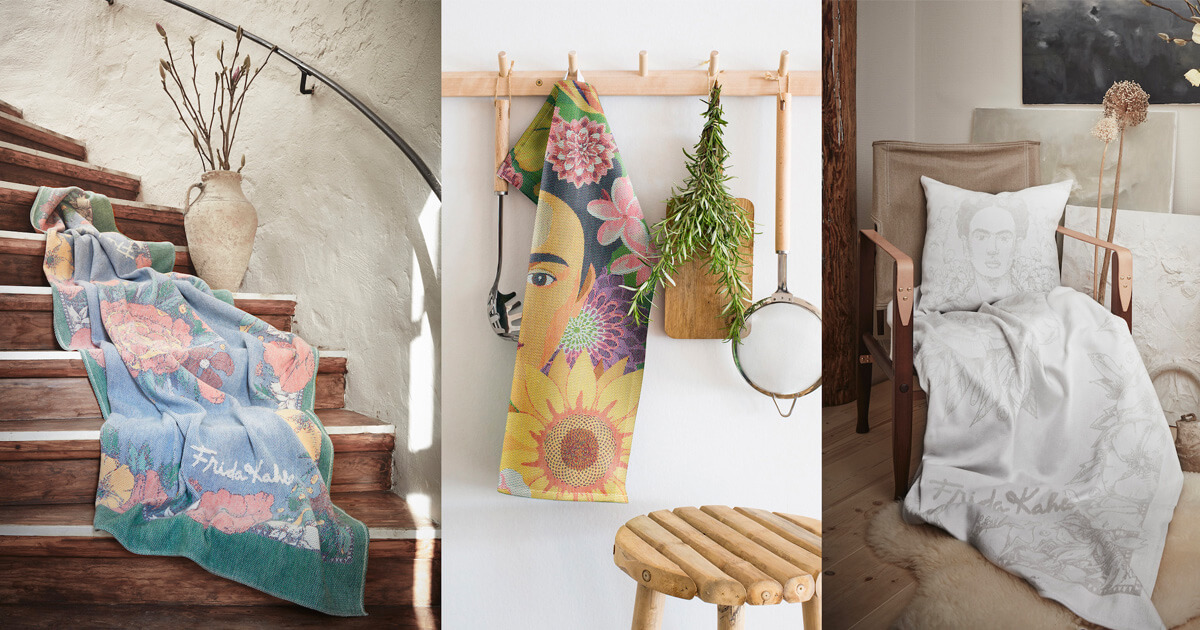 Frida Kahlo X Ekelund
Barcelona based Art Ask Agency, are very excited to share the latest hot news on Frida Kahlo.
The Frida Kahlo licensing program continues to grow and Art Ask Agency are pleased to announce the launch of the officially licensed Frida Kahlo x Ekelund collection using organic cotton and environmentally certified textiles.
Global traditional Swedish heritage brand Ekelund have designed a full collection of textiles for the home made with the highest quality weaving techniques. Ekelund have been master weavers since 1692 and selected the Frida Kahlo brand to complement their own brand values and celebrate all women across the world.
The range includes over 15 different SKUs based on 6 designs including kitchen towels, cushion covers, adult and baby blankets, appealing to a wide segment of consumers. Products are currently available on Nordicnest.com and Ekelund's own web store and will soon be distributed through many more channels.
Ekelund have invested in a substantial marketing plan using tailored content and news about the collection has been published in some of Sweden's top lifestyle magazines such as Amelia.
"As a customer myself, of the beautiful and high-quality home textiles that Ekelund produces, I am very proud to start this collaboration. Elegant and stylish designs to enjoy that are treasures in any home."– Maria Strid, Owner Art Ask Agency.
"Our textiles are created with joy and passion – just as the iconic artist Frida Kahlo created her art. Frida Kahlo's strength, perseverance and her fearlessness to follow her own will has become the inspiration for this collection. A collection created with a purpose to highlight the strength, value and rights of all women." – Ekelund marketing manager.
About Ekelund
Established in 1692 in Sweden, Ekelund is a family business producing high quality textiles produced in a traditional way with contemporary flair.
About Art Ask Agency
An internationally established licensing agency based in Barcelona, Spain. Offering a complete service to licensees and brand owners around the world.
Our experience with Lifestyle brands, Culture brands, Designers, Illustrators, Character lines and world-class Photographers goes well beyond any borders. Art Ask Agency creates unique concepts together with established or emerging properties. Working with worldwide rights, offering complete service, fast turnaround, approvals, feedback, newsletters and advertising. As an agency, they pride themselves in maintaining direct personal relationships with all parties.
About the Frida Kahlo Corporation
Frida Kahlo, took bold steps to break through the barriers of time, language, culture and made a unique mark in the world.
A brand for all women and girls. An eternal trendsetter and fashion icon for today's women and girls.
Expressing diversity, rebellion, love, desire, energy and passion, she is the true representation of strong women.
Her iconic existence, unique expression and extraordinary life give consumers and fans a one-of-a-kind model to embrace optimism, strength and courage.
The Frida Kahlo Corporation, is a Panamanian Corporation with offices in the United States, is a global provider of FRIDA KAHLO brand goods and services, whose mission is to educate, share and preserve Frida Kahlo's art, image, and legacy. Frida Kahlo died on July 13, 1954 in Mexico, at which time all of her intellectual property rights were inherited by her heirs according to Mexico's intellectual property laws.
In 2005, the Frida Kahlo Corporation was created and Frida Kahlo's heirs transferred all of her rights and entire interest in the intellectual property to the Frida Kahlo Corporation for the purpose of marketing the trademarks, brands, images, photography, signature and other intellectual property of Frida Kahlo.
Also, the Frida Kahlo Corporation licenses the FRIDA KAHLO brand and contributes a portion of the monies received to worthy community-based charitable organisations that are committed daily to improving the life of woman and children. Learn more about the Frida Kahlo Corporation by visiting: http://www.fridakahlocorporation.com.