FUBU Launches Men's Suits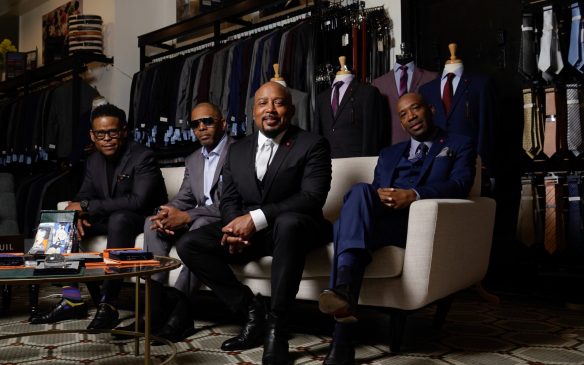 New Collections of "FUBU" and "Platinum FUBU"
Suits and Sportcoats Sold Exclusively at Karako Suit Stores
New York, NY; June 19, 2019:  The iconic urban brand FUBU is proud to announce the launch of FUBU suits to be sold exclusively at the Karako Suit stores and at KarakoSuits.com under the brand FUBU and Platinum FUBU.  The first collections recently debuted at Karako Stores in New York including the latest styles of men's and boy's suits, sportscoats and accessories.
The FUBU products from Karako feature the latest designs and quality fabrics, with unique linings and a new FUBU red lapel pin.  Sean Karako, of Karako suits states "At Karako suits, we're focused on customer service and providing a unique shopping experience.  Together with FUBU, we have created a unique collection that our customers will love."
"Our consumer is constantly evolving and so must our brand." Explained FUBU founder Daymond John.  "Our goal is to celebrate the FUBU lifestyle on every level and having Karako with three generations of experience as a partner will help us achieve that level of quality our consumer has come to expect from us."
Created by Shark Tank's Daymond John in his basement, the FUBU brand is enjoying an incredible resurgence based on a series of strong collaborations including collaborations with Urban Outfitters, Puma, Mitchell and Ness, and a new junior's collections coming later this year to Forever 21.   The license for suits and sportscoats is another key element of the FUBU brand renaissance.
"This is a perfect time for a revitalization of this iconic brand through strategic licenses and collaborations." Stated Steven Heller, president of the Brand Liaison.  "The success of these recent programs demonstrates the continued strength of the FUBU brand in today's marketplace.  The brand continues to resonate with its consumers." One of the original founders, Carlton Brown adds, "Strong strategic partnerships and excellent brand management will provide our organization a solid foundation to scale and thrive for years to come."
For more information on FUBU Licensing, please contact Steven Heller at The Brand Liaison.