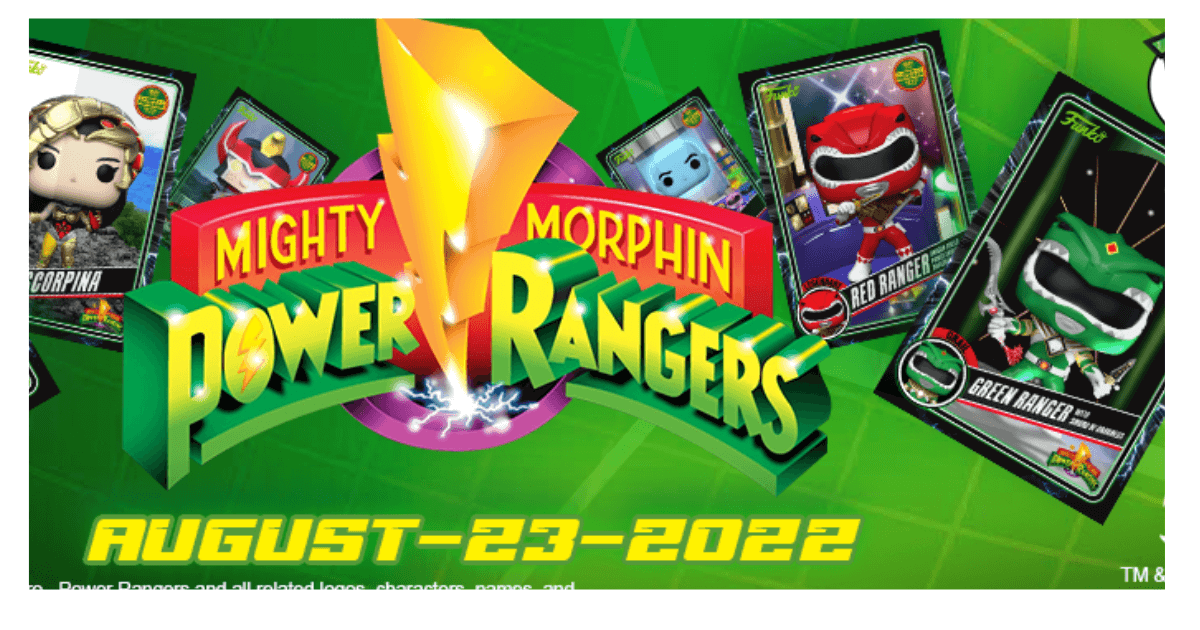 Funko and Hasbro Launch Power Rangers Digital Pop! Series
Available August 23 on NFT Platform Droppp!, the Series Features 
Iconic Power Rangers, Including Green Ranger, The Pumpkin Rapper, Zordon and More
Funko, in partnership with Hasbro, will release a series of Digital Pop! NFTs based on the iconic Power Rangers, including Green Ranger, The Pumpkin Rapper, Zordon and more on Droppp!, an NFT platform, on Aug. 23.
Funko's Digital Pop! line features non-fungible tokens, or NFTs, in the form of digital collectibles featuring Funko's unique stylized figures. Standard packs of the Power Rangers Digital Pop! series will be available for $9.99 USD, and premium packs will be offered for $29.99 USD. Both offerings will be limited to 22,500 packs for a total of 450,000 NFTs offered to fans. Each pack gives fans the opportunity to reveal a rare Funko Digital Pop! when opened, which can then be redeemed for one of six limited edition, physical vinyl collectibles for free.
The Funko Digital Pop! series will be available to purchase through the Droppp.io platform using a Droppp account and credit card.
ABOUT FUNKO
Headquartered in Everett, Washington, Funko is a leading pop culture lifestyle brand. Funko designs, sources and distributes licensed pop culture products across multiple categories, including vinyl figures, board games, action toys, plush, apparel, housewares and accessories for consumers who seek tangible ways to connect with their favorite pop culture brands and characters. Learn more at https://funko.com/, and follow us on Twitter (@OriginalFunko) and Instagram (@OriginalFunko).
ABOUT DROPPP
Droppp delivers a unique NFT experience for both new and seasoned collectors, using familiar purchasing methods on the environmentally-friendly WAX™ blockchain. Droppp's mission is twofold – for collectors, it provides a simple, safe and fun route to acquiring digital assets from their favorite brands. For clients, Droppp delivers a turnkey solution, allowing companies an end-to-end first-class NFT delivery experience. For more information, please visit https://droppp.io or follow along on Twitter and Discord.