Funko Burnishing Brand, Developing Own IP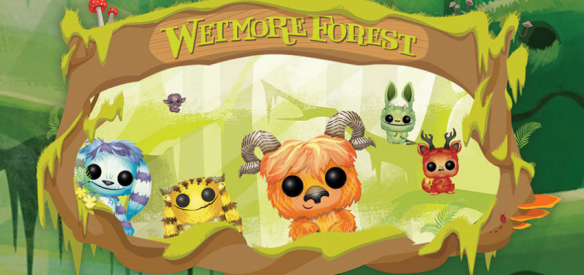 Long known for licensed products, Funko is developing its own IP for "several" toy lines that will launch 2020 and plans to open a second retail store in Hollywood, CA (adding to the store at its Everett, WA headquarters) later this year, CEO Brian Mariotti said in releasing Q1 earnings.
Funko didn't release details on the new toy lines, but the first of its own IP – Wetmore Forest – will be introduced at Barnes & Noble in late Q2 across books, figures, plush, games and puzzles.  Wetmore Forest licensee Sterling Publishing had five, 32-page titles available on Barnes & Noble's web site on Monday  for 3-7-year-old children, including "Tumblebee Goes for a Walk" and "Pickelez Gets Lunch."  The launch is being backed by short-form video featuring Wetmore Forest characters that was created by Funko Animation Studio, a group the company formed in acquiring animation studio Evil Corp. in late 2017.
The program at Barnes & Noble represents an expansion for the Wetmore Forest brand, which had a small number of figures available online through Walmart.com last year. Funko also expects distribution of its figures to expand to 120-180 Footlocker stores that house "Pop by Footlocker" sections.
Funko also is expanding into board games with the formation of Funko Games via its acquisition earlier this year of Forest-Pruzan Creative. Forest-Pruzan products include Disney Villainous and "Eye Found It" picture games and a Bob Ross-licensed "Happy Little Accidents" party game. Revenue from Funko Games will be "immaterial" to the company's business this year, but Funko has been "encouraged by the retail response" to its entry into the board game category, Mariotti said. The company also released its first app in April which received one million downloads across 155 countries in the first three weeks it was available.
Net income jumped to $7.1 million in Q1 ended March 31 from $2.2 million a year earlier as revenue rose 21.6% to $166.8 million on strong sales of products based on Fortnite, Avengers and Game of Thrones. Figure sales increased 18% to $136 million, while those from "other" products (apparel and Loungefly bags) rose 43% to $30.8 million. Loungefly sales have doubled since Funko acquired it just before its 2017 IPO, Mariotti said.
U.S. sales increased 22% to $108.7 million, while non-U.S. revenue rose 20% to $58.1 million. Funko had 611 active properties with an average of $273 in revenue per property as of March 31, down from an average $302 on 454 properties a year ago, the company said.
Fortnite-related products accounted for 10% ($16.6 million) of Funko's Q1 revenue, while Disney properties accounted for 40% ($66.7 million), up from 33% a year earlier. Funko also renewed its licensing agreement with Disney in January for Disney, Marvel and LucasFilm properties.
Contact:
Funko, Russell Nickel, CFO, 425-783-3616