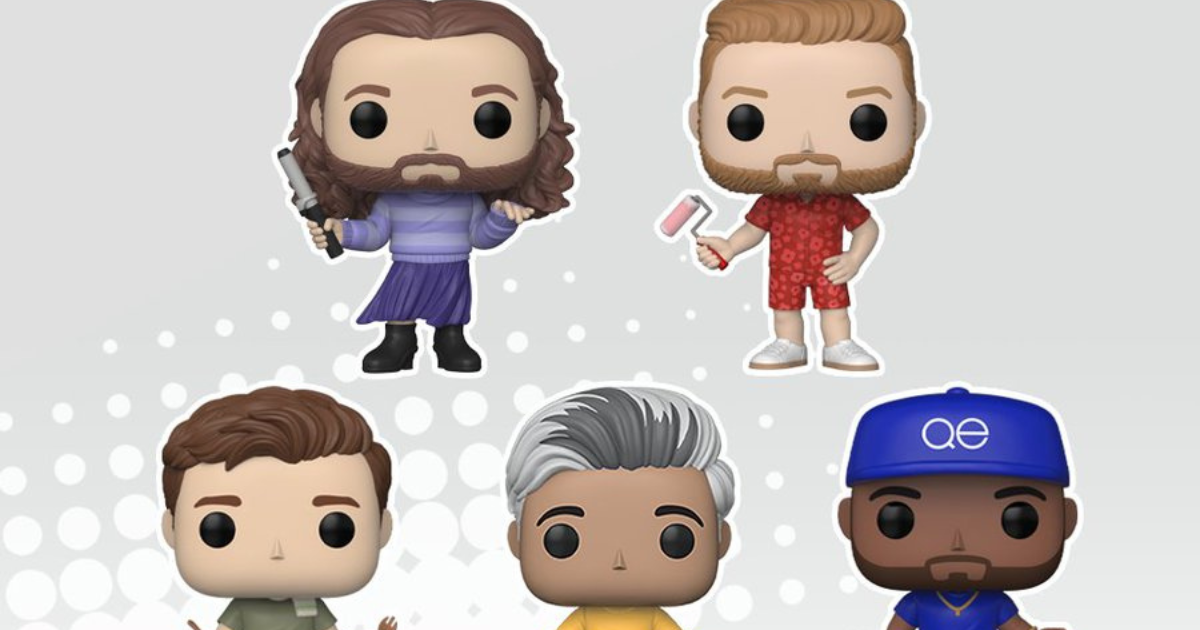 Funko Partners with the It Gets Better Project for Its Annual Pop! With Purpose Program
The First Wave of the Philanthropic Line Spotlights the Cast of Queer Eye
Coming Soon to Funko.com, A Portion of the Proceeds From Each Unit Sold Benefits the LGBTQ+ Community via the Non-Profit Organization
Funko  announced the first wave of their new Pops! With Purpose Pride Collection with more to come, proceeds will aid the It Gets Better Project. Available exclusively at Funko.com, the latest Pops! With Purpose collection benefits the global nonprofit organization's mission to uplift, empower and connect lesbian, gay, bisexual, transgender and queer youth around the globe. The first collection includes a new lineup of Pops! featuring the cast of Netflix's hit series Queer Eye. Funko will donate $10 for every Queer Eye Pop! sold.
"Funko is committed to supporting the LGBTQ+ community, and the Funko Cares  program is a vital component in making that support possible," said Laura Olson, Sr. Director ESG. "We are proud to continue our partnership with the It Gets Better Project and look forward to future collaborations."
"Funko has been a dedicated supporter of the It Gets Better Project for several years and we are excited for the partnership to continue with the Pops! With Purpose Pride Collection," said Ross von Metzke, Director of Communications and PR for the It Gets Better Project. "Having the support of partners like Funko is critical to our efforts to uplift and empower LGBTQ+ youth."
Pops! With Purpose is a part of the Funko Cares Program, a charity initiative that gives back to the community through both monetary and product donations. Funko Cares has partnered with Make-A-Wish®, ASPCA, the Breast Cancer Research Foundation, Operation Homefront and more.
Pre-sale links for the Queer Eye Pops! With Purpose collection can be found below:
To find out about the latest Pops! With Purpose initiatives, follow Funko and on Facebook, Instagram, TikTok and Twitter at @OriginalFunko.
ABOUT FUNKO
Headquartered in Everett, Washington, Funko is a leading pop culture lifestyle brand. Funko designs, sources and distributes licensed pop culture products across multiple categories, including vinyl figures, board games, action toys, plush, apparel, housewares and accessories for consumers who seek tangible ways to connect with their favorite pop culture brands and characters. Learn more at https://funko.com/, and follow us on Twitter (@OriginalFunko) and Instagram (@OriginalFunko). Loungefly™ and Stitch Shoppe™ are registered trademarks of Funko, LLC.
ABOUT THE IT GETS BETTER PROJECT
The It Gets Better Project is a 501(c)3 nonprofit organization that strives to uplift, empower and connect LGBTQ+ youth around the globe. Created in 2010 as the result of one of the most successful viral video campaigns in YouTube's history, the It Gets Better Project provides critical support and hope to LGBTQ+ youth around the world by leveraging the power of media to reach millions of people each year. The project has expanded its origins in storytelling and media to include educational resources through It Gets Better EDU and reaches 19 countries outside of the U.S. through It Gets Better Global.
The project has garnered support from President Joe Biden, former President Barack Obama, and former Secretary of State Hillary Clinton, along with numerous celebrities, including Kelly Clarkson, Gabrielle Union, Chris and Scott Evans, Jojo Siwa, Zachary Quinto, Mj Rodriguez, Hayley Kiyoko, and Gigi Gorgeous. More than 750,000 people have taken the It Gets Better pledge to share messages of hope and speak up against intolerance. Please visit www.itgetsbetter.org for more information, and join the conversation on all social platforms @itgetsbetter.