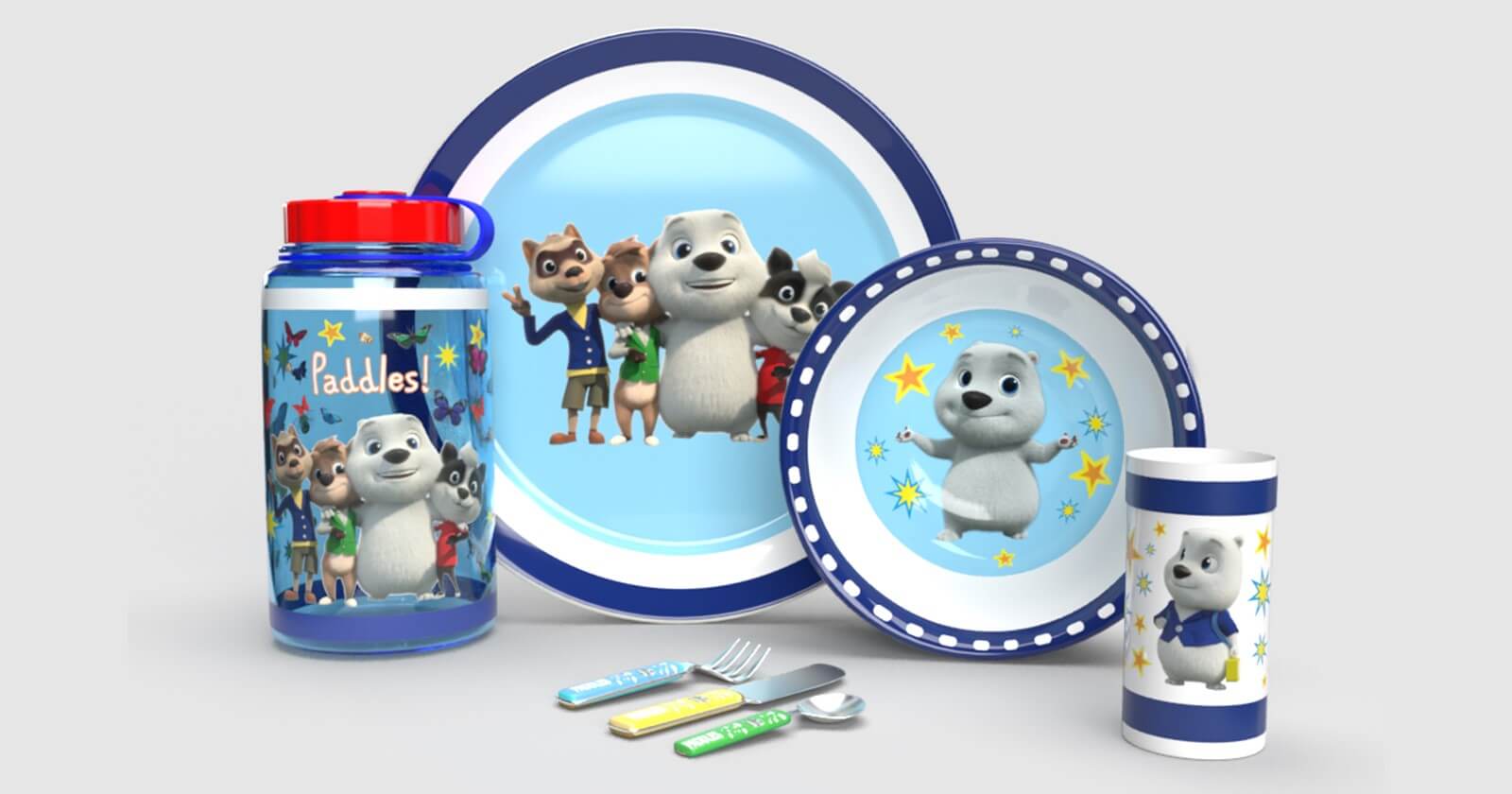 FuturumKids Announces Licensing and Merchandising for Paddles
E-commerce-based strategy will underpin present and future properties
State-of-the art animation and media company FuturumKids, whose delightful new CGI show for four-to-seven-year-olds, Paddles, is about to launch in a number of markets, has announced licensing and merchandising plans for the property. It has also announced the launch of an e-commerce platform for both Paddles and all future FuturumKids properties.
The lovable polar bear cub and his friends are the stars of a number of planned launches in the first phase of the FuturumKids licensing and merchandising strategy for the property. In fact the first range of Paddles products is already on the way. It will comprise 10 SKUs, ranging from plush toys to apparel, dinnerware, bubble mix and school bags. These will soon be shipped to Futurum Group's fulfilment centres in London, Dublin and Chicago.
Initial manufacturing and distribution will be in-house, supported by a dedicated D2C e-commerce platform. This will also be the launch strategy for future Futurum properties, a number of which are already in development.
However, once the market for products is established, a two-prong strategy will build on the D2C approach, allowing FuturumKids properties to expand into licensing partnerships where appropriate.
Paddles, a charming, exciting and very funny 52 x 11 series, tells the story of a polar bear cub accidentally delivered by the Stork to a frozen River Shannon in Ireland – and brought up by a pack of Irish wolfhounds. Through the adventures, mistakes and discoveries of its funny and huggable star, and his friends Bracken, Bridie and Fagan, the series shows its young audience that being different is something to be celebrated and enjoyed.
This is the latest stage in the broadcast and merchandising development of Paddles, whose makers include members of the team behind the seven-time Emmy-award-winning children's series Jakers!
Paddles has already been sold to Cartoonito UK, Ireland's RTE Jr and Hop in Israel. Brand management company Monster Entertainment is handling global television sales for all territories except Korea, which will be managed by local company Neon.
More broadcast deals involving Paddles are imminent and will be announced in the coming months.
Brendan Kelly, Head of Sales at FuturumKids, says: "Our licensing and merchandising plans underline our enormous faith in our business model in general and Paddles in particular. Paddles is a wonderful property that is quickly building on a great response from broadcasters to position itself as a successful inspiration for a major licensing and merchandising campaign."
About FuturumKids
FuturumKids is a specialist producer of children's and family media content targeting the global TV market. Its founding principals include members of the team behind the seven-time Emmy-award-winning children's series Jakers!, as well as senior figures from HIT Entertainment and its global franchises Bob the Builder, Barney and Thomas and Friends. The creative team behind Paddles, the company's very first show, has also worked with multi-award-winning titles, including such diverse and highly successful children's offerings as FiFi and the Flowertots, Roary the Racing Car, Bottersnikes and Gumbles, Octonauts and, of course, Jakers! FuturumKids recently announced the establishment of a global HQ for its growing list of productions. The company is now based in Las Palmas, Gran Canaria, where its new HQ will house both the company's main offices and a full animation studio. futurumkids.com