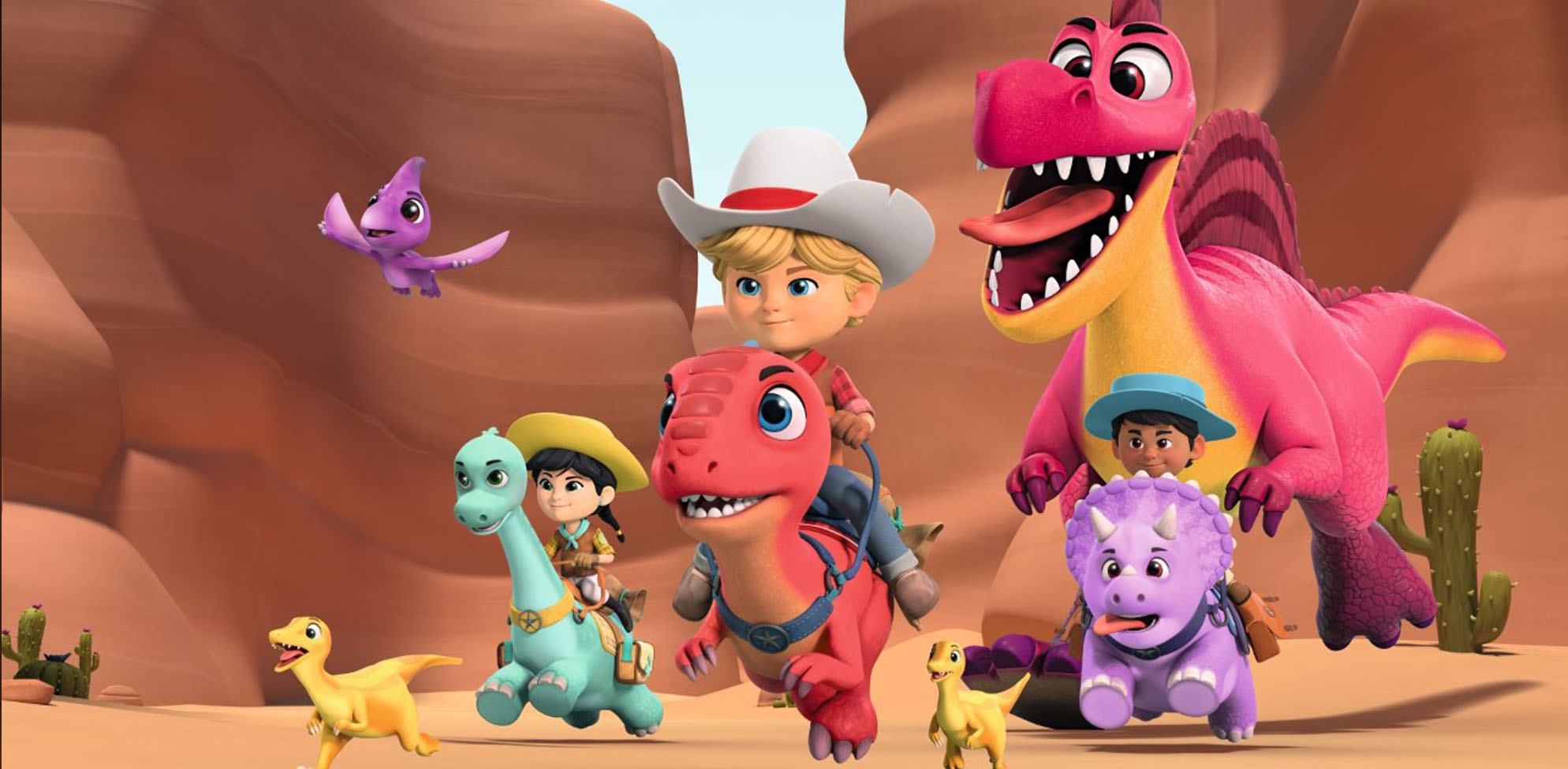 Game On for Boat Rocker's Hit Preschool Series 'Dino Ranch' With New Global Gaming Deals
TORONTO, ON –Monday, 6th March 2023 – Boat Rocker (or the "Company"), an independent, integrated global entertainment company, today announced that its hit preschool animated series Dino Ranch has expanded its reach with new global gaming deals with Microids and Tap Tap Tales.
Budding young ranchers can explore the colourful and thrilling world of Dino Ranch both digitally and on consoles with a new action-packed video game from Microids and Tap Tap Tales' dedicated app.
A new global partnership with Microids, a leading French video game developer and publisher based in Paris, agreed by Boat Rocker in collaboration with Gulli/Super RTL will see the first Dino Ranch video game roll out worldwide from Q4 2023. Dino Ranch console video games will be accessible physically across multiple retail accounts, in addition to be available to download for Nintendo Switch, Sony Playstation and Microsoft Xbox platforms.
Dino Ranch Yee Haw! is the exciting new app for kids aged 3-7 from children's educational app specialists Tap Tap Tales, now available for Apple and Android devices in 7 languages: English, French, Spanish, German, Italian, Latin Spanish and Portuguese. Full of fun, entertainment and things to learn, the app takes users down on the ranch to join Jon, Min and Miguel and the dinosaurs in 25 action, didactic and educational games. With an easy and intuitive interface for children, amazing designs and characters, and audios and animations in all the activities, the app stimulates imagination and creativity while helping to reinforce the cognitive abilities.
"We're delighted to team up with Microids and TapTap Tales. These two renowned leaders in their field are creating exciting new ways for young Rancheroos around the world to saddle up and engage with the Dino Ranch brand," said Kate Schlomann, EVP Brand Management & Content Marketing, Boat Rocker. "While playing with these dynamic games, fans will be able to extend their love of the show by experiencing life on the ranch and interacting with the characters."
Global hit show Dino Ranch follows the adventures of the Cassidy Family – Ma Jane, Pa Bo and their three adopted children Jon, Min and Miguel – as they tackle life on the farm in a fantastical, "pre-westoric" setting where dinosaurs still roam. As the young ranchers learn the ropes, they discover the thrill of ranch life whilst navigating the great outdoors through unpredictable challenges. Proving hugely popular since its launch last year, Dino Ranch was renewed for a third season at Disney, launching in 2024.
Dino Ranch is created by Matt Fernandes (of Industrial Brothers) and produced by Industrial Brothers and Boat Rocker, in association with CBC Kids and Radio-Canada. Boat Rocker manages global franchise development, including content distribution and consumer products.
About Boat Rocker
Boat Rocker (TSX: BRMI) is the home for creative visionaries. An independent, integrated global entertainment company, Boat Rocker's purpose is to tell stories and build iconic brands across all genres and mediums. With offices around the world, Boat Rocker's creative and commercial capabilities include Scripted, Unscripted, and Kids & Family television production, distribution, brand & franchise management, a world-class animation studio, and talent management through Untitled Entertainment. A selection of Boat Rocker's projects include: Invasion (Apple TV+), Orphan Black (BBC AMERICA, CTV Sci-Fi Channel), Dear…(Apple TV+), Billie Eilish: The World's a Little Blurry (Apple TV+), The Next Step (BBC, Family Channel, CBC), Daniel Spellbound (Netflix), and Dino Ranch (Disney+, Disney Junior, CBC). For more information, please visit www.boatrocker.com.
About Microids
Microids is a French video game publisher. Founded in 1985, Microids' editorial strategy now focuses on 4 major areas: adventure games, racing games, retro gaming and games inspired by iconic titles. By collaborating with renowned studios and authors (Revolution Software, Sloclap, Oddworld Inhabitants, Pendulo Studios, Eden Studios, Go Nagai, Charles Cecil, Benoît Sokal, Paul Cuisset), Microids has become a major player in international video games. Taking inspiration from legendary titles, Microids reaches a wide audience and creates original adventures which give gamers the chance to play as some of their most beloved characters.