GameStop Closing Stores, Looks to Collectibles as Key to Turnaround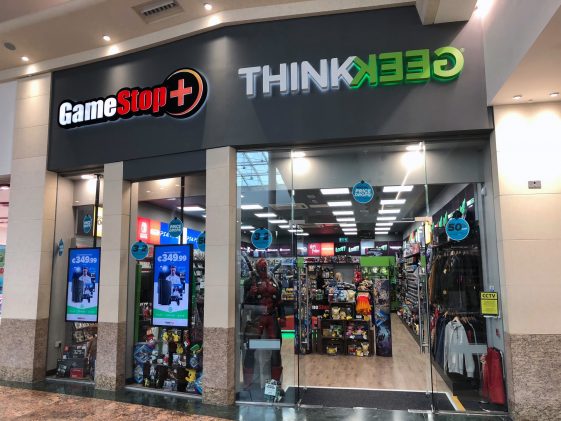 GameStop's collectibles business – the only category to show sales growth in Q2 ended Aug. 3 – will be central to the chain's plans to refashion its stores as "social and cultural" hubs for gaming amid a downturn in videogames sales, CEO George Sherman said.
Collectibles sales increased 21% to $171.8 million and accounted for 15.6% Q2 revenue, up from 10.4% a year earlier. In contrast, videogame hardware sales plunged 41% to $175.6 million as the industry prepared for the arrival of next-generation consoles from Sony and Microsoft in 2020.
The 5,700-store chain also is trimming its assortment of collectibles as it readies new "experiential" displays, including eSports streaming, for about a dozen Tulsa, OK stores this fall and moves to "declutter" its merchandise mix, Sherman said. GameStop sells collectibles at GameStop, ThinkGeek and Zing Pop Culture stores. ThinkGeek operates in the U.S. (37 stores), while Zing Pop (66) is in Australia and Europe. The chain is in the midst of a broad restructuring that is expected to close up to 200 GameStop stores (179 as of Aug. 3) by year-end and more during the next 12-24 months, Sherman said.
"It is about rationalizing the numbers of [collectibles] SKUs and letting those that are highly productive continue to be highly productive" by increasing focus on them, CFO Jim Bell said. Funko's Pop! Vinyl figures, which in some stores cover a display wall, will continue to be a "big part of the business for us," Sherman said. GameStop accounts for 9% of Funko's annual sales, according to Jefferies analyst Stephanie Wissink.
The revamped collectibles displays are a "step in the right direction, but it's a first effort in a very short period of time," said Sherman, who was hired as CEO earlier this year.
"We are encouraged to hear of stronger and more shoppable merchandising plans for the second half and full year," Wissink said.
The collectibles business has been "one of trial and error" for GameStop largely because it was a new category for the chain and "success lies in being much more focused," Sherman said. "It is a category we see as a means for attracting new customers in gaming. It brings in consumers that are very often collectibles customers" but "not necessarily core gamers."
Overall, GameStop's Q2 net loss widened to $415.3 million from $24.9 million a year earlier as it took a $363.9 million goodwill impairment charge tied to a decline in its stock price. Total sales declined 14.3% to $2.8 billion on an 11.6% decline in same-store sales.
Contact:
GameStop, Jim Bell, CFO, 817-424-2000