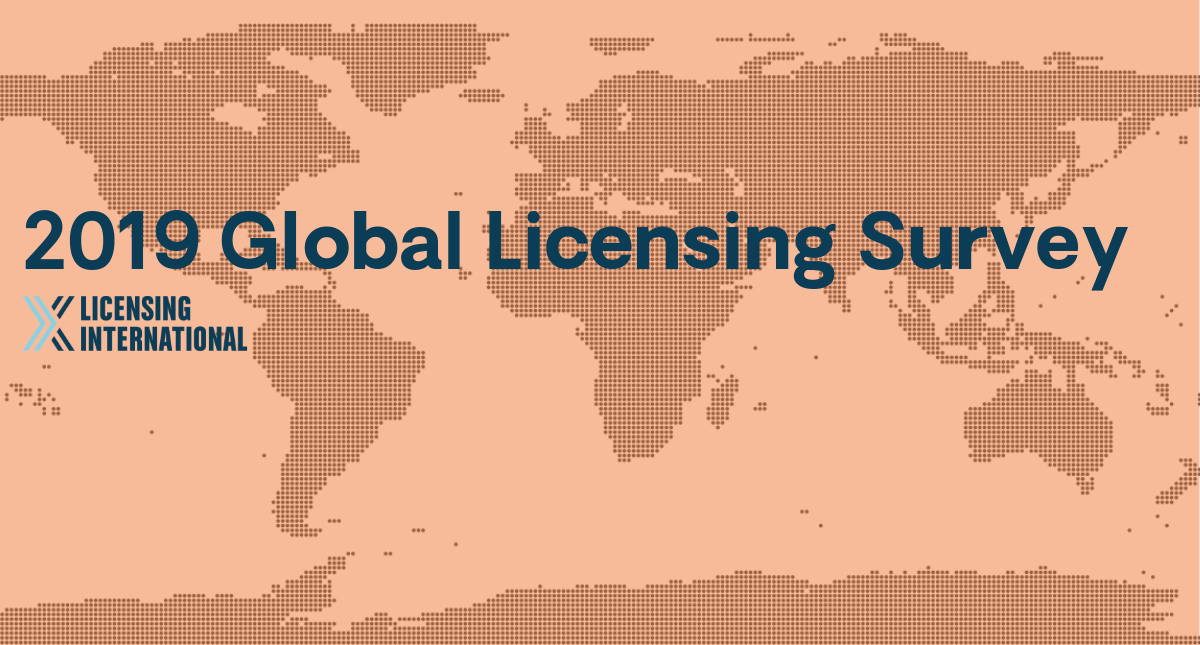 Global Sales of Licensed Products and Services Reach US $280.3 Billion, Fifth Straight Year of Growth for the Licensing Industry
The Annual Global Licensing Survey, published by Licensing International, reports a 3.2 percent increase in global retail sales of licensed products over the prior year
New York, NY (June 4, 2019) – –  Global retail sales of licensed merchandise and services grew to $280.3 billion in 2018, a 3.2 percent increase over the $271.6 billion generated in 2017, according to topline results of the  5th Annual Global Licensing Survey, released today by Licensing International. Royalty revenue for brand owners leapt to $15 billion, an almost 4 percent increase from 2017.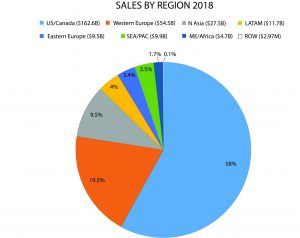 The U.S. and Canada accounted for 58 percent of worldwide consumption of licensed goods and services with $162.6 billion (up 3.1% from the prior year), while the Latin America, Northern Asia and Southern Asia/Pacific markets experienced the strongest year-over-year increases in licensing business, each showing growth of more than 5% for the year.
Licensing International – known previously as the International Licensing Industry Merchandisers' Association (LIMA) – commissioned Brandar Consulting, LLC to conduct the survey for the fifth consecutive year. The survey results have shown steady growth year-over-year, with a 16 percent leap in revenue over the course of the five years the survey has been conducted.
Despite the ascendance of ecommerce and the impact it has inevitably had on the business of brand licensing, survey respondents reported that an average of 79 percent of their business came from brick-and-mortar stores in 2018, compared to 21 percent from online sales. Those are the same average percentages reported in the prior two years.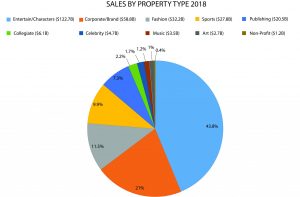 The entertainment/character sector was by far the largest category, accounting for $122.7 billion, or 43.8 percent of the total global licensing market. The second-largest sector – corporate brands – showed the highest growth rate (5.5 percent year over year) of the top four sectors with $58.8 billion (21 percent) of the overall business, attributed to the staying power of name brands in today's challenging retail environment. Fashion was the next largest ($32.2 billion, 11.5 percent), followed by sports ($27.8 billion, 9.9 percent).
Apparel (15 percent), toys (12.6 percent) and fashion accessories (11.5 percent) continued to lead in the breakdown by product category, though the global toy sector experienced the largest decline, down 2.1 percent from 2018, in part due to the market disruption caused by the bankruptcy and ultimate liquidation of Toys R Us in the U.S. and some other world markets.
"The 2019 Global Licensing Survey drives home the fact that licensing continues to be a vital part of the consumer marketplace, and a versatile tool for brand owners and licensees to creatively build their businesses," said Licensing International President Maura Regan. "This year's results highlight licensing's wide reach, value and potential in both developed and growth markets. It's an exciting time to lead the licensing business into its promising future."
The complete report, including regional and country-by-country breakdowns for major markets, will be made available free to all Licensing International members this summer. Non-members will be able to purchase the survey for $975 at www.LicensingInternational.org.
#  #  #
About Licensing International:
Licensing International – formerly known as LIMA – is the leading trade organization for the global licensing industry. Licensing International's mission is to foster the growth and expansion of licensing around the world, raise the level of professionalism for licensing practitioners, and create greater awareness of the benefits of licensing to the business community at large. Founded in 1985, Licensing International members in over 40 countries enjoy access to an array of benefits, including extensive educational programming and worldwide networking events. Visit LicensingInternational.org for more information and to utilize licensing's definitive online resource.
About Brandar Consulting:
Brandar Consulting, LLC is a 12-year old firm committed to providing companies subject matter expertise in the areas of Brand Licensing, Market Research, Market Analysis, Brand Extension, Competitive Analysis and Business Strategy. The key components in their suite of services are conducting brand equity & category extension research, in-licensing brand identification research, product market sizing analysis, modeling brand royalty financial potential and conducting factor analysis to set priorities for Licensing Plans. The firm specializes in helping organizations start or proactively expand Brand/Trademark Licensing Programs. Brandar prides itself with providing senior management with the knowledge and processes needed to integrate marketing data and research into everyday business decisions.
Media Contact:
Licensing International
Nicole Silberstein
646-744-3748
Double Forte
Natalie Nicolson
510-730-9370