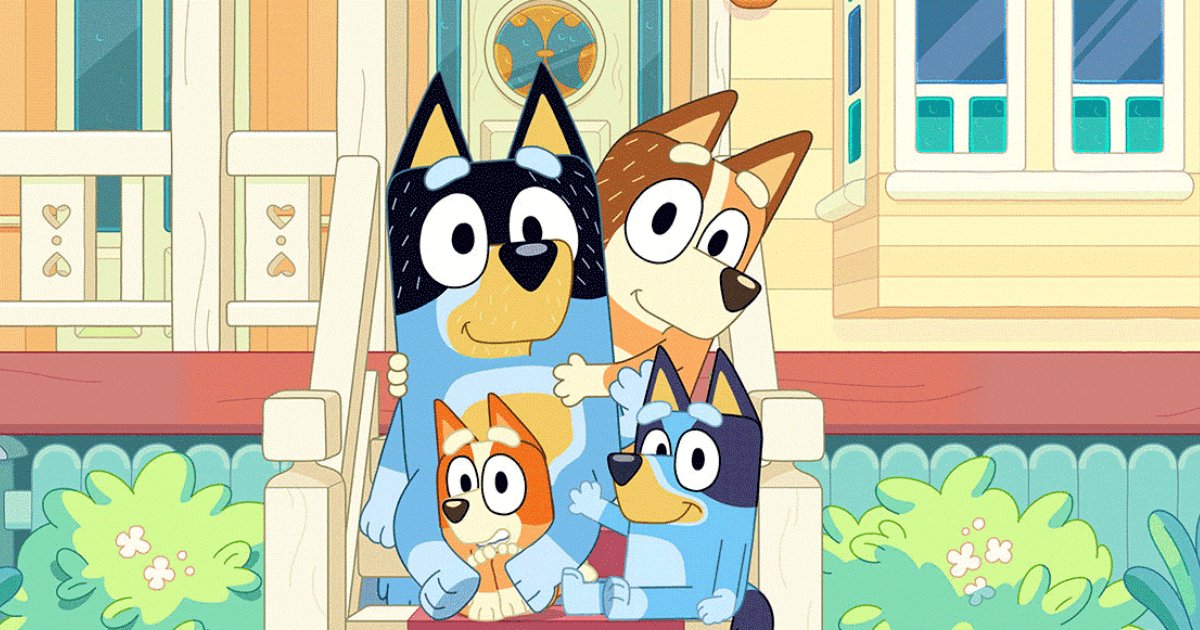 Global Sensation Bluey Launches Series Two on CBeebies and BBC iPlayer
Series two of the global-hit animation Bluey is set to receive its UK free-to-air premiere on CBeebies and BBC iPlayer on Aug. 1.
The first series proved a huge hit with UK fans, being streamed more than 97m times on BBC iPlayer since its launch on iPlayer in April 2021.
Widely lauded by parents and press alike for its heartfelt and funny portrayal of family life and celebration of play, the show follows Bluey, a 6-year-old Blue Heeler dog, who loves to play and turns everyday family life into extraordinary adventures that unfold in unpredictable and hilarious ways, bringing her family – including younger sister Bingo and parents Bandit and Chilli – as well as friends and community into her world of fun and discovery.
Bluey has won the hearts of kids and parents around the world since it first launched in Australia in October 2018 and has quickly become a global hit, becoming hugely popular with audiences in the UK – it was also the highest rating programme on CBeebies for Q1 2022[1].
Bluey has also won multiple awards, such as the International Emmy Kids Award in the prestigious Preschool Category in 2020 and has picked up the AACTA Award for Best Children's Program for three years running (2019-21). Bluey won four Kidscreen Awards in February 2021 and recently won a Logie for Most Outstanding Children's Programme at the Aussie equivalent of the BAFTAs, the second time Bluey has taken home the award.
Bluey is produced by multi-Emmy award-winning Ludo Studio for ABC Kids Australia, co-commissioned by ABC Children's and BBC Studios, and distributed internationally by BBC Studios outside of Australia.
Praise for Bluey
"Bluey is the best show on television." Stuart Heritage, The Guardian
100 Best Sitcoms of All Time (#96) – Rolling Stone Magazine
"Bluey is the best kids' show of our time" – Vulture
About Bluey
Bluey is produced by Ludo Studio for ABC KIDS (Australia) and co-commissioned by ABC Children's and BBC Studios. Financed in association with Screen Australia, Bluey is proudly 100% created, written, animated, and post produced in Brisbane Queensland, Australia, with funding from the Queensland Government through Screen Queensland and the Australian Government.
About Ludo Studio
Ludo is a multi-Emmy and Logie award-winning Australian studio that creates and produces original scripted drama, animation and digital stories that are authored by incredible local talent, distributed globally and loved by audiences everywhere. 
About BBC Centenary
Since its first broadcast in 1922, the BBC has championed storytelling and built a reputation for innovation and quality.  Across TV, radio and online, its output has had a significant impact on broadcasting and society, shaped social attitudes and demonstrated that the BBC has been a constant pioneer from its inception to the present day. As the BBC marks its centenary in 2022 it will mark the occasion with a series of special events and programmes to celebrate the unique role it plays in public life and reflecting its to inform, educate and entertain audiences in the UK and increasingly around the world.
About BBC Studios
BBC Studios is proud of its BBC heritage and its role in supporting the Corporation and showcasing the best of British creativity to audiences around the globe. The BBC began distributing its content globally in the late 1950s and today its commercial arm, BBC Studios, is a multi-award-winning global distributor-producer that supports the licence fee and enhances programmes for UK audiences. Able to take an idea seamlessly from thought to screen and beyond, its activities span content financing, development, production, sales, branded services, and ancillaries across both its own productions, and programmes and formats made by high-quality UK independents. Award-winning British programmes made by the business are internationally recognised across a broad range of genres and specialisms, with brands like Strictly Come Dancing/Dancing with the Stars, Top Gear and Doctor Who. BBC.com, BBC Studios' global digital news platform, provides up-to-the-minute international news, in-depth analysis and features to more than 139 million unique browsers each month. BBC Studios has offices in over 20 markets globally, including ten production bases in the UK and production bases or partnerships in a further seven countries around the world. The company, which ordinarily makes around 2000 hours of content a year for both the BBC and third parties including Apple, Netflix and Migu, is a champion for British creativity around the world.  It is also a committed partner for the UK's independent sector through a mix of equity partnerships, content investment and international distribution for programme titles.